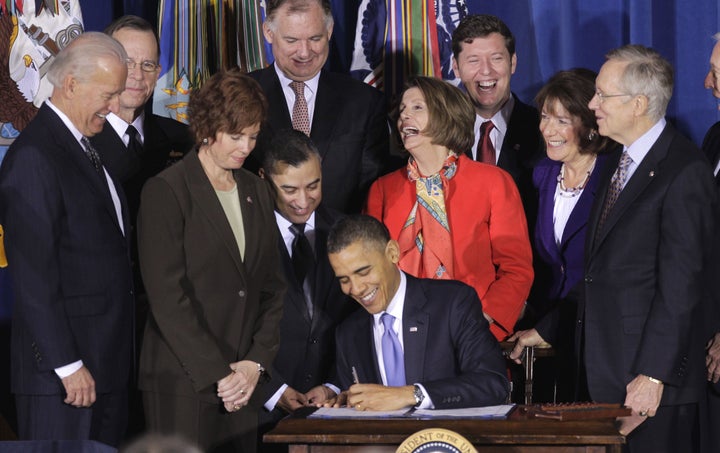 WASHINGTON -- Susan Collins stood at her desk on the Senate floor, a copy of the Don't Ask, Don't Tell (DADT) legislation before her, angrily berating her on-again, off-again allies, Joe Lieberman and Carl Levin. Collins furiously waved a copy of the bill at the empty desk of Majority Leader Harry Reid, making it clear to observers in the Senate gallery whom she held responsible for the coming failure. Reid had already walked away, at the end of his patience with Collins' repeated procedural requests and rejections.
Eventually Levin, chairman of the Armed Services Committee, wandered off, leaving Collins and Lieberman to hash it out. Collins frantically ran her finger across the lines of the bill, apparently searching for a particular passage. Eventually, Lieberman left, too, leaving Collins standing alone at her desk, lost in a deep reading of the legislation she had supported for so long, but today stood against on inscrutable procedural grounds.
Finally, something in the bill jumped out at her and she underlined certain language in pencil, then went looking again for Lieberman and Levin, showing the pair the language she'd found. They couldn't have looked less interested. Collins found Dick Durbin, the majority whip in charge of counting votes, and rolled the legislation up, forming it into a hollow weapon that she swung at Durbin's arm, over and over, as she made her final points.
Reid (D-Nev.) had reasoned that Republicans lacked the votes to strip it and surely wouldn't be craven enough to block an entire annual defense bill -- which would mark a first in decades -- simply to stop the clock from ticking down the end of the military's anti-gay policy. Reid had been wrong. They were quite willing to take it down.
"Eventually these people will vote against the Iraq war," Rep. Barney Frank (D-Mass.), a lead proponent of repeal, told The Huffington Post.
By the time on Dec. 9 that Collins was assaulting Durbin with her sheaf of paper, it was clear that Republicans would succeed in blocking Democrats from moving forward on the defense authorization bill that contained the repeal of DADT. Dan Choi, a leader of the repeal movement, would soon check himself in for mental health treatment, collapsing under the weight of the defeat.
But in a rare display of determination not involving bank bailouts or tax cuts, Congress pushed forward. Lieberman and Collins conferred on the Senate floor amid the defeat and agreed to introduce a single, standalone bill containing nothing but repeal. Reid immediately agreed to be a cosponsor and promised them a vote before the end of the session.
Disillusioned advocates didn't oppose the effort, but many saw it as a tease, another quixotic assault that would be repelled by the same hallowed Senate traditions that kept slavery alive and slowed Civil Rights movement by decades.
Center for American progress Senior Vice President Winnie Stachelberg, a longtime LGBT advocate who was deeply involved in the repeal fight, said that the reason the effort succeeded despite all the twists and turns in the legislative process was because of the unrelenting commitment from all the parties involved. She pointed to the release of the Pentagon's implementation survey on Nov. 30 as a key turning point.
"The reason why a standalone bill became a good idea was because we had more than 60 votes," said Stachelberg. "And the reason we had more than 60 votes was because on Nov. 30, the Pentagon released its study, which had a survey and a report, and the Secretary of Defense and the Chairman of the Joint Chiefs of Staff Adm. Mike Mullen got behind repeal in a complete and comprehensive way. ... But way back in February/March when it was announced that it was going to happen, there were huge skeptics that this was going to be a helpful document."
Democratic leadership swung into action. Reid proposed to House Speaker Nancy Pelosi (D-Calif.), leadership's most tenured gay-rights backer, that the House consider moving first. Majority Leader Steny Hoyer (D-Md.) had the same idea. "Senator Lieberman and Senator Collins determined that they would introduce a bill," Hoyer told The Huffington Post. "I called and talked to a number of people. I then called Senator Lieberman and said 'Joe, my intent will be to talk to Congressman Murphy' -- who's the sponsor of the amendment that was adopted in the defense bill -- 'and put this in as a free standing bill, because we can probably send it over to you more quickly than you can send to us.' And he agreed and we introduced exactly the same bill that they have in the Senate."
Hoyer had earlier forged a House-Senate compromised that satisfied resistance repeal was facing from the military and he once again became heavily involved in crafting the final strategy. "From that moment on, the Reid office and the Hoyer office were crafting our master plan. They were our one real partner in terms of the strategy necessary to get things done in both houses," a senior Senate Democratic aide involved in the negotiations told The Huffington Post. Hoyer "had to work extremely hard to get his caucus to vote again, because there's this whole complex over there," the aide added, referring to the House's longtime concern that it is so often asked to vote on legislation that goes nowhere in the Senate.
Hoyer spoke repeatedly with Collins and Republican senators such as Lisa Murkowski and George Voinovich, working unusually closely with the Senate end of the Capitol. Voinovich, something of a surprise vote in the end, told The Huffington Post Tuesday that he had long been convinced that the policy needed to be repealed. Either gay and lesbian soldiers were fit to serve or they weren't, he reasoned. The middle ground where they were forced to lie was unfair and made no sense, said Voinovich.
Voinovich and other moderate senators came around only after the tax cut vote had been tallied, satisfying the Republican leadership demand that nothing get done before the government was funded and taxes were cut. The strategy was to run out the clock on repeal and other Democratic priorities.
"This was absolutely a huge game of chicken. You had Senator DeMint come out and say publicly what we also believe to be the case privately, that the whole thinking behind the tax letter was to run out the clock," said the Senate aide. "The most significant and difficult thing is that when [Reid] brought Don't Ask, Don't Tell to the floor, he knew that it could endanger [the New] START [Treaty ratification], so that was a ballsy move, because the president made no secret of his passion for getting START done. Reid's willingness to do that in the face of what it could mean for START was huge," the aide added. Sens. Lindsey Graham and John McCain had offered to round up the votes for START if Reid would pull DADT, an offer both Reid and the President declined. START is headed for passage regardless.
Last Tuesday, the House took up and passed repeal, followed by the Senate on Saturday. On Wednesday morning, Vice President Joseph Biden took the stage at 9:10 a.m., five minutes earlier than the signing ceremony was scheduled to begin, reflecting the anticipation and excitement coursing through the room.
Presidential signing ceremonies are always exciting for advocates who have poured their lives into an issue for years, now squeezed together in the White House to watch history being made. But ending the ban on gays serving openly in the military enlisted such a broad coalition that the event was moved to the auditorium of the Interior Department, which was better equipped to hold the approximately 500 people expected to attend.
When Obama took the stage, attendees started chanting his famous campaign slogan, "Yes we can! Yes we can!" Someone yelled out, "Thank you, Mr. President!" "You're welcome!" Obama responded. "This is a good day!"
WATCH Obama speak directly to gay servicemembers currently in the military:
<0--3713--hh>0--3713--hh>
UPDATE, 10:46 a.m.: Reaction from Aubrey Sarvis of Servicemembers Legal Defense Network: "In signing this bill today, President Obama delivered on a defining civil rights measure for our country and for gay, lesbian, and bisexual service members who have been silenced for far too long. Clearly, this is President Obama's Lyndon Johnson moment in history. A measure of dignity has been restored to thousands of service members on active duty, and to over a million gay veterans who served in silence. This historic moment is about those service members and their service."
As The Huffington Post has reported, even after today's signing ceremony, DADT remains in effect. Now he, along with the Chairman of the Joint Chiefs of Staff and the Defense Secretary -- must issue a certification stating the Pentagon is prepared to implement the repeal in a manner that won't hurt readiness, effectiveness, cohesion or recruiting. DADT will still be law until 60 days after certification. Until then, therefore, servicemembers are still at risk of being discharged or investigated.

UPDATE, 10:52 a.m.: The podium was packed with servicemembers, Pentagon officials and lawmakers who fought for repeal. But the person who perhaps received the loudest, longest standing ovation was Rep. Patrick Murphy (D-Pa.), a veteran who spearheaded the House's push for repeal. Today's event was bittersweet for Murphy and his supporters, likely his last major appearance as a congressman since he lost his reelection battle in November.
UPDATE, 10:54 a.m.: From the White House pool report:
Walker Burttschell, 28, of Miami, was one of the first to thank Obama personally. "It was so good to shake his hand," he said. Burttschell said he left school right after 9-11 to join the Marines but was outed two years later when someone broke into his email account and discharged.

After years of keeping quiet he said he's been a loud advocate for the repeal for the past two years. Burttschell said with the repeal he's considering re-enlisting.
UPDATE, 11:02 a.m.: Statement from Senate Majority Leader Harry Reid (D-Nev.):
Today, our military reflects who we are as a nation. By repealing "Don't Ask, Don't Tell," we showed that discrimination has no place in our military, just as it has no place in America. In addition to ensuring that our military reflects our nation's values, our military leadership has said that repealing this policy will make our armed forces stronger and more united.

I commend Chairman Levin, Senators Lieberman and Collins, and all of my colleagues on both sides of the aisle for leading passage of this landmark change in policy. I am hopeful that our bipartisan work on this issue signals that Democrats and Republicans can continue to work together.
The story was updated with additional information.
Calling all HuffPost superfans!
Sign up for membership to become a founding member and help shape HuffPost's next chapter