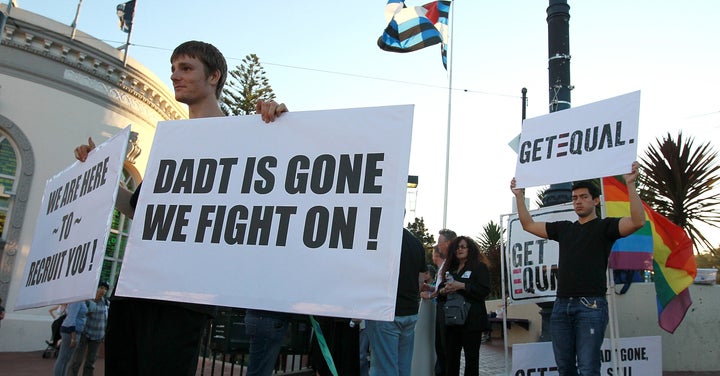 B. Jennings is but one example. He enlisted in the U.S. Navy on September 30, 2003. The sexual harassment that followed was immediate. He reported the problem to his superiors, but they took no action. The harassment continued to escalate in a horrifying manner. After boot camp, B. Jennings was sexually assaulted by another sailor. A few weeks later, it happened again – by a different sailor.
B. Jennings did what few men in the military do after they are sexually assaulted – he reported it. But the fall-out from reporting was even worse than he had feared. Just two weeks after reporting the assaults, B. Jennings received notice that he was being separated from the Navy under DADT. The Navy had decided that the first assault was voluntary and therefore a homosexual act, not a sexual assault. The Navy did find that the second assault was indeed an assault – likely because the second assailant admitted as much.
On March 22, 2006, after two years of unblemished military service, B. Jennings was dismissed from the Navy for allegedly engaging in homosexual conduct – a violation of DADT. He also received a less than Honorable discharge status – a General discharge – precluding him from certain benefits, such as college tuition aid under the G.I. Bill. His assailant in the second assault was also expelled but received an Honorable discharge despite having been found guilty of "indecent assault."
The repeals of DADT and the ban on transgender service members are cause for celebration. They are more than revocations of blatantly discriminatory policies. DADT's repeal also marked a significant step forward in the military's efforts to combat sexual assault, particularly for male victims. For 17 years, DADT provided the military with a powerful weapon to silence and retaliate against male service members who were sexually assaulted. It allowed archaic ideas – that real men cannot be raped – to fester. Since B. Jennings' separation, the military has made seismic improvements in how it handles sexual assaults. DADT's repeal was an important precursor for these improvements.     
Cacilia Kim is Special Counsel at the Legal Aid Society-Employment Law Center, where Elizabeth Kristen is the Director of the Gender Equity & LGBT Rights Program. They are members of Protect Our Defenders' network of pro bono attorneys that provide free legal assistance to military service members who are sexually assaulted during their service. B. Jennings also contributed to this article.
Calling all HuffPost superfans!
Sign up for membership to become a founding member and help shape HuffPost's next chapter
BEFORE YOU GO
PHOTO GALLERY
LGBTQ History