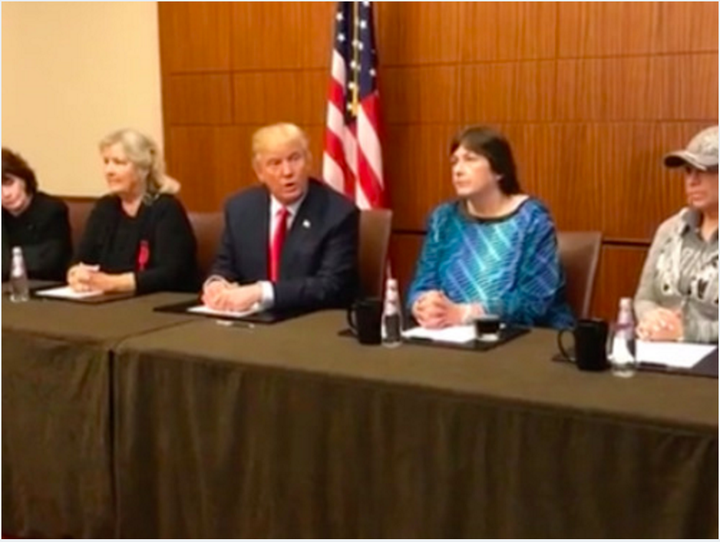 In his now-infamous "apology" for the hot-mic audio heard around the world, Donald Trump promised he'd be "discussing" Bill Clinton's alleged history of abuse in the "coming days." Translation: If you think what I said was bad, wait till you hear what I got on this guy.
And during the debate, Trump introduced those women, calling Shelton a "wonderful woman" who was wronged by Hillary Clinton. (Again, Clinton was a public defender assigned to the case, it was her job to defend the accused.) 
Trump surrogate Kayleigh McEnany explained earlier on CNN that the nominee invited these women so that their stories could be heard, as if he is some sort of champion for assault victims. Of course, these women's stories should not be ignored. (While Bill Clinton has denied the allegations, we know that lack of evidence absolutely does not prove the rape did not occur.)
But let's make one thing absolutely clear: Donald Trump did not invite these women to give them a voice. Donald Trump invited these women in an attempt to humiliate Hillary Clinton and imply that not only should she be responsible for her husband's actions, but that her electability should depend on them. 
Donald Trump has a storied history of mistreating women. The Republican presidential nominee has been accused of rape and sexual assault by multiple women, including his ex-wife Ivana Trump. He's implied that if women want to serve in our military, they should expect to be raped. If I were to list each anecdote that proved Donald Trump doesn't respect women, this article would become a novel. It's almost shocking that Trump's admission of "grabbing women by the pussy" was shocking to anyone. 
During the debate, Trump repeatedly insisted that bragging about sexual assault was just "locker room banter." As if all men brag about such a thing; as if it would be completely normal if they did. 
We may never know what happened between Bill Clinton (who is not currently running for president) and Paula Jones, Kathleen Willey or Juanita Broaddrick. What we do know is that coming forward to accuse a powerful man is incredibly brave. But Donald Trump's parading of these women is nothing short of exploitive and despicable. To him, these women, like all women, are merely props.
Calling all HuffPost superfans!
Sign up for membership to become a founding member and help shape HuffPost's next chapter
BEFORE YOU GO
PHOTO GALLERY
Republicans Who Have Withdrawn Their Support For Donald Trump