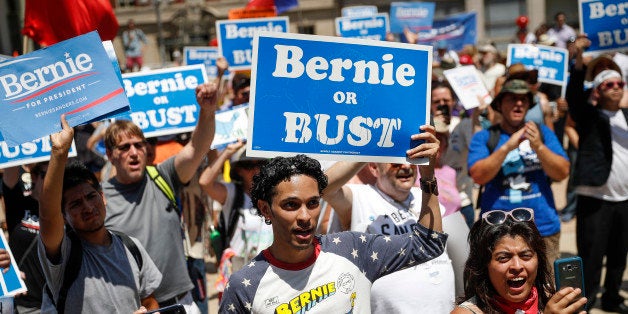 In 1964, Lyndon Johnson won a landslide over Barry Goldwater. Only five elections in U.S. history were more impressive than Johnson's 1964 victory. He won 61 percent of the popular vote, winning 44 states and 486 electoral votes.
The Republican response to this shellacking was to methodically build a conservative movement that found its apex with the presidency of Ronald Reagan. From 1968-1988, Republicans won the presidency five out of six elections. In doing so, America became a center-right nation.
Since 1992, Democrats have won four out of six presidential elections. What's more, only once in that span did a majority of Americans favor the Republican candidate. The current political pendulum appears to be swinging toward America becoming a center-left nation. And the 2016 election could very well be the determining factor.
One might not know this, watching the behavior of the "Bernie or Bust" contingency at the Democratic National Convention that just concluded in Philadelphia.
Though not reflective of all Sanders supporters, some are so certain that right dwells in the exclusive domain of their orthodoxy that Sanders failing to receive the Democratic nomination would result in their sitting out the election in November.
Such decisions are very much part of democracy, but it is antithetical to our democratic values. The self-righteousness exhibited led some to even boo Sanders as he called for unity.
The problem with their reactionary tirade is that it exhibits a misunderstanding of America. The country did not become center-right overnight nor will it become center-left in the same time frame, protestations notwithstanding.
There is more than enough evidence to demonstrate that the nation is headed left. States that were once thought to be safely red have become purple, if not blue.
Virginia, once securely in the Republican column, a state not carried by a Democrat in the general election since 1964, has gone blue in the last two elections. A victory in November would officially change the color of the commonwealth to blue.
Even Texas, which has consistently been the largest and most dependable state for Republicans, has seen its dominance decline, prompting murmurs that it too has a purple underbelly.
But none of this matters to the Bernie or Bust group. Blinded by the certainty of their positions, they remain locked in the naïve illusion that change occurs on the time frame they've set.
Were they too immersed in a euphoric rapture, unable to hear Sanders tell them that the presidential election alone will not lead to the change they seek? Did they leave early when he said that when, like Republicans post-1964, they needed to work to elect like-minded candidates at every level?
Did they believe that a Sanders victory alone would have automatically led to $15-per-hour minimum wage, free college tuition and Medicare for all?
Acting like spoiled children, they are blinded to how their contributions have changed the Democratic Party. Many of their issues are featured prominently in the Democratic platform, and they have moved Hillary Clinton to the left. But to see these things through requires a sustained effort, something they don't appear willing to do.
If they make good on their promise to sit out the general election, it's almost guaranteed they will not participate in the 2018 midterm. Midterms are already marred for their notoriously low voter turnout. In fact, the traditional low voter turnout is a contributing factor that has held the nation back from officially becoming a center-left nation.
Opting instead to be coddled by certainty is an understandable human trait, but it is nothing more than the Novocain of arrogance.
Sadly, the obstinate behavior exhibited by the Bernie or Bust troops only proves it would prefer to contribute to extending the stagnation, fortified by their hubris, than do the work required to achieve meaningful change.
As Sanders supporter Sarah Silverman opined, the Bernie or Bust crowd are being "ridiculous."
The Rev. Byron Williams, is a writer and the host of the "The Public Morality"
REAL LIFE. REAL NEWS. REAL VOICES.
Help us tell more of the stories that matter from voices that too often remain unheard.