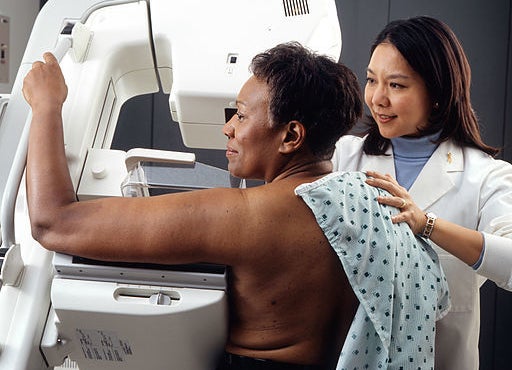 "I have breast cancer" are four words you never want to hear your mother – or anyone-- say. In 2006 after a routine screening mammogram, my mother became part of the 85 percent of women who are diagnosed without any family history of the disease.
Julia Louis-Dreyfus's recent announcement that she has been diagnosed read: "1 in 8 women get breast cancer. Today, I'm the one." The award-winning actress added, "The good news is that I have the most glorious group of supportive and caring family and friends, and fantastic insurance through my union. The bad news is that not all women are so lucky, so let's fight all cancers and make universal health care a reality."
Patients who watch and read about celebrities such as Louis-Dreyfus, Cynthia Nixon, Wanda Sykes and Angelina Jolie talk about their experience are more likely to ask about screening. As a nurse practitioner, ordering mammograms has become part of my daily practice in primary care so I see the connection between public awareness and personal action.
Shining a light on the importance of having access to breast cancer screening is always important, not just in Breast Cancer Awareness Month. The Affordable Care Act has expanded coverage of breast cancer screening but 28 million Americans still lack insurance coverage.
The American Cancer Society released a new study showing that "overall breast cancer death rates increased by 0.4 percent per year from 1975 to 1989 but since have decreased rapidly, for a total decline of 39 percent through 2015. As a result of this decline, 322,600 breast cancer deaths have been averted in US women through 2015." Those results, are in part, due to screening, the study states.
According to the National Cancer Institute, 12.4 percent of women in the United States will develop breast cancer in their lifetime. Screening and early detection are vital as evidence demonstrates the five-year survival rate for early stage breast cancer has become nearly 100 percent. Thanks to diagnosis and treatment, 3.1 million women in this country call themselves survivors.
Here are four key strategies for screening, detection and treatment to know and communicate to all women you know and love.
Know what to expect. Healthcare providers may recommend monthly breast self-exams at home for patients. While far from 100 percent accurate, according to the National Breast Cancer Foundation, up to 40 percent of breast cancers are detected by feeling a lump, underscoring the importance of knowing your body and reporting changes to the health care provider. In the office your provider will likely perform an annual exam, so it's a good time to ask questions you may have about performing an exam yourself. He or she may also order a screening mammogram, using low dose x-rays to provide images of the breast in an attempt to detect cancer in its early stages. If something appears abnormal, additional imaging and biopsy may be necessary. However, it is important to note that false-positive mammograms, or an abnormal result without cancer, are common in some groups of women and recent screening guidelines have changed.
Talk to your healthcare provider. Each individual has her own unique story, motivation, and personal views on the risks and benefits of cancer screening. Breast cancer screening guidelines change over time. Seven major organizations including the U.S. Preventative Services Task Force, the American Cancer Society, and the American College of Obstetricians and Gynecologists have variations in recommendations based on age, personal risk factors, and frequency of screening so there may be conflicting information. Starting a conversation with your primary care or women's health provider can help you determine how screening fits into your personal health goals. This conversation is appropriate at any age. But if you are 40 years old and have never had this discussion, make it a priority.
Know your risk factors. The strongest risk factor for developing breast cancer is age, with risk increasing nearly nine fold between ages 30 and 70. White women have the highest incidence of cancer at 13 percent. However the rate of diagnosis in Black, Asian and Hispanic women only lags behind by 2-3 percent. The Centers for Disease Control identify personal risk factors as early onset of your period (prior to age 12), late menopause (after age 55), having dense breasts, obesity, lack of physical activity, and excessive alcohol consumption among others. Experts agree a family history of breast cancer in a first degree relative- mother, sister, or daughter- increases risk. Even so inherited gene mutations have been found to account for no more than 10 percent of breast cancer diagnoses. Long-term use of hormone therapy may also increase risk, making screening in post-menopausal and transgender women receiving hormone therapy especially important. The incidence of breast cancer in transgender women is poorly studied, but the Center of Excellence for Transgender Health recognizes that these women are significantly less likely to undergo screening.
Cost is a concern but you have options with or without coverage. The Affordable Care Act now mandates private health plans cover screening mammograms without out of pocket costs for women 40 years of age and older. Medicaid and Medicare have similar coverage. For women who are low income and/or lack insurance, several organizations provide access to services such as clinical breast exams, screening mammograms, diagnostic testing for abnormal results and referrals for treatment if necessary. The National Breast and Cervical Cancer Early Detection Program serves women nationwide with an online database to search for programs in your area. The American Breast Cancer Foundation- Breast Cancer Assistance Program provides a toll free number to connect callers with similar resources. National breast cancer charities such as Susan G. Komen and Bright Pink provide additional education and resources.
To be sure, cancer is a scary word and it's even scarier if you are without insurance. Creating access to primary care is essential so that we can start routinely having these conversations and stop telling patients they have terminal cancer.
Because of screening and early detection my mom can add survivor to her long list of other accomplishments. She is not alone in knowing that breast cancer screening saved her life.
Calling all HuffPost superfans!
Sign up for membership to become a founding member and help shape HuffPost's next chapter
This post was published on the now-closed HuffPost Contributor platform. Contributors control their own work and posted freely to our site. If you need to flag this entry as abusive,
send us an email
.