In an overcrowded business world where anybody can buy anything or find out anything with the touch of a fingertip, it is more important than ever to stand out.
To have a business today you must have a website, with clear marketing and branding, a strong focus on solving customer problems and offering exceptional customer service. You may be doing all of this and from the outside it may look like you are successful... unfortunately this is not always reflected in your bank account.
What your business may be missing is YOU!
As hard as you work and as many hours as you put in, if potential customers feel no emotional connection, they are less likely to buy. In today's business world people buy from people - not companies. If they do not know, like or trust you, the chance of them doing business with you reduces.
"I've learned that people will forget what you said, people will forget what you did, but people will never forget how you made them feel."
WARNING: This does not mean you need to be liked by everyone - that is impossible. However if you reveal your personality into your business and inject it throughout, the people who do resonate with you will become your tribe and in turn your paying customers.
When starting the process of becoming more memorable and putting more "you" in your business it is a common fear that you do not have anything interesting enough that others would want to know.
You are right! Well... partially right. The truth is, most of your followers and potential customers do not want to know all about you every time they have anything to do with you. It is a balance; you must stand out in the right way.
Putting the wrong part of your experience in your business can be portrayed as boring or self-promotion. Choosing the right parts to include, or exclude is important (read "Is Building A Personal Brand Egotistical" for more on this topic).
However, I promise you, YOU DO have something to offer. You do have an interesting and relatable story that people want to hear and be a part of.
People like Richard Branson, Steve Jobs, Oprah, Beyoncé and Donald Trump are experts at this. Even though on the surface they are different, one of their commonalities is that all have big personalities. Like them or not, you know who they are and you most likely either like or dislike them but at least they create something that is worth taking notice of.
Suggesting you imitate tactics of these rich and famous is weak advice. I am suggesting the opposite. I am suggesting you find the part of you that resonates with your audience and to fully own that and make the decision to amplify that. No imitations just show the real you!
I hear you ask...Is this possible if you are just a normal person...the girl next door?
The simple answer is YES!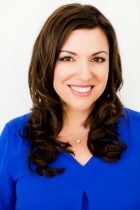 Amy Porterfield is a prime example. With 132k Twitter followers and 195k Facebook followers Amy promises she will show you exactly how to monetize your online marketing efforts, grow your social media fan base, grow your email list and boost your profits. Her brand looks elegant, simple and effortless - with a "girl next door" appeal. When Amy speaks on her podcast you feel like you are one of her friends - you trust her. Her business advice and content is always given in an easy to follow manner and includes tangible steps to ensure success.
Amy does not showcase flamboyance like Richard Branson or Beyoncé - she leads with her personality and creates an authentic connection with her audience by infusing her brand with her personality.
The key to being real but maintaining respect is found in being relatable.

Relatable = Staying In Your Niche While Reaching Out to Others

To be relatable to people on a wider scale, you have to do two things:
The first thing is to give of yourself. Don't just tell them what they need to hear; tell them what you need to say. Speaking from your heart shows that you know your stuff and you're passionate about what you do.
The second thing is to be honest. Don't pretend to be someone you're not. You've got to be real about what your life is all about.
How does Amy keep the balance of being a professional businesswoman and revealing enough but not make it an Amy vanity show? Here are two of her tips:
1. "The Behind-The-Curtain Approach"

Amy says, "Not everything you post on social media has to be about you. If there's something you're passionate about, zero in on it and feature it.
Even if it's something that has nothing to do with your business, maybe a charity project, a certain travel destination, a hobby, a favorite TV show, offering little updates on this throughout your content gives people a sense of who you are.
What you value enough to talk about tells people about you and it will resonate with them in ways you probably can't even imagine."

2. Be Yourself

The key to infusing personality into your brand is to be yourself.
I know that feels scary at times. You don't want to lose potential customers because you say something one way and not another way. When you take risks and really put your personality out there, sometimes it can be a little polarizing. But that's okay. All you really need to worry about is that
1. You are being yourself, and
2. You're creating content that will resonate with your ideal audience.

The challenge of this concept is adding yourself into your business and also making it interesting enough that people will notice. You want to be unique and memorable; defining how to do this can cause a lot of pressure. If you are interested in finding out how and what to add of yourself to your brand CLICK HERE
Calling all HuffPost superfans!
Sign up for membership to become a founding member and help shape HuffPost's next chapter