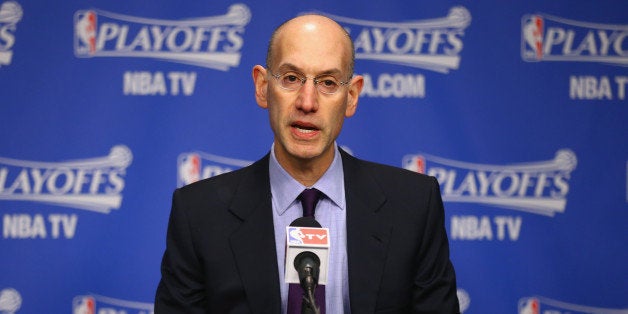 NBA Commissioner Adam Silver's op-ed in the New York Times calls upon Congress to change the nation's laws to adopt a federal framework that allows states to authorize betting on professional sports. It is a courageous position for a sports commissioner to take. To recognize the reality that hundreds of billions of dollars are bet annually -- and illegally -- on sports is an enormous breakthrough even if the NBA is the only sport to recognize the fact.
There can be little question that sports gambling is a vice -- much like drinking and playing the lottery. However, we have passed the point of trying to decide whether gambling on sports provides some sort of benefit to society. It is ubiquitous. Few turn on the games, especially football, without knowing the betting line. For some, the greatest joy comes from gambling on the uncertain outcomes of these contests.
Gambling on sporting events is legal throughout most of the world. The availability of gambling online makes that easy to accomplish. No one has suggested that this fact of the sporting life be abolished, even if it were possible. What Silver has done is to present the issue for public discussion.
We now await input from the commissioners of the football, baseball and hockey leagues. They have been steadfast in opposition to the spread of legalized sports betting, most recently with regard to New Jersey's effort to resuscitate Atlantic City by following the Nevada "sports book" model. At the same time, all team sports have discovered the marketing advantages of adopting fantasy games, some of which approach sports gambling when a participant can chose a new team each week. I would be surprised if the other commissioners follow Silver's lead, but they will be asked. They should come prepared with an answer.
Adam Silver's approach calls for federal legislation that would allow states to decide whether they would authorize sports gambling. Were this to be enacted, state sports gambling would spread like the lottery. Only five states do not have a state lottery, but even some of those states have casino gambling. There is no reason to think that were Congress to give its consent in a fairly short period of time we would see a "sports book" in almost every jurisdiction. Once the states impose their regulations and their taxation on this activity, gambling on professional sports in America will be universal.
What then are the chances that the other sports leagues and the politicians will go along with Adam Silver's proposal? In the short run, I would not bet on it. Professional sports think that gambling means that their games will not be decided on the merits, that fixers will invade their enterprises and cause spectators and fans to lose interest in patronizing their entertainment businesses. Of course, gambling depends upon the games remaining unfixed. The sports establishment is vigilant in protecting the integrity of the product, and it will remain so if gambling is legalized, regulated and taxed.
How will politicians react to Silver's proposal? If President Obama likes the idea -- he dutifully fills out his bracket each March on the NCAA basketball tourney -- then for sure the Republican majorities will oppose any change in the law. Perhaps fair-minded individuals will see the proposal for what it is -- an effort to respond to reality and minimize some of the unfortunate consequences of having to place bets with a bookie in violation of the law.
We have entered a new phase of American history where some folks have begun to realize that prohibiting certain vices is foolish or just ineffective. Alcohol continues to cause much more harm to society than illegal narcotics, but we learned the hard way that Prohibition generated far more problems than it solved. We are now experimenting with legalizing marijuana for recreational use. So far, the Rocky Mountain high has not caused Denver to rise about its mile limit. We will see this trend continue.
Gambling on professional sports will go on whatever we do. Adam Silver is right. It is time to legalize, regulate and tax it.