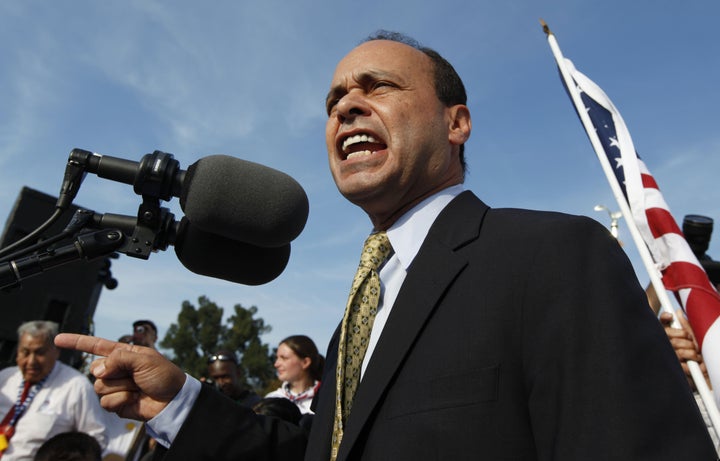 Republicans are waiting for next month's Virginia governor's outcome to begin their foreshadowing of what will be in 2010; saying that it's Obama's policies that are bringing Deeds down. As things look today, Democrats are certainly behind the 8 ball, with bailout blues hitting across the political spectrum. Creigh Deeds, the Democratic candidate who Virginians chose over better candidates, is also blaming Obama, trying to duck any responsibility himself. The real problem for Democrats is that by choosing Deeds they've diluted the Democratic brand as far as it can go. Let's face it, Creigh Deeds is no Jim Webb.
Adam Nagourney even wrote about the unthinkable yesterday. That some Virginians are having second thoughts about McAuliffe.
But with this closely-watched election less than a month away, and Mr. Deeds struggling against Robert McDonnell, the Republican former attorney general, it is hard not to forgive some Virginia Democrats for thinking that they might have been better off with Mr. McAuliffe at the top of the ticket. This is no small thing since a defeat for Democrats in Virginia would be a decided setback for this White House, particularly after President Obama became the first Democratic presidential candidate to win the state last year since 1964. Democrats have held the Virginia governor's seat for eight years.
That Deeds can't beat McDonnell, a man who had Pat Roberson as a mentor, in the age of Obama is a warning, especially after McDonnell gave the gift of his thesis that basically stated modern women had only one role and that was in the home. Democrats choosing horrible candidates they think can seduce voters across the aisle, when the candidates they're choosing are actually weak on the principles that inspire voters to vote Democratic in the first place.
NotLarrySabato, who has been a Virginia political watcher a long time, nailed it: And to put it bluntly- Creigh Deeds is an absolute pretender. Blue Commonwealth, another veteran Virginia watcher, has more. Jerome Armstrong saying it didn't have to end this way: The Deeds apologists will tell you that anyone would have been down like this, but that's just nonsense.
The worst candidate is at the top of the ticket. Moran not much better, because the only way he could knock off McAuliffe was to go so negative the backlash obliterated his own campaign. McAuliffe seen as an interloping big shot who didn't work his way up and pay his dues, even though he beat out Moran and his blizzard of negativity. My blue collar husband explained to me why McAuliffe got his vote, but Virginia Democrats didn't buy it. They're going to lose the governorship because of it.
However, Republicans are taking Deeds' imminent loss as a sign of something else. On this very subject, Kathleen Parker chimed in last week on "Morning Joe," simultaneously proving she's a lousy political analyst. Joe reading aloud from her op-ed, "The 'Women's Issues' Deeds Doesn't Get", which rambles on about Deeds hitting McDonnell on his thesis that is utterly anti-women, which for Parker is boiled down to this: Women also get it that the economy is a shambles, that the war in Afghanistan is escalating and that the unemployment rate is growing -- just to mention a few concerns outside the uterus. Really stupid stuff for someone paid to opine in the Washington Post.
Deeds is in trouble for one reason and one reason only. He's a fatally weak candidate.
But Virginians have been diluting the Democratic brand over years. From a terrific example of how to wrestle voters to vote their interests, Mark Warner, who was touted as presidential material until he tanked giving the Democratic keynote in last year's convention; to Tim Kaine, an even worse speaker than Warner who is now Obama's man at the DNC; and finally, Creigh Deeds. A man who couldn't take McDonnell's gift of a thesis that was riven with anti civil rights language against women and use it to his advantage, basically getting beat to death by a commercial rebutting Deeds' chargers, starring Bob McDonnell's veteran daughter, whose performance and strengths just might win it for her dad.
This isn't the be-all answer, but compare Creigh Deeds to Jim Webb, a man who makes people cross the aisle, like Warner did, to vote for him, but also has serious convictions. I can't imagine Deeds having a PAC called "Born Fighting," but that's exactly what was required in this year's election.
See McDonnell's daughter, who looks and sounds like a better candidate than both men in the running.
Just look at Jon Corzine, who was counted out. He's done whatever it takes to try to take the race back and he just might do it. See Jim Webb.
You also can't keep diluting the brand to someone who is a ghost like image of what you believe a Democrat should look like based on what won in earlier years, when the guy you're picking is clearly not up to the job. Tim Kaine was a cheap Mark Warner knock off, with Creigh Deeds an even cheaper, lamer knock off of Tim Kaine, with no resemblance whatsoever to Warner, let alone Webb. A political plot line that has clearly run its course.
"The other big issue is electability, and Bob McDonnell has already beaten Creigh Deeds." - Terry McAuliffe
Calling all HuffPost superfans!
Sign up for membership to become a founding member and help shape HuffPost's next chapter