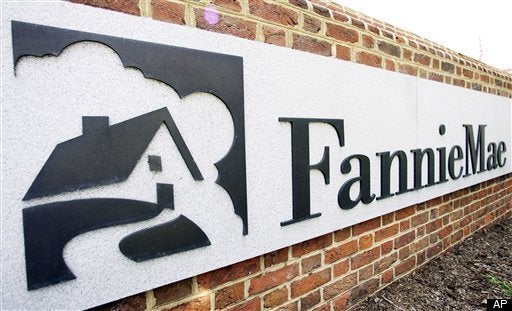 Here is a fable that is making the rounds. It is a collection of half-truths and outright lies:
The financial meltdown was the result of too many people pursuing the American Dream of home ownership. People who couldn't really afford to be homeowners became speculators. Government added to the damage with cheap mortgages, misguided laws such as the Community Reinvestment Act, and overgrown government-sponsored agencies like Fannie Mae and Freddie Mac.
This stuff is a staple of rightwing talk shows. In a moment, I will rebut each element of this storyline, but first I want to single out a wildly misleading piece by the New York Times financial columnist Joe Nocera. The piece, which ran in Saturday's business section, was titled "Wake-Up Time for a Dream."
The dream -- surprise -- is home ownership. It is depressing that a rightwing theme has invaded the mainstream Times.
Nocera writes, "The financial crisis might well have been avoided if we as a culture hadn't invested so much political and psychological capital in the idea of owning a home. After all, the subprime mortgage business's supposed raison d'etre was making homeownership possible for people who lacked the means -- or the credit scores -- to get a traditional mortgage."
Now this is just malarkey. And the Nocera piece is worth reading in its entirety to appreciate just how an influential financial columnist can get a critically important story so utterly wrong.
For starters, the homeownership rate was already 64 percent in the mid 1960s. It peaked at about 69 percent just before the bubble burst -- but was nearly 68 percent in 2001 before subprime lending took off. Back in the 19th century, thanks to the Homestead Acts of the Lincoln era, homeownership (mainly family farms) was well over 70 percent in much of the west.
Ordinary working people can become homeowners and accumulate property wealth when two elements are present. Government programs have to be competently run and prevent private-industry sharks from abusing them. And working people need a degree of financial predictability in their job security.
In the period between, Franklin Roosevelt and LBJ, both factors prevailed. The Federal National Mortgage Association, later privatized as Fannie Mae, was part of the government. If mortgages met its standards, FNMA bought them from local banks and replenished bank working capital. Just as importantly, wages of working people steadily rose, so that more and more ordinary Americans could afford mortgage payments. Not surprisingly, homeownership rates rose. After Congress passed fair housing legislation in 1968, so that minorities could get a fair shot, black homeownership took off, too.
But beginning in the 1970s, wages stopped increasing with productivity growth. And the financial sharks got hold of programs intended to promote homeownership.
A newly privatized FNMA increasingly thought more about using its implicit government guarantee to increase market share and enrich its executives and shareholders. Not until Bush II, however, in 2004 and 2005 just before the housing collapse, was Fannie directed by the political masters in the White House to lower its standards and purchase pools of dubious mortgages so that Bush's "Ownership Society" could claim credit for increasing homeownership rates.
Fannie Mae, a corrupted agency, has become a handy all purpose scapegoat. The lack of a provision in the financial reform legislation to resolve the mess at Fannie has become the main alibi that Republican senators give for voting against the whole reform package.
Nocera contends that the subprime industry's "raison d'etre" was to promote homeownership "for people who lacked the means -- or the credit scores -- to get a traditional mortgage." Sorry, Joe. The industry's reason for being was so that financial wise guys could make a bundle at the expense of suckers. Low income prospective homeowners were merely useful props. They were the poster children, but not the real purpose.
(In 1994, the same Nocera was celebrating prosperity-for-all in a wildly over-optimistic book titled "A Piece of the Action: How the Middle Class Joined the Moneyed Class." If his latest debunking is Nocera's way of doing penance for his own earlier misplaced euphoria, it is just not helpful.)
The pity is that carefully run government programs, from the Homestead Acts to Neighborhood Housing Services, to the good work of community development financial institutions such as Chicago's ShoreBank, have indeed increased the rate of homeownership among working people, and have done so by avoiding bait-and-switch products like subprime loans, not promoting them. The culprit is not the dream of owning your own home, but the utter cynicism of the financial sharks who took advantage of people innocently pursuing the dream.
Large numbers of subprime loans were in fact marketed to elderly people who had low mortgage debts, who could not live on fixed incomes and who needed to refinance their homes to take out equity. This was not about promoting homeownership but destroying it. Many of these victims are now losing their homes. The stripping of home equity is partly a story of a collapsing pension system in the face of rising costs for America's seniors.
The 1977 Community Reinvestment Act, which encouraged banks to keep credit flowing to less affluent neighborhoods "consistent with sound lending standards" is not part of this fiasco at all. Had CRA been enforced, subprime loans that waived underwriting standards would have been illegal. Most of the mortgage brokers who retailed subprime loans were not even covered by CRA.
It's certainly true (and no serious person claims otherwise) that 100 percent of Americans will never own their own homes. Some people are too transient or just too poor. Some would prefer to rent. But, maddeningly, one element of the story that the debunkers of the American Dream invariably leave out is the near-collapse of programs for affordable rental housing. Among moderate income Americans who rent, the fraction of income spent on housing rose steadily for three decades.
Ironically, many low income people turned to homeownership as a last resort because they couldn't find an affordable rental -- and the same Bush Administration that gutted subsidies for affordable rental housing refused to enforce laws on the books specifying standards for responsible lending to aspiring homeowners.
A sound housing policy would combine assistance for homeownership with affordable rental housing. A homeownership rate of 70 percent, which is common in several affluent European nations, is perfectly reasonable -- if our political system keeps sharks like the subprime gang from wrecking the system and agencies such as FNMA from being corrupted.
Fannie Mae, which over-reached and went broke as a private company with a government guarantee, is now a ward of the federal government. It should be restored to its original form under Roosevelt, as a public corporation with high principles and high standards.
In the aftermath of the subprime collapse, many hard working lower income people, including a great many African Americans, have seen their dreams wiped out. The home ownership rate in black communities, which were targeted for subprime loans, is in free fall. Brandeis University's Institute on Assets and Social Policy reports a devastating increase in the black-white wealth gap.
The same story could be told about hundreds of predominantly African American neighborhoods.
The villain of the piece is the mortgage meltdown coupled with rising unemployment rates that are the collateral damage of the same financial collapse. The villain is not moderate income homeowners.
These people paid their mortgages on time, and there was nothing wrong with their dream. What was wrong was the failure of their government to keep the private financial industry from stealing the dream.
Robert Kuttner's new book is A Presidency in Peril. He is co-editor of The American Prospect and a senior fellow at Demos.
Popular in the Community