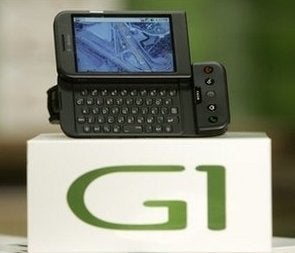 Do not, fair sporter of the rotting Nokia, go out and buy a new phone today. You! With the duct taped Palm Treo! Do not go out and buy a new phone tomorrow. And you, the warm hearted parent, do not go out this holiday season and refresh your family's cell phones for newer models, despite the allure of a new phone wrapped in a colorful box and a "Buy 1 Get 1 Free" price-tag with a new contract.
You may have noticed that the new "Google phone" launched on T-Mobile under the G1 moniker recently, and I'll admit, it's a fantastically fun phone to play with, although it too has its problems, but its potential for software customization is arguably limited only to the imaginations of application developers that warm up to the Android software development kit. And it's just the first of its Android kind.
On October 21st, Google, and the Open Handset Alliance which is comprised of big players like HTC, LG, Samsung, and Motorola as well as Sprint and T-Mobile, announced that the Android Source code would be available to anyone that wanted to create a brand new Android device. What this essentially means, is that a cell phone manufacturer can create an Android phone and deliver it to the market faster than before, and with more features, thanks to an open community. And we've only seen a product from one manufacturer: High Tech Computer (HTC).
More importantly, Android wasn't created just for those fancy phones with full keyboards. It was designed to run on all devices, whether they have track pads, touch screens, or doohickey laser pointers. It can run on small phones, big phones, flip phones, candy-bar style phones, and smart phones. That means those "Buy 1 Get 1 Free" devices you see today are soon to be replaced by phones rich with applications created by a huge developer community at the same price point. But who will be making the devices and when will we see them?
Big players in the cell phone space are expected to make announcements in February during the GSMA Mobile World Congress cell phone show in Barcelona, Spain. And you're going to see more touch screens and more hardware features even sooner than February. So why am I telling you to hold off four months in advance, especially with attractive handsets like the BlackBerry Storm and BlackBerry Bold hitting store shelves by this holiday season?
For one, RIM is in the middle of a product refresh. Take a look at the carriers. Every carrier has the BlackBerry Pearl in one iteration or another. Every carrier has the BlackBerry Curve, and every carrier has the BlackBerry 8800 series smartphone. RIM has already announced three new phones, with more expected during the next year.
I myself drool at the thought of the BlackBerry Storm a full touch screen device due out in November exclusively (for now) on Verizon Wireless. But we may not be that far off from seeing it hit other carriers also, as RIM has done in the past. More importantly, the new Bold is arguably replacing the 8800 series device on these carriers, starting with an exclusive on AT&T. And the Pearl Flip looks poised to replace the Pearl, starting with T-Mobile.
Speaking of the Pearl Flip, that phone sports a last-generation EDGE network, and not T-Mobile's budding 3G network that it has just begun rolling out in a game of catch-up with AT&T, Sprint, and Verizon Wireless. If you have any desire to surf the Web or download your carrier's music and video deck content, you should avoid an EDGE device at all costs.
And what will replace the ever popular BlackBerry Curve? Rumors of a code-named Javelin device have been popping up on sites like the Boy Genius Report and no one is quite sure which carrier it's headed to in the United States.
Another reason to wait a a few more months is that we've begun to see the desirable features found in smart phones, like a touch screen and a full QWERTY keypad, trickle down into reasonably priced feature phones. Take a look at AT&T's brand new messaging phones, for example.
I think that 2009 will be year of big and fun surprises for cell phones. We'll likely see RIM finish its line refresh, and we're going to see brand new Android phones from manufacturers other than HTC and on carriers besides T-Mobile.
Upgrading your cell phone right now with a new 2-year contract would be like buying an airplane when space shuttles hit mainstream. You would be purchasing a new phone that may look shiny and new in comparison to your device that requires a rubber-band just to keep the screen in place, but it's the potential for new applications and features that's important now, and a superior industrial design that backs those features up. Take your time and weigh your options again in six months, even if it means applying another layer of duct tape.
Calling all HuffPost superfans!
Sign up for membership to become a founding member and help shape HuffPost's next chapter