The garment and apparel industry accounted for almost $3 trillion of the world's economy in 2011. Photo courtesy of Eileen Fisher.
GREIFENSTEIN CASTLE, SWITZERLAND -- By now, most of us have heard about the controversial Patagonia ad entitled "Don't Buy This Jacket."

In the copy, Patagonia basically cops a plea and admits that even with its sustainable practices in place, the carbon footprint of the garment depicted in the ad is much higher than anyone would think. Huge amounts of water and other energy resources are required for the manufacturing process of virtually all clothing. Especially when most of it is made in developing countries without regard to environmental regulations.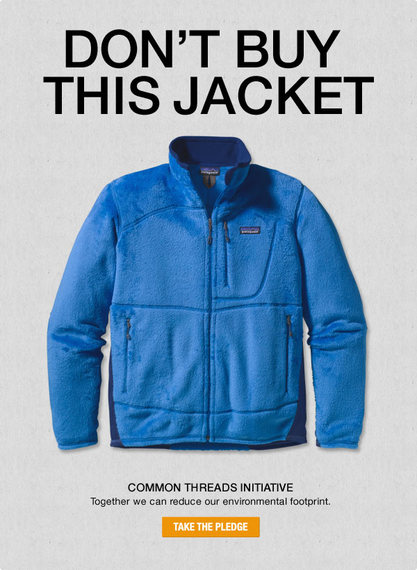 Patagonia's ad entitled "Don't Buy This Jacket" proudly encourages its customers not to practice overconsumption.
At a recent economic conference I attended at this stately 16-century restored castle, Impact Economy CEO Dr. Maximilian Martin provided a plethora of statistics to back up the point made in the Patagonia ad. "The garment and apparel industry accounted for almost $3 trillion of the world's economy in 2011. With massive population growth and ever faster fashion cycles, demand for textiles and garments will explode in the next several years. Meanwhile, U.S. consumers throw away an average of over 65 pounds of clothing per year, and in the UK over 40 pounds per person is destined for the landfill." Martin presented practical, scalable and low-cost solutions to enable the global garment industry to transition to a higher level of social and environmental performance. He also referenced the need for energy conservation in the manufacturing process. "The enormous requirements for water consumption in global apparel production could in many cases be lowered by as much as 50 percent; energy consumption by one third or more; and the use of chemicals reduced by up to 20 percent."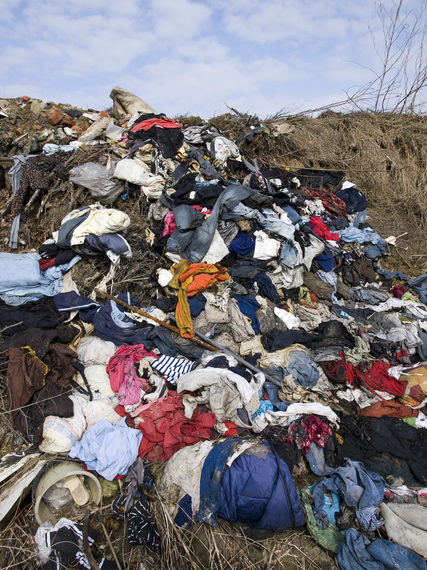 U.S. consumers throw away an average of over 65 pounds of clothing per year, with most destined for the landfill.
This will be a hot topic at this year's Ethical Fashion Forum in London. Impact Economy is launching the Apparel Innovation Consortium. Leveraging the latest technology, Impact Economy will pool capital to bring the garment manufacturing process into the 21st century. The program's goals include optimizing resource use while significantly improving worker productivity, safety, turnover and overhaul of compensation packages.

The irony in this is clear: How do we promote and practice sustainability in an industry that is based upon environmental INefficiency? As in, any self-respecting fashionista, worldwide, wants to wear the latest and greatest styles, every year. To stay ahead of the competition, the most fabulous runway designs are shown in Paris, Milan and New York. These find their way to Bergdorf Goodman and the volume knockoffs to Target, only to be displaced months later by newer styles. This is the engine that makes the clothing industry hum. So how can this possibly jibe with "reuse, refurbish, recycle" and other watchwords of sustainability?
Unfortunately, both the manufacturing and consumption ends of the equation are out of whack -- the extremely energy and natural resource-intensive production requirements, and the almost total lack of recycling on the user end. Coupled with a process that repeats itself year after year basically forever, we have an environmental issue of monolithic proportion.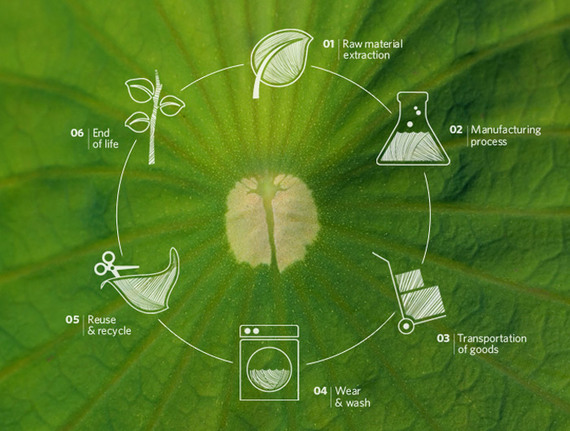 Eileen Fisher visually depicts their garment lifecycle. Photo courtesy of Eileen Fisher.
There are a few bright spots on the horizon. Some major retailers do have meaningful recycling/reuse programs that provide significant financial incentives for consumers. Nordstrom is partnered with Fashion Project, which encourages customers to take any five items in their closet to their nearest Nordstrom, trade them in and receive a $40 Nordstrom Gift Card. Fashion Project will then resell your donations (the clothing items must be in very good or perfect condition and still at least somewhat in style; so sorry, but you can't relieve your closet of that polyester go go dress that screams Studio 54 but that Theory button up and slacks will probably do the trick) and pass the proceeds along to the nonprofit of your choice. Clearly a win-win for all parties.

Henrik Lampa, Environmental Sustainability Manager for value-priced fashion retailer H&M describes their industry-leading sustainability program:
Since the launch of our Garment Collecting Initiative in spring 2013, we have collected around 6,500 tons of textiles, the equivalent of around 30 million T-shirts. We want to reduce the environmental impact from the fashion industry by limiting the amount of textiles that end up in landfills. As much as 95 percent of textiles and clothes that are thrown away globally can be used again. Today there is only a small amount of clothing being reused for charity or recycling. In Sweden for example, just under 20 pounds of garments are thrown away per person per year. We want to offer an easy solution for the customers that today throw their old clothes in the bin.

The money earned from the garment collecting project will be donated to the H&M Conscious Foundation. The donation money will be earmarked for investments in innovation and social projects. When it comes to Charity Star, H&M donate two euro cent per collected kilo to charity organizations selected by our local sales markets. To see how much we have collected and donated to the selected charity organizations see here.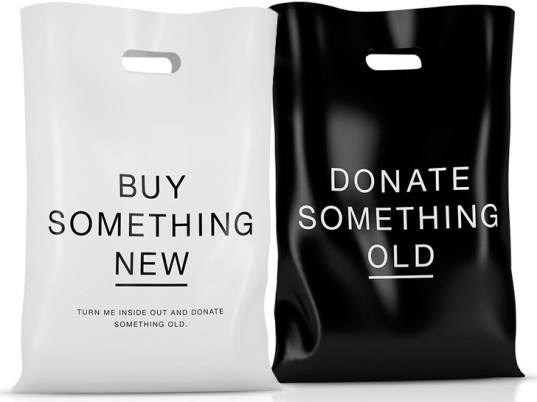 Uniforms for the Dedicated designed a biodegradable shopping bag that when turned inside out becomes a prepaid mailing envelope to send used clothes to a charity for donation.
Patagonia prefers not to offer financial incentives, instead appealing to the consumer's sense of environmental responsibility -- which may sound like wishful thinking but probably is a good fit for the Patagonia brand. In a nutshell, here are the finer points of the Patagonia program:
Reduce -- we make useful gear that lasts a long time. You don't buy what you don't need. Repair -- We help you repair your Patagonia gear. You pledge to fix what's broken. Reuse -- we help find a home for Patagonia gear you no longer need. You sell or pass it on to someone who needs it. (Patagonia offers a Worn Wear™ program to help find a new home for Patagonia clothing you no longer wear. They will buy it back used but in good condition, this includes Patagonia shells, fleece, down and synthetic insulation, and ski and alpine pants at Patagonia stores in Seattle, Palo Alto, Portland and Chicago). And finally, Recycle -- we will take back your Patagonia gear that is worn out. You pledge to keep your stuff out of landfills.
At risk of a bad pun, these few programs are but needles in a haystack. Most major retailers have none. Zero. Nada. No program to help recycle clothing you have previously purchased from them. So this leaves a major black mark on the fashion industry as a whole. We must ask, c'mon guys, why aren't all major clothing brands AND retailers offering programs that reward customers for recycling used clothing and/or re-selling or donating mildly used items?
Thankfully, there is someone out there trying to do something about this non-life-threatening but nonetheless very important problem. Tasmin LeJeune is Founder/CEO of Ethical Fashion Forum, a startup whose mission is to drive forward sustainability in the fashion sector. LeJeune explains EFF's big picture viewpoint in all of this: "Our three core objectives are to reduce poverty, reduce environmental damage and raise awareness about both... The real issues here are that we consume too much, more than we need. Our wardrobes are full to bursting with plastic creations. The cost of clothing needs to reach an equilibrium that is not exploitative. Fashion can be a wonderfully creative business but standing on a production line is not. Is this really the way we want things to be? We as consumers have become powerless in this argument. We are surrounded by advertising telling us that our bursting wardrobes are what we want and need. But the real winners are large companies and their bottom lines."
Ironically again, we seem to be doing better with energy-efficient manufacturing and recycling of products like automobiles, computers and phones, packaging for many types of manufactured goods, yet so little progress has been made in the clothing industry. Isn't it about time the rag trade gets with the program?

As always today, speak out online, send messages to your favorite brands and retailers, telling them how important this is to you as a customer. This is the best way for us as individual consumers to elicit change, or at least, get this critical issue out of the "green press" and into the boardroom. Thank you for reading.
Support HuffPost
The Stakes Have Never Been Higher
Related
Popular in the Community