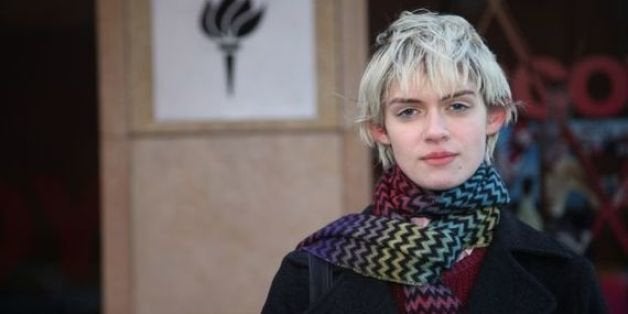 NYU sophomore Diana Colton (not her real name) has an extra line to add on her resume: The 19-year-old filmed two scenes with porn superstar James Deen. Colton said she applied to film an amateur scene with him through his website on a lark; to her surprise, Deen offered to film with her. "Porn" and "undergrad" may ring some bells -- or one Belle Knox, at least. But Colton is nothing like the Duke porn star who made waves last year when she was outed. We caught up with the bookish, sex-positive student over the phone.
You've done two shoots with James Deen. Have you done any others?

Nope -- just with him.
Do you plan to do more porn in the future?

It really depends. I specifically enjoyed the experience with him because it felt like we were hanging out and having sex. It wasn't impersonal, like having a job to have sex with someone. I don't know if I could do that or not. That's why I feel comfortable doing that with him.
How did you get the idea to shoot a scene with him?

I saw some of his amateur scenes -- Gwen Derringer and Harper Hughes were amateur porn stars, and they signed up to do it on his website and I thought it would be silly to apply. I thought I wouldn't hear back, but I did, so I had to decide whether or not to do it.
Did you have any hesitations about doing it?

One hundred percent. I took into account everything I could think of -- people who would want to employ me in the future and my family, people that I know finding out, but I just decided I wanted to do things I wanted to do and I wasn't going to let other people stop me from doing that.
And your family does know right?

Just my sister so far.
Do a lot of your classmates know?

Since it was on the NYU Local website, I assume some of them are subscribed on Facebook and saw the article, but no one has mentioned it to me that I haven't told myself so far.
No one has said anything to you?!

They probably won't want to make me uncomfortable or they think it's uncomfortable to mention it or something like that.
So this is very different from the Belle Knox situation. You didn't get any hate mail?

No hate mail -- not at all. I've been talking about the feedback Sadaaf [Mamoon, writer for NYU Local] is getting and she's only getting positive feedback about it. I haven't gotten any negative reactions yet but I know it's a possibility.
Why do you think you haven't gotten the negative blowback Belle Knox got?

I think it has a lot to do with this being in New York City and being at NYU where people are more liberal. And also, the people I've told are my friends and I'm friends with people who are sex-positive and totally liberal and are cool with people doing their own thing. I haven't heard a ton from people who haven't agreed with that, so I can't really speak for them.
Were you a James Deen fan before?

Totally, yeah. For many years.
Were you starstruck?

It was a little intimidating meeting up with him the first time. I didn't know what to expect. He's a really sweet guy and not that much taller than me, so not physically intimidating.
How much time did you have to warm up before you shot?

I met up with him to fill out paperwork and we were chatting and this was all on video -- he recorded most of it. It took me a little while to warm up to the idea that I was actually going to do this and it was all pretty normal. I wanted to have sex with him so it wasn't a big deal. It's not like I didn't want to do it.
Did it live up to your expectations after being a fan for so long?

It was definitely a cool experience after watching his work for so long and actually be part of it but I tried not to go into it with expectations because I didn't want to be disappointed or whatever, so I tried to take it at face value and enjoy it that way.
Do you plan to shoot with him again?

Yeah, if the opportunity presents itself, and I'm sure it will because he comes to New York fairly often for stuff like this.
But for now everything else is off the table

If something presented itself where it was kind of the same scenario -- if I got to warm up to the person and get to know them. That kind of intimacy -- that isn't the right word, but understanding the person -- I'd have to do that to really enjoy it.
You made $700 on each shoot?

Yeah.
Did the money matter to you?

No, not really. I do it more for the experience of it. The money was a cool part, but that's not why I did it.
You don't find that kind of money appealing for future opportunities?

Not exactly. The money thing is enticing and I'm not going to deny that, but that's not ultimately what I want to do for my career. I want to do something I enjoy doing and I'm not totally positive I would enjoy doing that as a job,
Would you ever do big box porn?

Maybe? I don't like to rule anything out but I really kind of like the casual handheld camera kind of stuff. It seems more realistic to me and I like that.
How many people were around when you filmed the scene?

It was just me and him. He just set the camera on the furniture.
What are you interested in, career-wise?

Well I'm really interested in academia. I would like to be a professor one day but there's what I said before about the career thing -- there's a possibility people will find out about me doing this, but I kind of want to live in a society where it's not that big of a deal. I personally don't think that it's that big of a deal. I know that's not realistic, but be the change you want to be in the world.
Are you worried people will out you in Internet comments?

I don't want to let being afraid of something stop me from doing it.
How'd you pick your stage name?

Diana comes from Diana Prince, as in Wonder Woman's real name so that's why I picked that. And Colton was just a name that I picked that I liked.
Calling all HuffPost superfans!
Sign up for membership to become a founding member and help shape HuffPost's next chapter