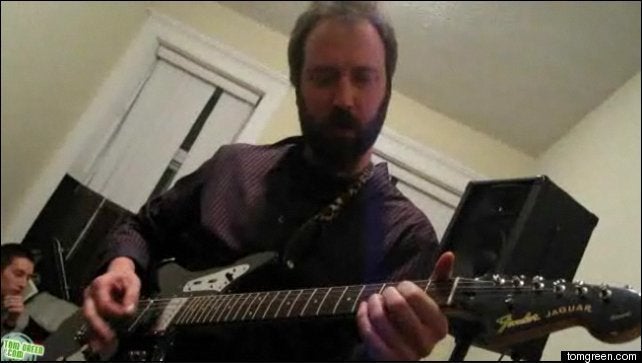 Hey, remember Tom Green, the man who catapulted to fame in the late 1990s with his eponymous MTV show, starred in cult films like Road Trip and Freddy Got Fingered, married (and divorced) Drew Barrymore, and televised his battle with testicular cancer, only to fade from the spotlight just as quickly as he'd landed in it? Well, he's back -- or more accurately, he never really left. You just didn't know it.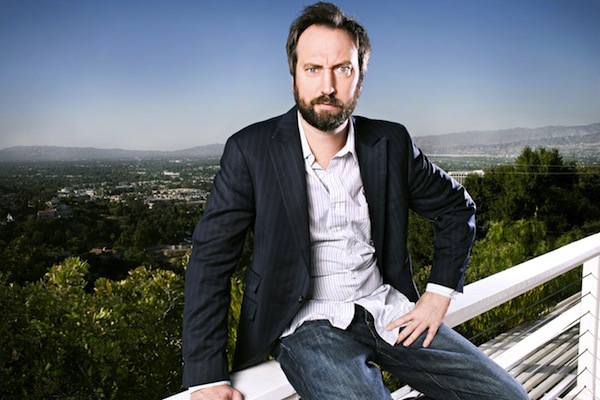 Photo by Neil Visel
Since 2006, Green has hosted a web show on TomGreen.com (or, The Channel, as it is known), shooting out of a studio he built in the living room of his Los Angeles home. Run like an unscripted, informal late-night talk show, notable guests on Tom Green's House Tonight run the gamut from Andrew Dice Clay and Val Kilmer to Jimmy Kimmel and Jackass star Steve-O. And while you may not have heard about it, several million people around the globe tune in on any given night, in addition to the tens of millions of downloads the website gets each month. He's also written a book (Hollywood Causes Cancer) and recently launched a new podcast, which is recorded in front of a live audience at Kevin Smith's Smodcastle theater in Los Angeles.
But perhaps more interesting is that Green, who is still best-known for his man-on-the-street, guerrilla-style videos (many of which involved hilarious pranks, often pulled on his parents), has recently turned his attention to an entirely different medium: standup comedy. In January of this year he launched a standup comedy world tour that has taken him to Australia, England, Canada and three-quarters of major U.S. cities. On Friday, Oct. 29, and Saturday, Oct. 30, he'll perform four shows (two per night) in New York at Comix Comedy Club. That was to be the subject of my recent interview with Green, but in the course of our chat, I found that he has a lot to say about a lot of things, and that to write him off as a has-been would not only be a mistake, it would also be just plain untrue.
If you are a fairly well-adjusted American under the age of 35, you remember when The Tom Green Show debuted on MTV in 1999. It was extraordinarily novel at the time. Here was this odd Canadian guy with a nasal voice and two bizarre sidekicks (Glenn Humplik and Phil Giroux, both friends from his days on college radio), accosting people on the street armed only with a video camera and a raw comedic talent. No scripts, no extravagant special effects or elaborate sets. Just a funny dude, spinning comedic gold. The original Ali G, if you will.
It's those qualities that made his MTV series so successful, qualities that could not easily be replicated for a television audience nowadays. "Our show wasn't run past studio executives or TV executives before we put it on the air," Green explains. "We shot it for public access in Canada for five years. MTV picked us up based on 600 videos that we'd already shot -- we compressed them, made a few cuts and put them on the air. And that's why it looked different from what you would normally see, where the writing process is completely different, and people write a joke and then they send it to executives and it goes all the way up the ladder and all the way down the ladder, until they come up with something."
And then there were the pranks. In one famous bit, Tom surprised his parents by having a graphic lesbian sex scene painted on the hood of their '92 Honda Accord in the middle of the night above the words "slut mobile" (which also served as the title of the segment), then hid in a trash bin with a camera and waited for them to wake up and discover his "gift." The Greens -- nice, middle-class, hardworking parents -- were not amused. But the audience was. It became an instant classic.
In the 10 years since his MTV show and the attention that came with it, Green, now 39 and fully bearded, has done some growing up. So, too, has his sense of humor. Well, sort of. He's still the same hilarious, quirky, insanely entertaining guy he always was. But he doesn't seem to be interested in returning to the mainstream spotlight if that means being a watered-down version of himself. With The Channel, he says, "I'm completely in control of it, no one's telling me what to do and nobody's editorializing or telling me what guests to have on or what I'm supposed to film. So it's very creatively fulfilling." In other words, if he wants to get tanked and take his shirt off during a live show, that's precisely what he does. After all, this is his house -- literally and figuratively.
But don't go to TomGreen.com expecting to find a bunch of new, Slut Mobile-type of videos.
When you go to The Channel, it doesn't hit you over the head instantly as far as what it's all about it. There's just a lot of content on there, and it's long formats, and it's conversational. And what I'm trying to do is something that's relaxed and real and involves people talking. So it doesn't hit you over the head with sort of a shock-tactic, stunty sort of thing that draws you in right away. But that being said, put on a pair of headphones or get some really good speakers, make sure the volume's up loud, watch in full-screen, scroll through all the different guests we've had (and we get lots of guests), find somebody you like, and watch that.
(By the way, there's enough free content on the site to waste at least one full workday, but an all-access pass will cost you $5.95 a month.)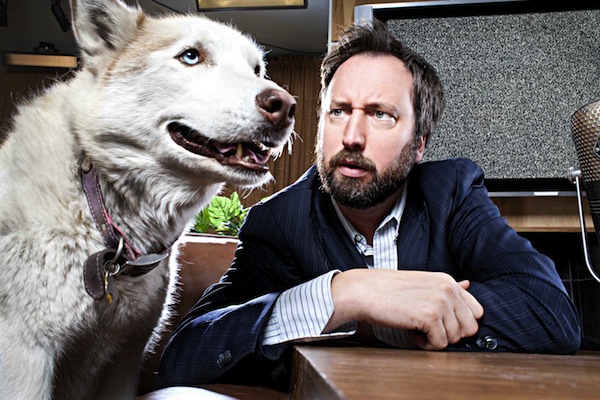 Photo by Neil Visel
Even while touring, Green still maintains his website and posts new videos regularly, although live webcasts are a bit more sporadic due to his hectic touring schedule. In some ways, it was the web show itself that prompted Green to return to standup (which is where he got his start as a teenager in Canada) and embark on an aggressive world tour.
This year, after doing my web show out of my living room for like four years, I decided I needed to get out of the house and do something. Being stuck in my living room all the time was driving me nuts. I wanted to get up and get in front of some audiences, so I started writing jokes, I started writing stories, I started writing this show and coming up with a delivery for it. At first I would jump up on stage at different comedy clubs around Los Angeles, and now I've been on the road for almost a year, since January, full-time.
And there is a ready audience. He has a very active community of fans and followers, and a visit to the TomGreen.com forums shows not only that people around the world are watching, but also that he is watching them right back. He personally responds to many of the comments, and incorporates fans into his web show via Skype. And after every standup show, he does an informal meet and greet with the audience and takes pictures with them ("for their Facebook pages or whatever"). That may explain in part why so many people are spreading the word and coming out in droves to see him perform.
His standup routine is a mixed bag of both traditional and non-traditional comedy. Green describes it as:
A very physical show, a very high-energy show, it's very ridiculous. I like to push people's buttons, I like to mess with the audience and talk about things that may catch people off-guard. But I think people might be surprised to know that it is traditional in the sense that a significant portion of my show is social commentary -- what's going on with technology, and things in media and television... It's a nice hour-and-15-minute block set that's filled with all sorts of different things. I talk about things that are going on in the news, and I try to do a lot of different styles of things. I also play a little bit of music.
Green talks about how marriages have been destroyed by things like Facebook. Back in the day, most households had one phone, and if your mistress wanted to reach you she had to call your house and run the risk of having your wife pick up. Now, technology has made it a lot easier to communicate with people from the past -- including former lovers.
Do we want to have our husbands' and wives' ex-girlfriends and ex-boyfriends from 25 years ago or anybody anyone has ever met in their entire life, whether we like them or not, sending little secret messages in the background, like "How's married life, LOL"? It gets a laugh, but to me it's completely true... If there was a developing theme to my show, it's that change is not necessarily always good, you know? We're getting so much more reliant on text messaging and social networking that we're not necessarily communicating with people in the same way anymore.
So while he is an obvious proponent of new media, Green also acknowledges its limitations and the pitfalls of living in an increasingly web-obsessed world.
You suddenly have people being critical of you, you have people you don't know being able to snoop through your private information. You have people that you've never met being able to see inside our homes. When we were kids we used to say, "Oh, the CIA can see inside your house, the CIA can actually hear your phone," you know, there were conspiracy theories that the government could actually see you from inside your television. And that's all actually become true. And I joke in my standup show that now we give away all our information because some corporation says it's cool -- so now if the CIA wants your information, all they have to do is friend request you.
In addition to riffs on our evermore Orwellian society, Green's comedy act also incorporates much of the old-school material that made him famous. "When you come to my show, you may get lucky and get to hear a live rendition of the 'Bum Bum Song' or 'Daddy Would You Like Some Sausage,'" he says, referring to songs from his MTV show and the movie Freddy Got Fingered, respectively.
So it's a very silly show... But there are no props, no crazy shocking stunts, no weird costumes or special effects. It's a very stripped-down show and I'm doing it like that on purpose, and I'm really enjoying just getting on stage and doing standup comedy in its purest form, with a microphone and some funny jokes, stories and music, and I've been having an amazing time and it's been going really well, and I think that's the reason why I haven't been off the road in a year -- I just keep going.
Speaking of the road, what ever happened to the Slut Mobile?
"I love that I'm being asked by The Huffington Post about that. I just have to confirm that The Huffington Post is asking me what happened to the Slut Mobile," he says, laughing.
Every single show I've done, in every country, in every city, somebody in the audience yells out "Slut Mobile!" And it's the coolest thing, because this was something that we just shot independently, on our own in Ottawa, with my parents' first new car. When we did that bit, we had it professionally airbrushed on the hood of the car, and it was a great job. But obviously that kind of paint job takes some time to dry and we had to do this in the middle of the night. So people sometimes wondered how we did that. Well, what we did was we actually bought an extra Honda Accord hood for $400, and we had the paint job done for another $150 -- it was the most money we ever spent on a single bit back when we were on public access -- and then in the middle of the night we swapped the hood out.
After several livid voicemails from his mother, Green and his posse swapped the original hood back and returned the car in perfect condition. The airbrushed hood now resides in his Los Angeles home; in some video clips on his website, you can actually see it hanging on the wall in the background.
There's a lot more on the horizon for Tom Green, starting with his web show, which he intends to move out of his living room and into a proper studio before the end of the year. He's also planning to do a feature-length film built around man-on-the-street videos, something he misses doing after having taken a few years off. Another movie called "Prankstar" has already been filmed and is currently being shopped to producers in L.A.
As for his standup comedy, Green says he plans to stay on the road for another four or five years. What happens after that is anybody's guess. But one thing he won't be doing is pulling any more pranks on his parents -- he's promised to let them enjoy their retirement.
Popular in the Community