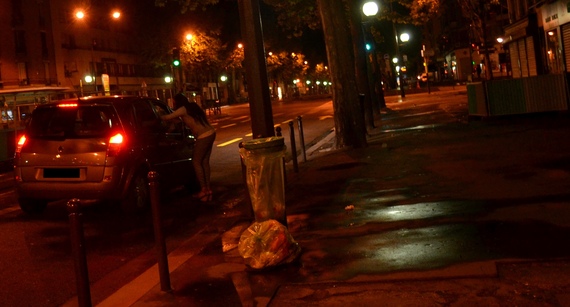 I was at first infuriated, then deeply unsettled, by the headline and language of a Washington Post story last month that described two girls between the ages of 12 and 15 who were drugged and forcibly held against their wills as "prostitutes." Describing children in this way is appalling, and betrays an ignorance of the applicable law and a horrifying insensitivity to the suffering these young survivors endured.
Call them sex slaves, rape victims, or exploited children. But kids too young to give consent to sex should not be referred to with a word that implies that they chose this line of work or receive any benefit from it.
Michigan, where the girls were exploited, exempts minors under the age of 16 from prosecution for prostitution, as does the District of Columbia, where The Washington Post is published. This is not a matter of political correctness; it is the law. In fact, under federal, Michigan and D.C. law, the girls are trafficking victims, not prostitutes. I am disappointed that the reporter, his editor, and the paper's headline writer apparently do not know the difference. But The Washington Post is in many respects excellent, and my main grievance is not with the paper, but with a society that believes "prostitute" is the language for children who are illegally bought and sold.
As Shared Hope International reveals through its Protected Innocence Challenge -- anti-trafficking report cards for all 50 states and the District of Columbia -- all 50 states have criminalized child sex trafficking (Hawaii passed its law earlier this year.) Five more states have ensured that commercially sexually exploited minors will be treated as victims, in need of social services, instead of as criminal defendants.
But 31 states have not yet passed such legislation, and I am far more appalled at the laws in these states than the language used by The Washington Post. To quote Shared Hope founder Linda Smith
We must stop criminalizing kids for crimes committed against them! Domestic minors are twice condemned: first by sex buyers and the voracious commercial sex trade, then by the juvenile justice system...Only when buying sex becomes very costly--meaning steep fines and jail time--will we be able to prevent this crime from happening in the first place.

At Covenant House, the largest charity in the Americas serving homeless and trafficked youth, we see the real life implications of these laws every day. We see, for example, how in Louisiana, which earned an A+ from Shared Hope, a ground-breaking law that this year broadened the definition of sex trafficking, can help the youth we care for every day. The new law, which Gov. John Bel Edwards signed on May 27, makes Louisiana the first state to raise the age to 21 for requiring proof of force, fraud or coercion in sex trafficking cases. That means if you were prostituted before age 21, a district attorney can prosecute your pimp without having to prove force, fraud or coercion.
A study of the homeless youth we serve at our New Orleans shelter, completed by Loyola University, showed that 14 percent of those interviewed had been trafficked for sex or labor. Of the young people trafficked for sex, two thirds were under 18, and the new law may create a quicker path to justice to young people over 18 - they will not have to prove that they were forced or defrauded by someone else into selling sex, but will be treated as trafficking victims because they are under 21.
At another one of our sites, in New York City, however, we see the damage inadequate laws can do. New York, which earned a D from Shared Hope, is easier on traffickers than federal law, requiring prosecutors to rely on minor victims to prove "force, fraud or coercion" played a role in their exploitation - no small feat for a traumatized teen who may not feel safe testifying against a powerful and violent pimp.
The Federal Justice for Victims of Trafficking Act clarifies that anyone bought or sold for sex under age 18 is automatically a trafficking victim, regardless of whether force was involved. But that law only applies to federal crimes. Anti-trafficking advocates in New York are making the obvious argument that if you are too young to consent to having sex, how in the world should a pimp be able to get away with selling and profiting from your sexual servitude?
Slowly but surely, the tide of justice is turning for child trafficking victims across the nation. For example, Mississippi added child trafficking victims to the definition of an abused child, opening access to foster care and services for them. And Oklahoma made buying sex from 16- or 17-year-olds a felony.
Please take a look at how your state ranks, and work with your state legislators, attorneys general and governors to reduce the demand for prostitution, punish people who buy sex from youth up to age 21, and ensure services are available to trafficking survivors.
Children are not and can never be for sale. When they are bought and sold, they are trafficking victims. And when they are freed, they are trafficking survivors, not prostitutes. We have to make sure lawmakers and reporters alike know the difference.
Calling all HuffPost superfans!
Sign up for membership to become a founding member and help shape HuffPost's next chapter