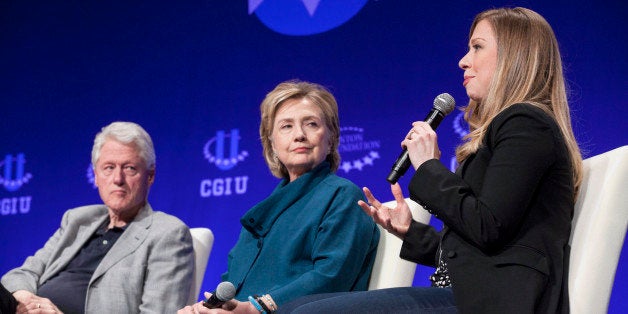 As the drumbeats grow louder demanding that the Clinton Foundation bow to political pressure and close its doors, I'm reminded of my own skepticism more than a decade ago about what Bill Clinton could accomplish through the creation of unconventional partnerships with unlikely contributors.
I was in India at the time, working for the Gere Foundation India Trust on an HIV/AIDS prevention and anti-stigma campaign. The Clinton Foundation, then just a few years old, announced it was partnering with the Indian National AIDS Control Organization to help train 150,000 doctors and healthcare professionals to support modernized HIV/AIDS treatment. I, along with many of my colleagues who were implementing HIV/AIDS programs, did not believe that the Clinton Foundation could achieve such a lofty objective. When the initiative was launched, people living with HIV were so stigmatized that their civil rights were violated. The idea that Bill Clinton could persuade the Indian government to mobilize 150,000 healthcare professionals in this climate seemed highly unlikely.
But I was wrong: the foundation and the Indian National AIDS Control Organization reached and then surpassed their goal -- and then the foundation went on to establish a successful pediatric HIV/AIDS initiative.
Earlier this month, the Clinton Foundation announced changes to its structure and fundraising to address potential conflicts of interest in the event that Hillary Clinton is elected president. There's no question that these changes are necessary. But the current media narrative on the Clinton Foundation demonstrates that critics don't understand how the foundation works. Money raised by the foundation -- from governments, individuals, and companies -- is used to fund programs that create long-term change for the most disenfranchised children, women, and men in the world. Through the foundation, including the Clinton Global Initiative, Bill Clinton alone himself has spent countless hours developing innovative initiatives programs and using his powers of persuasion to convince groups that do not ordinarily support the work of the NGO sector to give -- and among those that do give, to give even more. I find it incomprehensible that critics of the foundation believe that the Clinton family has dedicated the last 15 years to tackling some of the world's greatest societal challenges for political and personal gain.
I am not a disinterested observer. As the executive director of Amref Health Africa in the USA, I am responsible for increasing resources and raising awareness for the largest African-based health NGO, a 59-year-old organization that delivers services in more than 30 countries on the continent. Through CGI, the Clinton Foundation has provided Amref Health Africa with a platform to engage corporations and foundations that we would not normally be able to access. These partnerships have the ability to fund our work on maternal and childhood healthcare, battling infectious diseases, providing life-saving surgery, improving water and sanitation, and training healthcare workers.
In our first collaboration in 2013, we joined a coalition to bring an end to harmful practices -- child marriage and female genital cutting -- affecting girls and young women-- child marriage and female genital cutting -- in Kenya, Gambia, and Tanzania. Our partners are United Postcode Lotteries of the Netherlands and international healthcare NGO Tostan,an international healthcare NGO. Since launching our CGI commitment, nearly 12,500 girls in Kenya and Tanzania have engaged in humane alternative rites of passage in lieu of circumcision. This is precisely the kind of commitment that the CGI model was designed to bring about -- NGOs, business, governments, and other actors coming together for a specific impactful initiative. Last year, Bill and Chelsea Clinton visited Kenya and toured many of the sites where Clinton Foundation programs are changing lives. At one stop, Bill Clinton talked about a bold vision for future of the country: "So here you are in Nairobi, near where humanity began, at the center of the battle that will define the whole future of the planet. Will the future look like you?"
This fall, Amref Health Africa will be participating in the final CGI meeting, making a five-year commitment in partnership with Safaricom, M-PESA Foundation, and the Kenyan Ministry of Health to train 10,000 community health workers using mobile technology. While we fulfill our commitment, what projects will fall by the wayside or never get off the ground if the foundation is shut down?
For those of us who work in the U.S. nonprofit sector, and global development and philanthropy, the Clinton Foundation has been a willing and innovative partner for 15 years. Like any large-scale non-governmental organization, the Clinton Foundation has seen both success and disappointment in its efforts. But overall, its presence and energy -- and Bill Clinton's commitment to leverage his political and social capital -- have made significant contributions to the work of my peers and me.
The growing politicization of philanthropy represents a real danger to the nonprofit sector, not just in the United States, but around the world. If the Clinton Foundation can be forced to shut its doors, what are the chances that future presidents and public figures will put their reputations on the line to be forces of for good in the world? How much social and financial capital will remain on the sidelines out of fear of motives being questioned? By shutting down CGI, who will convene NGOs, governments, and corporations at the highest levels to form innovative partnerships?
More broadly, can we in the not-for-profit sector allow ignorance about our work to triumph?
Popular in the Community