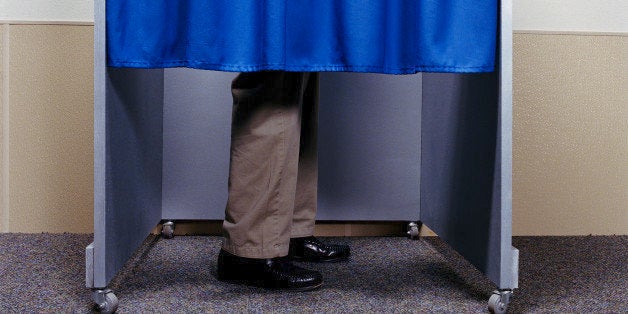 There's no question -- the midterm elections this fall are consequential. In Washington, they will determine not only whether Democrats retain control of the Senate, but also whether our nation has a chance to solve real problems for American families or if President Obama will have to veto his way through his final two years in office.
What we must also remember is that this election is crucial in states across the country. While progress has been stymied by gridlock in Congress, state legislatures made lopsided by gerrymandered districts have wasted no time passing new and restrictive health care measures, as well as right-to-work and election laws, turning back the clock on so much progress our country has made for middle class and working class Americans. Our pocketbooks are drastically affected by the ballot box. Both federal and state elected officials determine opportunity. We can't claim to care about the working class and not support candidates who fight for them.
That is why it is so important that we play the both/and game: working to elect the Congress we need and fighting to elect up and down the ballot this November. It is also crucial that we have a multi-generational alliance, as the choices seasoned leaders make now determine the size of the fight young leaders face later. These are races that are not only important, but races that we can win if we would broaden our focus, think long term, and struggle together.
One race that we are paying particularly close attention to is State Senator Nina Turner's campaign for Ohio's secretary of state. In the midst of all the work Democrats are doing to secure the Senate and advance the numbers in the House, there are essential down ballot races like Turner's (and others) that have been overshadowed by top ticket candidates that are not performing. However, we have an opportunity and an obligation to think long-term as we raise resources, identify strategic targets, and mobilize ground activities for turnout over the next 47 days.
Let's use the Turner race as an example. Nina Turner has spent her entire career fighting for working families, stronger schools, and elections that allow all people to cast their ballot fairly, conveniently, and securely. That's why it isn't surprising that recent polling data, surveying everyday Ohioans, has her as the most competitive statewide race in Ohio. Since the beginning, Nina Turner has polled head to head with the incumbent, Jon Husted, and has continued to keep her single-digit margin throughout her campaign. Just last week an independent Buckeye Poll done by the University of Akron's Bliss Institute singled out the competitiveness of Turner's race despite the recent decline of Ohio's gubernatorial candidate.
In addition, Turner's race has garnered the attention and the support of several national stakeholders, including former Governor Howard Dean and most recently former President Bill Clinton. In a recent direct mail piece that the former president did for Turner, Clinton comments on her qualifications:
"During her career as a public servant, Nina has cemented her national reputation as a leading voice for the rights of working and middle-class families, women, people of color, and voters. And unlike her opponent, Nina has fought to make voting more accessible, simple and secure. Inclusion and expanded opportunities have always been the hallmark of our nation and the bedrock of the Democratic Party."
This support highlights the fact that Turner is a competitive and true Democrat, who is unequivocally qualified to serve as Ohio's next secretary of state. My hope is that the rest of our party realizes the same thing before it's too late.
If her polling numbers, her background as a champion for core Democratic values, and the backing of key Democratic influencers wasn't reason enough, then reflect on the consequence of not having Nina Turner as Ohio's next secretary of state. Remember the adage, "As goes Ohio, so goes the nation"? No Democrat since Kennedy has won the White House without carrying Ohio, and no Republican has ever won the presidency without first winning the Buckeye State. Who our next president is could very well depend on the votes in this pivotal state and this crucial race. With that much on the line, it is imperative that we have a champion for all people in office ensuring Ohioans' ballots are fairly counted -- not someone whose career has been defined by making it harder to vote. Support for Nina Turner in 2014 not only empowers Ohioans, but the Democratic nominee in 2016.
Nina Turner is not the only down ballot race that has not bubbled up as a priority for Democrats, but we don't want to say that we failed to fight for such an important and winnable seat on our watch. We can support Nina and other down ballot candidates that have the ability to win if we would just show up. Our country deserves their elected service and our effort.
Calling all HuffPost superfans!
Sign up for membership to become a founding member and help shape HuffPost's next chapter