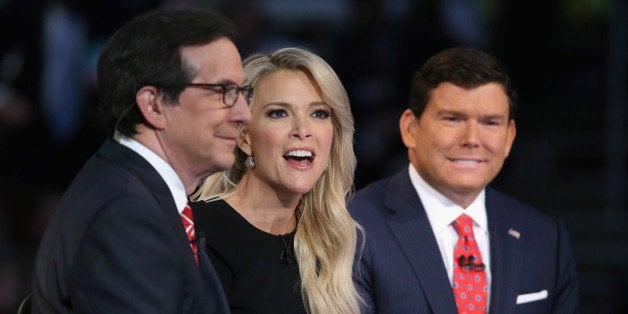 Donald Trump's boorish comments about Fox News host Megyn Kelly have almost totally diverted attention from the "War on Women" positions of the other top-tier Republican candidates.
Cruz, Walker, Huckabee, Rubio, and Christy aggressively asserted that they would work to enact laws and policies that prohibit abortion for victims of rape and incest and they would allow a mother to die rather than have an abortion.
All the GOP candidates would cut all funding to Planned Parenthood and stop the medical services that it provides annually to almost 3 million poor women. Jeb Bush bragged about how it cut Planned Parenthood funding while Governor of Florida. Governor Scott Walker boasted about doing the same in Wisconsin.
All promise that they will repeal the Affordable Care Act (Obamacare) if elected President, which would deny health care to an additional millions of women.
None of the candidates on that stage support equal pay for equal work.
None support giving Black and Hispanic women the assured right to vote. Indeed, the GOP is working hard to suppress the Black vote in more than two-dozen states.
Fox News turned a Presidential debate into reality politics. It failed to ask the right questions the GOP should be facing. It was a "the dog did not bark" moment. And Fox News ran ads throughout the show. The concept of providing a public service seems alien to Fox News, whose parent corporation uses our public airwaves to make billions of dollars annually.
Does the Republican National Committee even exist anymore? They should be paying for and controlling the GOP Presidential debates, allowing all networks to broadcast them, including C-SPAN.
If the Republicans want to know why a Trump can succeed, it is because they have allowed their Party and its candidates to openly sell itself in the marketplace. That is why their base is in rebellion.
As for Megyn Kelly, she is a smart lawyer, a tough litigator and a hard questioner who played Trump like a skilled violinist.
I look forward to a rematch in January 2016 when Fox News once again hosts a GOP Presidential debate -- that is, if Trump is still running and one of the other networks hasn't hired Kelly for something bigger than cable news.
REAL LIFE. REAL NEWS. REAL VOICES.
Help us tell more of the stories that matter from voices that too often remain unheard.