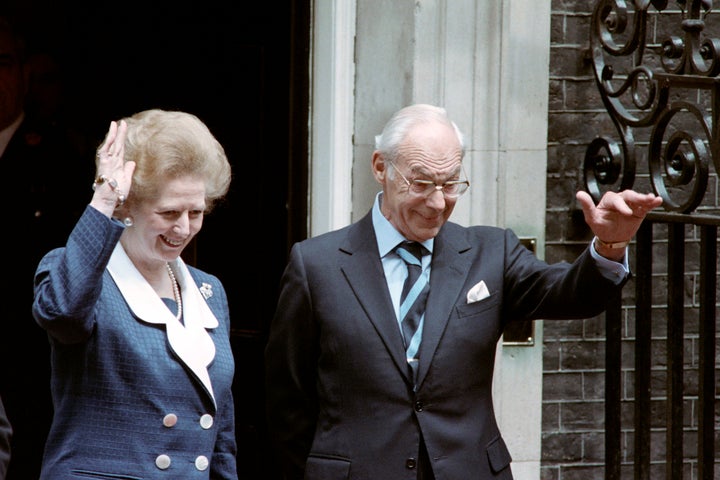 The period between a death and a funeral is one of reflection, and it has certainly been so for my home country of Great Britain as Margaret Thatcher is laid to rest today.
Between the vitriol posted by a number of my Facebook "friends" over Thatcher's passing, it was the words of one of my closest pals from Cambridge University, who was born and bred in the North of England, that stood out most. She wrote:
[I] grew up under a female prime minister. As a result, as a girl, it never occurred to me that there were areas of influence that might be closed to me because I was female. Whether I agreed with her policies or not, Margaret Thatcher put a generation of women on a more equal footing.
No American female has yet had the opportunity to grow up with the example of a woman in charge. Even if Hillary Clinton wins in 2016, she is a former First Lady -- Thatcher was a grocer's daughter who did it on her own. This week has reminded me how lucky I am to be of a generation known as "Thatcher's children." Would I be the person I am today without Thatcher? Would I have worked as hard as I did at school, not flinch when debating a roomful of men -- or a Fox News host live on air -- without "The Iron Lady" as an example? I doubt it.
Thatcher once said: "If you just set out to be liked, you would be prepared to compromise on anything at any time, and you would achieve nothing." She was tougher than those around her, but perhaps that was because she had to be? The nature of trailblazing?
There weren't exactly contemporary examples for Thatcher to follow. In 1975, when Thatcher became leader of the British opposition, the U.S. Senate contained no women. My Dad co-wrote the musical "Evita" and tells a fascinating story of Thatcher before she was Prime Minister. The then-leader of the opposition apparently used to turn up and stand at the back of the show for the end of the first act and the beginning of the second. So, she stayed for the big, conquering numbers -- "A New Argentina," "Don't Cry For Me Argentina" (the balcony scene with the arms) and "Rainbow High."
The tale may now be in part urban legend, and is of course deeply ironic, bearing in mind the Falklands crisis a few years later. However, what is certainly true is that Thatcher had an innate understanding of the theatricality of politics. She embraced the supposedly derogatory term she was nicknamed by the Soviets in 1976, "The Iron Lady." Every day, the persona of the housewife-politician went into battle with her armor -- the hand bag, the hair and the power suits.
Americans are to an extent puzzled by the polarizing force Thatcher was in her own country. But remember that Obama is far more popular internationally than he is in the U.S.. Americans didn't have to deal with "The Iron Lady" on a partisan, day-to-day basis. On the world stage, despite some difficulties in the wings, her "special relationship" with Reagan helped end the Cold War. It is to Thatcher's immense credit that she identified Gorbachev early on as a man she could "do business with."
For all the controversies that Thatcher caused, the venom displayed on social media and at street parties since her death, it is worth remembering this: Thatcher never lost a general election, winning three concurrently. The British people, when given the chance, on balance, did not reject her. In the end, it was her own party that committed political matricide.
For the first time since Churchill's, the Queen attended a former Prime Minister's funeral today. Margaret Thatcher was the longest-serving British prime minister of the twentieth century. The woman who is expected to be Britain's longest reigning monarch, recognizes history when she sees it.
Related
Popular in the Community