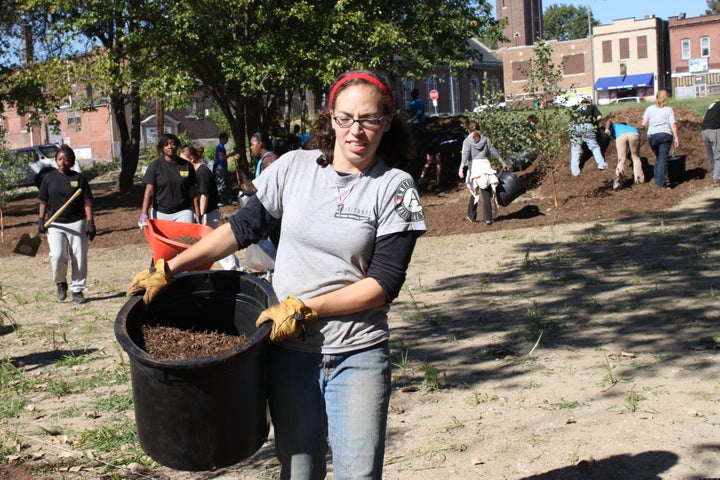 Once again, AmeriCorps, along with the entire Corporation for National & Community Service, is on the federal chopping block.
This week, House Appropriations Chairman Hal Rogers (R-KY) proposed not just cutting national service programs, but eliminating them entirely. This proposal comes less than two years after Congress overwhelmingly passed the Serve America Act with tremendous bipartisan support in both the Senate (79-19) and the House (279-149). The Serve America Act authorized the expansion of AmeriCorps from 75,000 corps members annually to 250,000 in order to fight our country's most pressing societal challenges in the areas of education, the environment, and public health, and to serve our veterans when they return home from war.
Conservative Senator Orrin Hatch (R-UT) and 2008 Republican presidential nominee John McCain (R-AZ) co-sponsored the legislation. Sen. Hatch, making the case for national service to his Republican colleagues, argues "an important aspect of fiscal discipline is investing in ideas that work...75,000 national service participants leverage an additional 2.2 million volunteers every year -- volunteers that aren't subsidized by the government in any way." After 9/11, President George W. Bush expanded AmeriCorps from 50,000 to 75,000 corps members, building on the work of his father, President George H.W. Bush, who created the Office of National Service in the White House.
We have let the concept of service become dangerously narrow, often associated only with the military. This allows most Americans to avoid the sense of responsibility essential for us to care for our nation--and for each other. We expect and demand less of ourselves than we should.
Less than one percent of the U.S. population serves in the Armed Forces and even fewer have the opportunity to serve in a civilian national service program. While our country is engaged in two wars abroad we have asked very little of citizens at home. The one percent of Americans that serve in the military and their families are bearing an inequitable burden to keep our country free during this time of war. Shouldn't we ask citizens to protect our communities here at home by improving our schools, responding to natural disasters, and bringing clean energy to our neighborhoods? Through national service we can strengthen our democracy, meet pressing challenges, build a more active and engaged citizenry, and live up to America's promise to "form a more perfect union."
The Millennial Generation is ready to serve. But despite champions in the White House and on both sides of the aisle in Congress, national service programs can't compete with powerful special interests groups that hire high-priced Washington lobbyists to make their case to members of Congress. So when Congress begins carving up the federal pie each year, national and community service programs wait in fear of drastic cuts or, in the case of Rep. Rogers' proposal, being eliminated all together. The only way to counteract the power politics of D.C. is through citizen-driven advocacy. ServiceNation and ServeNext.org have recognized this need and are organizing citizens all across America to become champions for national service who can influence policy-makers. They have made progress but they need your help. Traditional special interest groups spend millions of dollars to influence members of Congress, while national service programs rely on your voice. So call your U.S. Representative today and tell them to Save AmeriCorps.
Calling all HuffPost superfans!
Sign up for membership to become a founding member and help shape HuffPost's next chapter