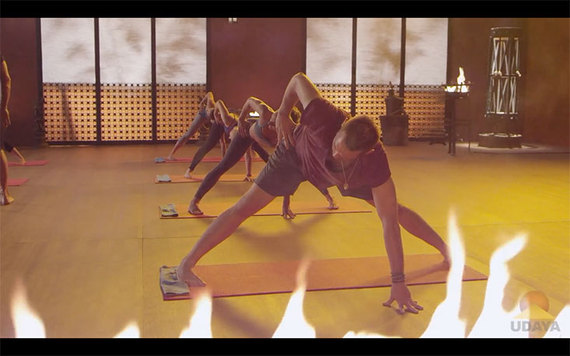 Right off the bat I'll admit it, I never took the time, and more importantly I never felt the need to developed the type of awe inspiring, fancy, acrobatic personal yoga practice that's worthy of 350,000 Instagram followers. However, do feel free to follow me @rudymettia on the Gram and Twitter. Now, while I love yoga, and from time to time may even dig looking at all the fancy pictures that fill my social media feeds, I've never felt that type of practice, as beautiful as it can be, was beneficial to my own day-to-day athletic life. At least beneficial enough to invest the extensive time I imagine it must require to achieve that level of asana accomplishment. I admit that the mat's as good as place as any to discover revelations of the mind, body and spirit. However, I have other physical skills, interests and talents that suite my body type more. For that reason I have chosen to invest my precious time in these movements and other physical activities that I feel are far more valuable and needed as we, God willing, move further and further downstream in this river of life's flow.
Right now I'm fully committed to and vested in what I call, Functional Yoga (FY). Just what the Hell is this Functional Yoga anyway? Well, I'll tell you. Like the fancy stuff, it's just yoga; movements that if they were based and judged purely on a physical plane they tend to be considered simpler, accessible, grounded, and yet powerful postures. These movements translate more easily once you're off the yoga mat and into your day-to-day life. In my life, my yoga practice and equally, my strength and conditioning regimen are such a big part of my day-to-day life and my vocation's description. They have required so much of my time these past 35 years that I even fancy myself a professional athlete of sorts. However, I'll admit being a poor one if being considered a pro athlete is solely judged by today's professional athletes financial standards. It doesn't in my view and shouldn't in yours either.
Are you, like myself, a runner or a sprinter? Do you love going to a spin class or taking a hike? Do you swim, surf, play a sport, anything outside of your yoga practice? Perhaps you are a gym rat (Iron Whisperer, I like call it)? Are you an MMA yogi, a champion for your children, your family, your friends? Then yes, you're an athlete.
Yes, you are an athlete. I trust you just proclaimed this to the heavens! Because I believe, for all the reasons I just listed, that you damn well are. If you have a body, you're an athlete; even though we may not have the multimillion-dollar contracts with Nike nor are we seen on ESPN. Life is a marathon - a sold out, standing room only event - a performance. Life's a decathlon, a cage fight on numerous fronts and you must cultivate all your God given potential, athletic skills, as well as your physical, mental, and emotional power to win, yes win! Winning in this case means being the strongest and fittest you can be. A pro athlete in this game we call life.
Functional Yoga (FY), like all yoga, takes the body through all twelve major joints and their entire range of motion. This functional practice awakens all 639 muscles in the human body, it stresses in a positive way all 206 bones that your body houses and it challenges the cardiovascular and central nervous system. It tests your balance, strength, endurance, and of course flexibility. It gives a person confidence as they seek to win the blessing of a strong, healthy body, a calm centered mind and a soaring spirit to light your way.
You may gleamed by now that I am a big proponent and I preach the benefits of being a ʻcross trainingʻ yogi. Being a yogi/gym rat type of athlete has given me the permission once I arrive at the sanctuary of my mat to treat my yoga as more of a healing then a 'workout' or Instagram performance, as I get that elsewhere. I do however crave the gentle inherent ʻwork-in' that a yoga practice affords us and is indeed a welcomed bonus. The secret is that it is all in your intention -- the why, if you please.
Along with Udaya Entertainment I developed the Yoga Warrior 365 box set as the home base for the practice of FY. The practices are intended to be simple and assessable in their form, yet complex in their intention to detail. These practices focus on certain skill sets. They are not full of fluff but full of functional movements that will help life athletes extend their prime. If you, like me, are a bit of a cross training yogi, YW365 and my new Functional Yoga series on Udaya.com may be the supplement you need to keep you in the gym, on the hike, in the pool or on the bike. You'll be able to keep chasing those kids and one day those grandkids. And still look cool on Instagram.