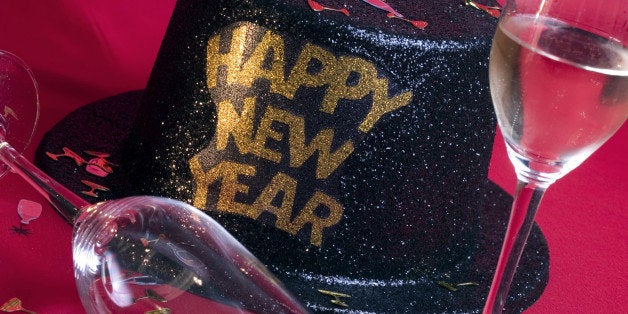 Less than 12 hours from now, our world will change. In fact, it will change so much that in less than an instant, every single person on the planet will notice. It is the night of couples, where everyone wants to be in the arms of the one they love. Date night all over the world. There will be headlines, photos, and merriment. Streamers, cheers and kisses, the world will celebrate adding one. The day we celebrate the New Year is here. Hip, hip!
For many years, more than I can count, I didn't celebrate the change... well not really. We would rarely go out. If we were lucky we'd stay awake and see the ball drop with Dick Clark. There were a few years that I set the alarm and creaked open my eyes for a moment. Yawn, Happy New Zzzzz. Not exactly Mr. Excitement. New Year's parties are for the young, I thought. But what of this worldwide change? It is so important that everyone notices.
Unlike secular holidays like Christmas, or national holidays like Thanksgiving... this is the real deal! The entire world gets to count down together ... even the kindergarteners up way past their bedtimes will count. And in the end, three becomes four. Not exactly earth shattering.
But tomorrow is important. It is the day of resolutions and promise. This year is going to be different. There will be way more good things that happen than bad, right? Let's forget the past and move on. Tragedies, triumphs, and old acquaintances all forgotten, never to be brought to mind. Out with the old, in with the new. It's time!
Wait, isn't that the way we should live every day? Let today's triumphs and tragedies be past and we start anew every day? Can you even imagine the entire world cleansing and renewing every day? We certainly wouldn't have anything to fight about. Let bygones be bygones, between countries, people, and even within ourselves. Now that would be something worth celebrating!
The catchy Scottish ditty by Robert Burns that we all hum after the first few words translates well... "For auld lang syne, my dear, for auld lang syne, we'll take a cup of kindness yet, for auld lang syne." Toast the past and look to the future. Seize the hands of time and make the moments count. Count down to the new world, the new thoughts and the new you. Tonight, and every night, the world holds its promise out to you. Count down to the one change. 5, 4, 3, 2, 1... Happy New You!
Now that's what I call dropping the ball!
REAL LIFE. REAL NEWS. REAL VOICES.
Help us tell more of the stories that matter from voices that too often remain unheard.