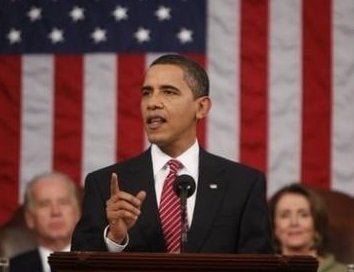 President Barack Obama declared in his first speech before a Joint Session of Congress that the answers to America's economic crisis "exist in our laboratories and our universities..."
Yes, but.... Higher education is itself jeopardized by the recession, and its ability even to cope with the next few years is threatened. Well more than half of the states face budget shortfalls, some of them catastrophic, and among the first areas to be slashed are the public institutions of higher education. These cutbacks are profoundly affecting public university systems from coast to coast.
Nevada Governor Jim Gibbons has proposed a 36% cut for higher education -- which is three-quarters of the entire $633 million he wants to cut from the state budget. In Washington, Governor Christine Gregoire is seeking to solve her state's economic woes with a 13% cut in the state university system. And just prior to being tapped by President Obama for the Cabinet, Kansas Governor Kathleen Sebelius proposed an $81 million cutback in higher education spending over the next two years.
In New York, Governor David Paterson has taken a Draconian stance in regard to the SUNY system, proposing massive aid reductions and, adding insult to injury, also taking 90 per cent of the funding from a compensatory tuition increase. Students will be paying more, but most of their money will be funneled toward the State deficit. Even before the severe mid-year cuts in his 2008-09 budget, state aid to SUNY's four-year colleges and graduate schools had fallen below the level of the early 1990's, despite steadily rising costs and inflation.
With such utter disregard for higher education, America is losing ground on a number of fronts critical to our future prosperity and progress. Once the U.S. led the world in the percentage of its population with higher education degrees. Now, among individuals ages 25 to 34, we have fallen to 11th, behind such countries as Russia, South Korea, and Japan. For the first time, the cohort of Americans of that age group is less educated than the cohorts that preceded it. Playing catch up will not be easy; a recent report shows that to keep up with international competitors, the U.S. will have to educate an additional 15 million-plus with either associate's or bachelor's degrees by the year 2025. That's a whopping 37% increase over current production.
At the same time, tuition and fees have risen nearly three times as fast as the median family income, after adjusting for inflation, over the past two decades at public colleges and universities. And rather than equipping labs and classrooms and hiring faculty, these institutions are being forced to use increased revenues primarily to meet inflation and to offset the losses in state appropriations. The shortfall -- and the burden -- is passed on to already cash-strapped families, who are faced with increased debt load.
As in other states, Gov. Paterson's budget measures come with several sad and ironic twists. Next year's enrollment at SUNY and CUNY is expected to be larger than ever. Many more high school seniors will be choosing public universities rather than face tuition costs at privates that sometimes rise above $40,000. Moreover, with the rapidly rising unemployment rate, a significant number of men and women will opt to return to college to pursue new careers. Enrollment pressures are expected to be greater than ever.
So, there's an obvious and serious disconnect by the Governors of all states who have made supportive pronouncements for higher education while wielding their budget axes. Funding cuts and tuition increases at public institutions, which educate three-quarters of America's college students, are exactly the wrong approach. Indeed, public investment in higher education, especially in recessionary times, is sound economic policy. What else but education can turn out the brains that create new science and technology, then use the discoveries to develop more and better jobs?
Consider Stony Brook University. It is far more than a "flagship campus" of the SUNY system; it is also a driving force of the Long Island economy. In fact, its annual economic impact on Long Island is a staggering $4.67 billion, and it generates nearly 60,000 jobs. Furthermore, Stony Brook accounts for nearly four percent of all economic activity in Nassau and Suffolk counties and roughly 7.5% of total jobs in Suffolk County.
The economies of a Silicon Valley or Austin Corridor are similarly fueled by their local state research universities. Berkeley, for example, receives about a half billion dollars in research support from external sources each year, about 70% of which is public money. These funds support research that addresses children's health problems, global warming, poverty, and disease, as well as innovative products for the benefit of society. At the University of Texas at Austin, research funding exceeds $400 million annually, while the return on this investment is approximately $1.4 billion in business activity per year.
The states must stop viewing their universities as cash cows in hard times and invest in them instead. But the states can't do it alone. It is time for a new National Education Act that protects our country's prosperity and security by developing the raw talent and channeling the untamed energy of our whole population. It is time to legitimize K-16, not K-12, as our national commitment.
A college education should be every American's birthright. Young people need it - and more importantly, the country needs them to have it. Our economy depends on education beyond the high school level; President Obama noted in his speech before Congress that three-quarters of the fastest-growing occupations require it.
It is important to remember that the greatest advances in the American higher education system have come through federal initiatives. The Morrill Land Grant Acts of 1862 and 1890 spawned the great state universities by establishing funding for higher education in agriculture and industry. The creation and growth of the public universities democratized higher education and fostered a climate of intellectual achievement essential to America's international stature.
The GI Bills enacted to benefit veterans of World War II, Korea, and Vietnam benefited the country incalculably, multiplying the population of college-educated professionals who turned their energies to multiplying the nation's productiveness. The National Defense Education Act of 1958, passed in response to the wake-up call the Russians sounded by launching Sputnik, re-focused the country's attention on scientific achievement and the knowledge needed to accomplish it.
But as nations in Asia, the Middle East, and elsewhere are now investing huge government funds in their public university systems, our nation, which pioneered the concept, is losing ground. This is one contest we can not afford to lose.
For each generation's future, for the nation's future, nothing comes close to the benefits of enhanced brainpower. But how can we help shape those brains for the long haul if we shortchange our universities today?
Dr. Shirley Strum Kenny has served as president of Stony Brook University for 15 years and was chairperson of the landmark Boyer Commission on Educating Undergraduates in the Research University.
Calling all HuffPost superfans!
Sign up for membership to become a founding member and help shape HuffPost's next chapter