The Super Bowl is a pinnacle sporting event here in the United States. The athletes, the commercials, the celebrities, the performances, the parties-- everything about the Super Bowl is a big deal!
Although there are millions of people who are deaf/ hard of hearing in this country, it was not until 2011 (Super Bowl XLV) that the entire Super Bowl, including commercials, was broadcast with closed captioning. That means for 45 years, deaf/HoH people were excluded from sharing in the full Super Bowl experience.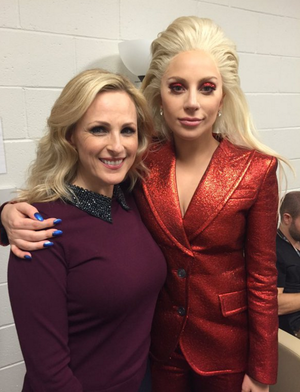 Up until Super Bowl XXVI, in 1992, the National Anthem was not interpreted. In 2016, deaf actress Marlee Matlin was enlisted to perform the National Anthem in ASL as Lady Gaga sang-- but Matlin was hardly shown on screen during the live broadcast of the game, which completely defeats the purpose of providing ASL interpretation!
While there has been some progress in accessibility, even the most well-financed professional sports organizations in the world continue to "drop the ball" when it comes to providing equal access for deaf fans.
Why would it be assumed that deaf/ HoH people are not sports fans? This is what we call hearing privilege, and it is just one example of the unfortunate audist attitude that prevails in our society. Despite barriers to access, many people who are deaf enjoy watching and participating in athletic events. In fact, the Deaf community has a strong history of supporting and even influencing mainstream sports!
Paul D. Hubbard, quarterback for Gallaudet University from 1892-1895, is credited with inventing the modern football huddle. William "Dummy" Hoy was the third deaf baseball player in the Major Leagues, playing centerfield for the Chicago White Sox in 1901 and the Cincinnati Reds in 1902. Hoy is remembered for his use of hand signals to communicate with umpires-- a form of non-verbal communication that is still used during baseball games today. Playing for the New York Giants, Luther Haden "Dummy" Taylor was the first and only successful deaf pitcher in Major League Baseball history.
As the first and only deaf National Hockey League player, Jim Kyte played in nearly 600 NHL games between 1983 and 1997. Known famously as the only player to ever score a "quintuple-double" (25 points, 18 rebounds, 11 assists, 10 steals and 10 blocks), Tamika Catchings won numerous awards throughout her 15 year Women's National Basketball Association (WNBA) career and played for the gold medal winning USA women's basketball team at the 2004 Summer Olympic Games. In 2008, Lance Allred became the first deaf player in the National Basketball Association. Seattle Seahawks fullback Derrick Coleman became first deaf football player to win a Super Bowl in 2012.
Those are only a few examples of deaf/ HoH athletes who pursued their talents on mainstream teams. As the very existence of the Deaflympics suggests, there is really no shortage of deaf individuals who play sports! Just recently, Microsoft chose to highlight the competitive California School for the Deaf (CSD) Eagles football team in their "Empowering Us All" online marketing campaign. The team boasted a 10-1 season in 2016, competing against both deaf and hearing opponents.
Sure, sports are competitive in nature, but these games also connect us on a cultural level. Transcending religion, race, language, and background, watching a sporting match together bonds people almost effortlessly. Turn on any soccer match in any language and it can be seen: through smiles, high-fives, air-punching, and hand-wringing, fans easily communicate without a word.
The heightened visibility of deaf athletes should make it clear to major sports and media organizations that there are deaf sports fans on the field, in the stands, and watching on TV! Deaf sports fans, young and old alike, deserve access to this cherished aspect of human culture.
When planning sporting events, inclusivity should never be an afterthought. From varsity volleyball state championship games all the way up to the Super Bowl, providing high quality access to sporting events sends a message that deaf fans are valuable to your team and/or organization. Providing an interpreter and/or offering live captioning during a game is a simple gesture that warmly welcomes deaf/ HoH fans to participate in the full game-day experience.
Living in these uncertain times, there is some measure of comfort in social tradition; a simple familiarity in shared cultural moments. It is more important than ever that we break down the barriers that divide us, no matter how big or small. This year I look forward to seeing Kriston Lee Pumphrey on-screen as he signs the National Anthem and "America the Beautiful" to kick off Super Bowl LI. I look forward to watching the captioned commercials and discussing them with my deaf friends over spicy 7-bean chili; and of course I look forward to following the social media commentary as about 110 million Americans tune in to the biggest televised sporting event of the year!
Popular in the Community