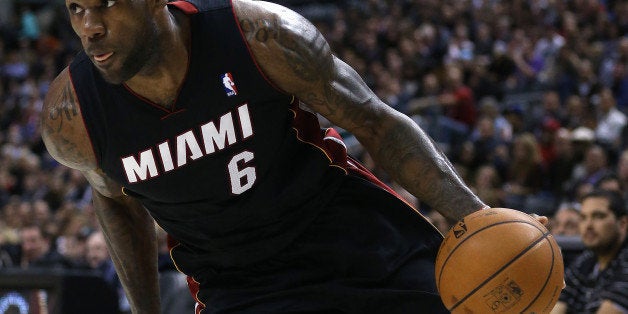 What's next isn't always what's best and while the past may seem like a simpler time with nonreplicable stars and feats, don't ignore what may happen 100 times this NBA season. LeBron.
He's bigger than Karl Malone and runs the floor like Mario Lemieux cut through the ice. Remember, Mario was the same 6'4" as Dwyane Wade and had 15 pounds on one of the best shooting guards of all-time.
The first time I saw LeBron in person was the day before the 2003 NBA Draft in the Westin Times Square at the rookie photo shoot and media availability. He was 18. I was 21. I was getting carded and he was signing cards. The next night, I politely told Donald Trump that he was mistaken when identifying Maverick Carter as LeBron to the woman on his arm. Trump had stopped up in the Theater before the Neil Young show that night at the Garden and the Rockin' in the Free World encore likely hit around the time the Bulls took Matt Bonner 45th overall and then traded him to Toronto for a 2nd round pick in '04, Chris Duhon. That night wasn't about me, Donald, Darko or Zarko, nor was it about Bosh, Carmelo or Wade. June 26th, 2003 was about LeBron and every night since then has been about him wherever he's playing, as it should be.
He has won four MVPs. Only Wilt (4), Russell (5), Jordan (5) and Kareem (6) have done that. LeBron and Russell are the only two with four in five years. He's gone to four Finals and won the last two. LeBron, Jordan and Russell are the only players to win the MVP and Finals MVP in back-to-back-seasons. Only Jordan, Oscar and Jerry West (whose silhouette is the NBA logo) averaged 25 points, 5 rebounds and 5 assists for an entire career. LeBron is currently averaging 27.5 points, 7 rebounds and 7 assists, so he'll be joining those three. He has 2 Olympic gold medals and is the all-time leading scorer in Cleveland Cavaliers history. The list of his all-world accomplishments is a lot more impressive than the plume of smoke left by Cavs fans burning his jersey.
All of this success came after being the youngest player ever taken with the #1 pick in the NBA Draft in an era when so many root for someone with this type of hype to fail.
The point is, appreciate what you have in front of you this season and stop trying to downplay what is unfolding by comparing LeBron to Jordan or today's NBA to a time when you thought nothing could be better. Watch this, bookmark it, watch it again, send it to friends and appreciate what we all have in front of us which is one of the greatest sportsmen of all-time. If you have the chance to go watch him in person this season, do your best Marv Albert and say "yes."
A career in sports has given me the opportunity to travel the country to do play-by-play for games in Reading, PA to Olean, NY and report from Super Bowls, Final Fours, World Series, NBA Finals and Stanley Cups. In order to make the most of those experiences, I enjoy getting to taste the local flavors, so I'll end each post with a food recommendation and please pass yours along to me as well.
City: Boston
Event: 2013 World Series - Red Sox vs. Cardinals
Restaurant: Anna's Taqueria (446 Harvard St. - Brookline)
http://www.annastaqueria.com
Plate: Super Carnitas Burrito - rice, salsa, sour cream, guacamole, hot sauce, no beans.
In college, I don't think I ever wore anything but sweatpants or basketball shorts when I ate at Anna's, because in my prime, I'd crush two Super Burritos and the elastic waistband was key. These burritos are so far superior to Chipot (I can't even write out the full name since my burrito arrogance is so high), and it starts with the steamed tortilla. The Super is 12 inches and comes with cheese which is steam-pressed faster than you can " no beans." I think the cheese is a very mild white cheddar, but every time I've asked, I'm given the Sammy Sosa '05 response to Congress. I even did an Enterprise Reporting project on Anna's my senior year at BU and still couldn't get the answer. The cheese is a long slice so it's distributed evenly, then topped with pork chopped right there on the counter (2nd photo above - don't tell the folks in the Judaica shop next store), then the salsa, sour cream (I've been aggressive and gone with "dos cremas" in the past, but not in recent years), guac and hot sauce. The pork is salty enough to add flavor, but not too much that it overwhelms any of the other components. All the ingredients are fresh, the process is simple in a modified Soup Nazi type way and the product is spot on. That first bite is tremendous, the fourth bite even better, but nothing beats the one right in the middle.

It's worth going to this location, then taking a walk through Brookline, then by the off-campus BU housing and down through campus on Commonwealth Avenue to Kenmore Square. I did it the day of Game 2 and the walk is just under 2 miles.
Super Carnitas No Beans and Dos Super Carnitas have been the names of many of my fantasy football teams for obvious reasons.
Calling all HuffPost superfans!
Sign up for membership to become a founding member and help shape HuffPost's next chapter