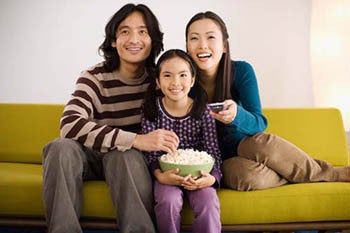 When I speak to young women about life lessons and TV career choices, I try to check off the basics of the business for them.
First, you have to love what you do.
Second, you have to be willing to start at the bottom and linger there until your moment arrives.
Third, you have to know when your moment has not yet arrived, even when others tell you it has.
Fourth, you have to be fearless and force yourself to get outside of your comfort zone.
Fifth, you must know how to make the most out of all your talents. That means if you're brilliant, lead with your brains. If you're savvy, go with your gut. And if you are luckier than me and are born beautiful, at least make sure you wash your hair regularly and wear a clean blouse.
Sixth, you have to learn how to face rejection (again and again) and learn more from those failures than your successes.
Seven, you have to perform under extreme conditions--long, crazy hours.
Of course all of this advice is not as radical as it would have seemed a generation ago. Most young women expect to have a career and plan to go the extra mile.
But what I find always gets bulging eyes and double takes is when I say something like this as my closer.
"Ladies, one more thing: and perhaps the most important thing I will say here today. If you plan to have a family, please .. PUH-leeease, do NOT forget to get married and have kids. And start now. Even in your 20's!
"Huh? Did she just say that? Doesn't today's woman have options? Doesn't today's woman need to get her career in line before she thinks about getting weighed down by a family?"
Despite the shocked responses I am sure to receive for blogging this, I know that the strategy to "put off" having kids and developing a family is about the most shortsighted concept I have ever witnessed among my colleagues and close friends.
Finding a job is hard enough, but have you ever considered the odds and the challenges of finding a good man?
Bad news, girls. The odds are definitely better on getting the right job than getting a good partner for life. Someone who will grow with you. Someone to develop memories with. Someone who was there in the beginning. Someone who will be there at the end.
Don't push away that chance if you're one of the lucky ones who find that partner. And remember, you can always change a job. I hear it's much harder to switch out a husband.
But let's talk about the greatest gift a woman can receive: being a mommy. For professional women, there simply is NO good time to have a baby. Putting it off only makes the challenges greater. Having babies after 35 increases medical risk and is, lets face it, exhausting. It is also trying on a marriage and a career.
Don't make your journey through life harder by placing rules on yourself like, "I can't get married till I get promoted to your dream job.
That's just ridiculous. Your "dream" job can wait, because chances are good that you will find this prize you so desired wasn't a dream job after all.
A marriage and career could take a decade to launch and nurture. Why wait on either?
In my upcoming book, All Things at Once, I talk about the challenges of my choices, the costs of those choices, and how they led me to where I am today.
Marriage is the ultimate challenge, and like most, mine isn't always perfect. Nor are my husband and I the perfect parents. But who is?
Parenting is the ultimate ULTIMATE challenge, and as a doctor at our local ER will tell you, the strains of working hard and carrying your family often comes at a high price.
Those stories to come, and regardless of all the bumps in the road I had to endure, I still stand by this simple truth: You should go for your dream career but never forget that you're a woman who deserves a balanced life that includes a loving family.
Speaking of which, I've got to shut down this computer and beat the rush hour traffic home to see my girls.
After all, homework waits for no one.