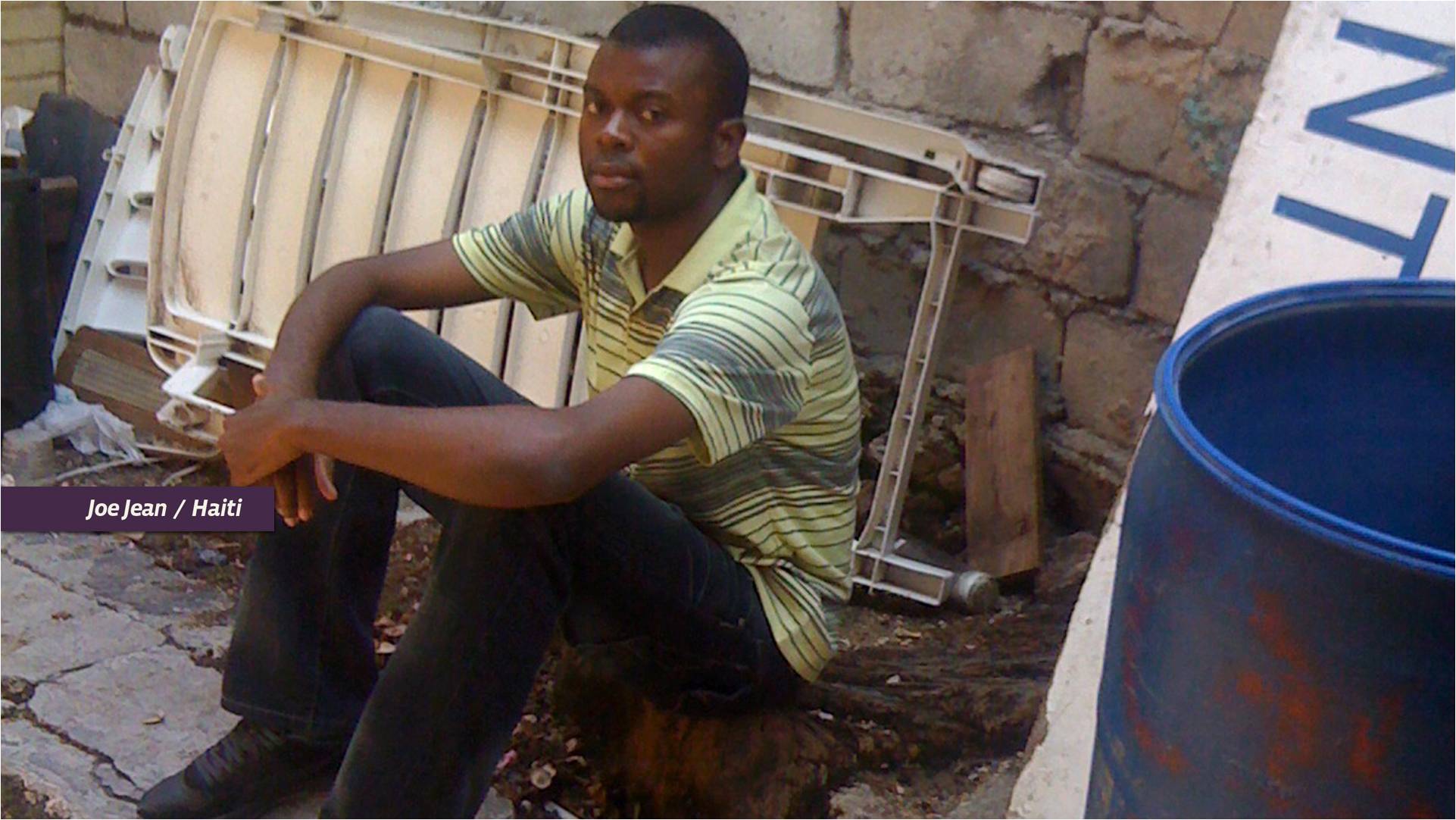 Joe Jean, a student from University of the People, is now studying at NYU Abu Dhabi. He lives in Cap-Haitian, Haiti.

I would like to say the Haitian earthquake three years ago this month ruined everything. But, sadly, there wasn't much to ruin.
When the earthquake hit my country, life was already very hard for me, just like it was -- and is -- for many Haitians. I dreamt about going to college, but knew that my family was too poor to afford it. I wanted more, but had no idea how to achieve it.
And then the earthquake came and pushed me even far away from my dream. Twenty-eight of our 32 universities were wiped out, and the remaining four were hit hard.
But I didn't give up. Now, on the anniversary of the earthquake that hit at the heart of my homeland, I want to tell the world not to give up on Haiti either.
Memories of the earthquake are still so vivid to me. I lost one cousin who was studying nursing in Port-au-Prince. The earthquake has made living in Haiti harder than before since it has impacted negatively all aspects of our lives. But I know that without higher education, all hope is lost.
My quest for a higher education began in 2006, when I passed the TOEFL English language test, which would allow me to apply to a U.S. college. But in 2007, things started falling apart at home.
My father was hit by elephantiasis and couldn't work. My mother could not afford to pay for any quality local university for me because she still had to support my two little brothers and my little sister's education. It was always my intention to help support their education once I finished college, but suddenly that wasn't even a possibility.
I didn't give up though, and managed to get a scholarship to study computer science at a private college in Port-au-Prince, about four hours away from my hometown of Cap-Haitian. Yet, the classes were not serious, and I started to question whether it was even worth attending. Unfortunately, the earthquake made that decision for me when the campus was destroyed.
I returned to Cap-Haitian, feeling even farther away from my dream of a college education than before I left. This was just another setback, I told myself, and switched my focus to looking for a virtual educational opportunity, one that would not be ruined by lack of funds or natural disasters. And then, I found University of the People, a tuition-free online university. It was one of those moments in life when everything suddenly changes.
I began UoPeople as soon as possible. I had no Internet access at home, so I would go to a local cafe where I paid about 76 cents an hour in order to study. I would bring a used laptop given to me by an old high school classmate who moved to Canada. To save money I would try to download as much material as possible at the cafe and then do the work offline at home. This worked pretty well, except when the electricity went out, which happened frequently.
When UoPeople opened a computer center with a local NGO, this made my life much easier. After a few months I was showing up early to help other students figure things out. I volunteered on a full-time basis, with no pay at the center for months. Eventually, I was offered a very small compensation but I could not live on it, so I found more work and balanced my jobs, my studies and my family responsibilities.
While I was studying, UoPeople announced its partnership with New York University to enable the best students to apply to NYU Abu Dhabi, I immediately applied, honestly not really even being able to imagine a world away from Haiti, but anxious to try for this amazing opportunity. I was invited to the Candidate Weekend in Abu Dhabi. However, in order to fly to Abu Dhabi, I had to travel through the US and needed a transit visa. I couldn't get the U.S. Embassy to expedite my interview. After all attempts failed, I was heartbroken.
Then a miracle happened. I was granted the transit visa, and made it on time to the Candidates Weekend. One of 15,000 vying for 150 spots at Abu Dhabi, the odds were completely stacked against me. But I beat the odds. This September, I started my studies, on a full scholarship, at NYU Abu Dhabi.
I am telling you my story because I need you to know that I am not the only one like me. We Haitians have endured and continue to endure enormous daily travails. Many things go wrong in our country, and this is what the world tends to see again and again.
But many things go right too, and it is because of Haitians like me who won't give up until they beat the odds.
And so I ask you not to forget about Haiti, because we still need your help to heal our broken land. On the anniversary of this terrible tragedy I want to make sure this hope, our hope, is not forgotten.
Calling all HuffPost superfans!
Sign up for membership to become a founding member and help shape HuffPost's next chapter