What has separated the fracking wars in the Eastern U.S. from the Western U.S. is that New York City's and Pittsburgh's watershed -- the place where these cities get their drinking water -- is proposed to be fracked. As you can expect, when millions of people learn that potentially cancer-causing chemicals are going to be injected into the ground near their drinking water, they get very riled up.
Conversely in Colorado, fracking has mostly occurred on the plains and near the suburbs, whereas Denver's watershed is upstream in the mountains.
Last year, the U.S. Bureau of Land Management proposed to lease publicly owned land in Park County, Colorado for drilling and fracking. Park County is the headwaters of the South Platte River, upstream of Denver, and the location of multiple large reservoirs for Denver and Aurora, Colorado's drinking water, serving over two million people for Denver and Aurora combined.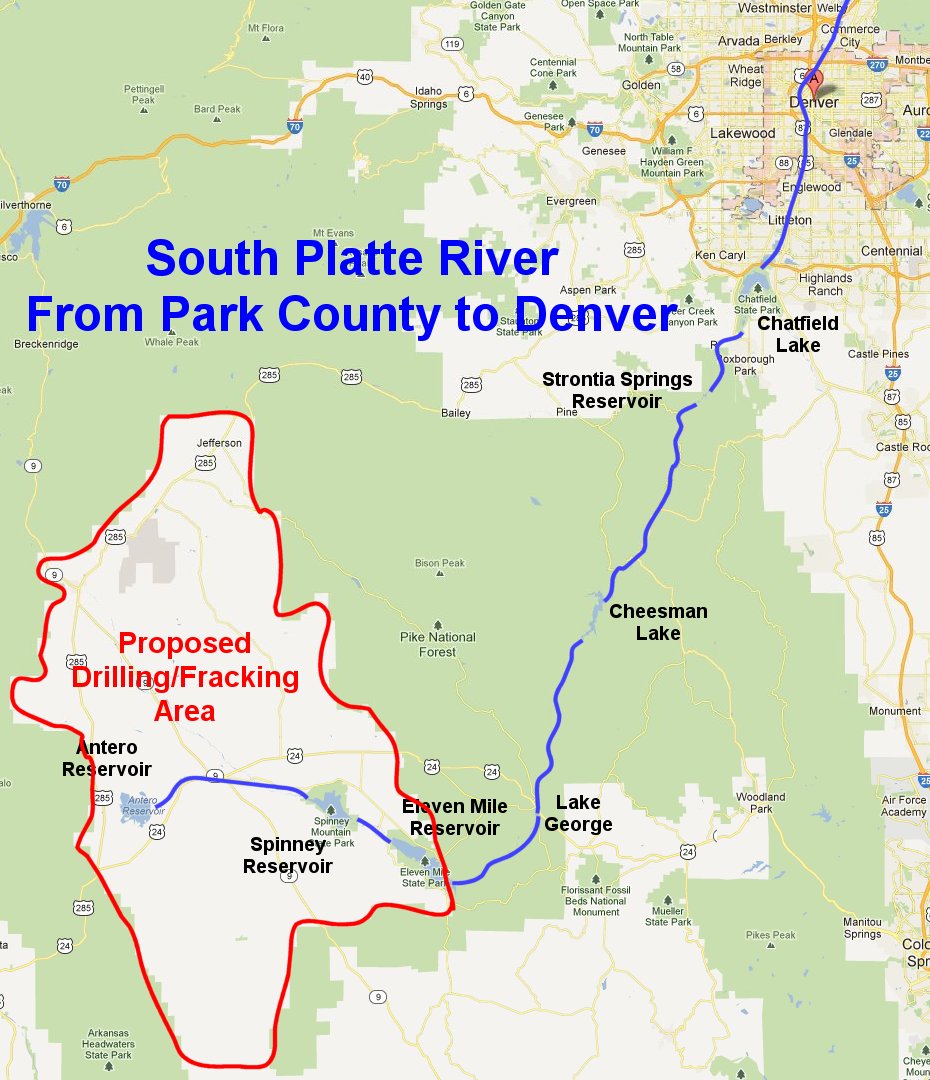 Antero, Spinney, and Eleven Mile Reservoirs, are all located on the South Platte River in Park County. These three reservoirs have a combined storage capacity of over 170,000 acre-feet of drinking water. Approximately 40 percent of Denver Water and Aurora Water's drinking water supply comes from these three reservoirs. Communities served include, Aurora, Denver, Wheat Ridge, Edgewater, Lakewood, Ken Caryl, Columbine, Columbine Valley, Littleton, Centennial, Greenwood Village, Cherry Hills, Federal Heights, Glendale, Lakeside, and Sheridan.
Just two hours from Denver, the South Park Basin is a popular destination for fishing, including gold medal fisheries on the South Platte River and at Spinney Mountain Reservoir.
Unfortunately, the Bureau of Land Management's Colorado Director, Helen Hankins, who oversees development on more than 281,000 acres in the South Park Basin, has twice entertained drilling over the last two years next to Antero, Spinney Mountain, and Eleven Mile Reservoirs and the South Platte River.
A few weeks ago, Hankins temporarily "deferred" (delayed) the leasing, citing concerns about fracking and drinking water supplies, but the public BLM land could be put on the auction block again in the next few months. In fact, that's exactly what Hankins has done on other BLM land in Colorado -- first delay, and then later lease.
The threat we are seeing to Denver's water supply is due directly to Hankins' failed leadership. Instead of taking a balanced approach, Hankins is currently relying on a 16-year-old plan that left the entire region open to energy development and failed to take into account any serious consideration of impacts to the watershed and Denver's drinking water. We believe that Hankins should make decisions that protect local communities and the environment, and not make decisions that favor oil and gas industry profits.
Director Hankins should protect Denver's drinking water instead of being a real estate agent for oil and gas companies.
"Don't Frack Denver's Water" is a coalition of conservation and fractivist groups that are working to get broad community support for a Master Leasing Plan (MLP) for the South Park Basin. Creating a MLP would require that a stakeholders group be formed to address the leasing threat, and that drinking water advocates in Denver -- including fractivists -- have a seat at that table. Additionally, prohibiting fracking near Denver's water supply would be forced to be on the table as one of the options considered in the Plan.
We need to take action now so that the possibly cancer-causing fracking chemical threat doesn't spread even farther and faster throughout the urban areas of the Denver region. The South Platte River flows from Park County, down into Chatfield Reservoir, and then right through the heart of downtown Denver. This isn't some distant problem out in the suburbs or up in northern Colorado anymore -- it's home for Denver residents.
Related
Popular in the Community