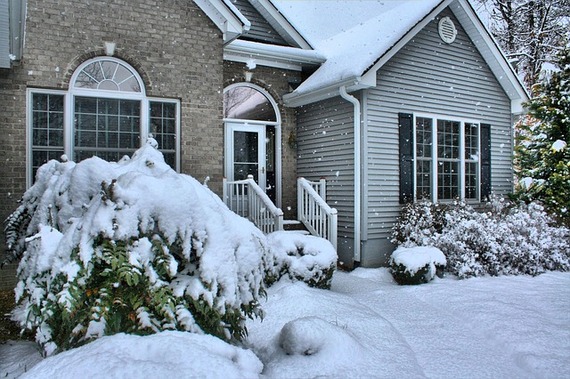 Extreme cold weather can be hard on both you and your home, bringing with it added exposure and liabilities during the harsh winter season. As temperatures drop, the more susceptible your home becomes to added vulnerabilities.
So how you can reduce common homeowner risks that come along with the frigid winter weather? Don't freeze up when it comes to knowing the necessary precautions needed when cold weather, snow and ice hit your area. Follow these tips to prepare for impending winter weather conditions.
1. Check the Exterior of Your Home
Protecting your home from the inside out is the first step to staying warm during freezing weather conditions.
The key to keeping the quality of your home in good condition throughout the harsh winter -- such as below zero temperatures, snow, and ice -- is proper preparation of the exterior of your home. Winterize your home prior to the seasonal change by checking the condition and quality of your home's many external facets:
Doors.
Siding.
Roof.
Shutters.
Windows.
2. Maintain Sidewalks and Driveways
Along with cold weather and snow comes ice -- which means driveways and sidewalks tend to become more dangerous. To eliminate unnecessary falls or injuries, always maintain your walkways, porches, patios and driveways by shoveling, plowing or salting.
Each home and surrounding property has different needs that need to be addressed and tended to. Determine a method that suites your budget and schedule availability, and remember to always remain cautious when walking on outside surfaces during the winter.
3. Wrap Pipes in Insulation
The last unpredicted event you want to occur in the middle of the winter is the bursting or freezing of pipes. Fortunately, this can be avoided by wrapping pipes in insulation (such as pipe sleeves or electrical heat tape).
Some pipes that are most likely to be at risk and must be cared for prior to the winter season are:
Exposed pipes in unheated areas of your home.
Exterior pipes.
Plumbing pipes.
You should also consider adding an extra layer of safety to your home, so you can be immediately notified should a pipe burst or leak. By implementing equipment, such as a smart water leak detector, you can receive instant notifications if a pipe is leaking, to prevent water damages that could be detrimental to you most valuable assets.
Remember, if you plan to head south for the winter, shut off your main water supply and set your furnace no lower than 55 degrees. These quick and easy-to-do steps can mean the difference of whether you file a major homeowners claim when you return home.
4. Use Your Thermostat Appropriately
Chances are, your initial reaction to dropping temperatures is to crank up the heat. Unfortunately, doing this too quickly or without preparation can be harmful to your home's heating system.

Avoid drastically changing your thermostat to eliminate issues of malfunction and dramatically increasing energy costs and usage. One way to easily control these adjustments is by purchasing a smart thermostat. Smart thermostats allow you to remotely control temperatures with the click of a button, via smartphone, tablet or laptop. Begin changing temperatures gradually so you don't cause a heat wave for your home and family members!
5. Assemble an Emergency Kit
In the event you experience a blizzard or freezing temperatures, you should always have a backup plan in place.
Consider creating an emergency plan that consists of critical resources, such as:
Candles and/or flashlights.
Blankets or other alternative heat sources (i.e. fireplaces, kerosene lamps).
Batteries.
Charged communication devices.
Always inform your family members of emergency backup plan strategies, tools and resources so you can eliminate a scramble in the event action is needed.
Interested in learning how you can enhance the safety and security within your home? Download the free ebook, "Smart Homes, Smarter Insurance" for helpful tips.

Related