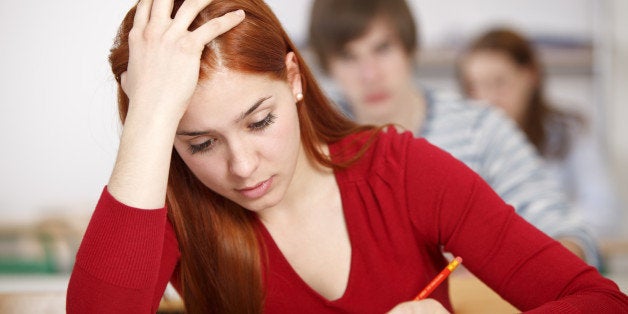 Hey high school seniors--what's scarier than a pile of blank college applications? How about being conned out of your college savings by the very people promising to help you pay for school. Every year, hundreds of thousands of students and parents are targeted by unscrupulous actors seeking to capitalize on the public anxiety around student loan debt and rising tuition costs. All told, Finaid.org estimates that Americans are cheated out of roughly $100 million every year by scammers peddling bogus scholarship offers and financial aid assistance.

In one particularly recent and high profile case, Sacramento-based Student Financial Aid Services (SFAS) was accused of defrauding 100,000 customers by withdrawing money from their accounts without their consent. According to the Consumer Financial Protection Bureau, SFAS customers signed up for "free" service upgrades that then triggered recurring annual charges of between $67 and $85 for up to four years. The Consumer Financial Protection Bureau took action against the company in July, ultimately reaching a settlement to refund $5.2 million to affected customers.
According to the Federal Trade Commission (FTC), there are a host of other websites offering financial aid assistance and scholarship matching services, and the agency "cautions students to look and listen" for certain tell-tale red flags. It's worth noting that there are also legitimate companies providing services in exchange for clearly disclosed fees. But that only makes it all the more important for families to know how to spot the difference between honest operators and bad actors.
The good news is that, once you know their tricks and tactics, scammers can be easily spotted. This college application season, here are five phrases to be on the lookout for:
"Guaranteed or your money back!"
Scholarships are competitive by nature. Legitimate organizations know better than to make far-reaching claims like "guaranteed or your money back." Most of these scholarship sites are search engines that link you to scholarship sponsors--not actual scholarship sponsors themselves, who have actual control over who is and who isn't selected. Scholarships that claim to have a "money back guarantee" should prompt caution as well, since they typically have attached terms and conditions that make it difficult--if not impossible--to receive a refund.
"Please provide a credit card to confirm eligibility."
According to the Federal Trade Commission, scammers have been known to call unsuspecting students out of the blue to offer so-called grants and scholarships, then ask for a credit card or bank account in order to "confirm eligibility" or "hold the scholarship." Sounds fishy, right? You can safely assume that anyone asking you to submit unusual personal information upfront is a scammer and should cut off communication immediately. In addition to the obvious risk of monetary theft, disclosing sensitive information to a stranger--whether it's your credit card information, bank account number or anything else-- makes you vulnerable to identity theft, especially when that information is paired with other personal data like your date of birth.
"You're invited to a free seminar!"
Be cautious of any invitation that advertises a free financial aid seminar or interview for financial assistance by an unknown entity. Many of these sessions turn out to be crafty traps for peddling unrelated financial products to unsuspecting families--everything from annuities to life insurance policies. In other cases, a seminar may present you a chance to secure a scholarship on the spot or pressure you to commit to overpriced private loans as a prerequisite for receiving federal aid. Private loans are never a requirement for federal aid, and you should never commit to anything, whether it's a loan or a scholarship, without first confirming its legitimacy with the relevant bank or college. Information sessions offered by schools or community centers tend to be safe, but pay attention to the location and the hosts of any event.
"Don't worry, we'll do all the work."
There's a lot of paperwork involved in applying for college. With admissions essays, standardized tests and teacher recommendations to arrange, the last thing you want to do is deal with an eight-page FAFSA form (Free Application for Student Aid). But while paying someone to file your FAFSA may seem like a smart way to save some time, it could end up creating an even bigger headache for you down the road. The U.S. Department of Education is very clear in stating that it does not endorse services that charge for help with the FAFSA and instead urges students seeking assistance to consult FAFSA's online help desk (fafsa.gov), the Federal Student Aid Information Center, or the financial aid offices at the colleges themselves. Some students may still decide to use fee-based services, but those who do run the risk of being hit with hidden fees, like those who were allegedly defrauded by the previously mentioned Student Financial Aid Services. Remember, FAFSA stands for 'Free Application for Federal Student Aid"--the operative word in that acronym being 'free'.
"We'll just need your FAFSA ID to get started..."
Both the Consumer Financial Protection Bureau and the U.S. Department of Education have issued advisories warning students not to share their FAFSA log-in information with anyone. In the eyes of the U.S. government, your FAFSA ID might as well be your electronic signature; anyone who has access to it can also gain access to your most important personal data--everything from your date of birth and social security number to your home address and parents' names. In other words, all the ingredients criminals need to steal your identity and open up new lines of credit in your name can be found via your FAFSA ID. If you think your FAFSA ID has been compromised, make sure to change it immediately.

Better Safe than Sorry...
You can never been too cautious when it comes to protecting your identity and financial information. No legitimate scholarship will need access to your bank account or Social Security Number. So always make sure to do your homework and get a second opinion from a guidance counselor or financial aid advisor before committing to anything. And if at any point you think you've been targeted by a scammer, sound the alarm. Your state's Attorney General's office, the Federal Trade Commission and the Consumer Financial Protection Bureau all have the authority to take action against companies preying on students and parents. If you believe your credit card or bank account information has been compromised, contact your providers immediately and, if appropriate, the police.
REAL LIFE. REAL NEWS. REAL VOICES.
Help us tell more of the stories that matter from voices that too often remain unheard.