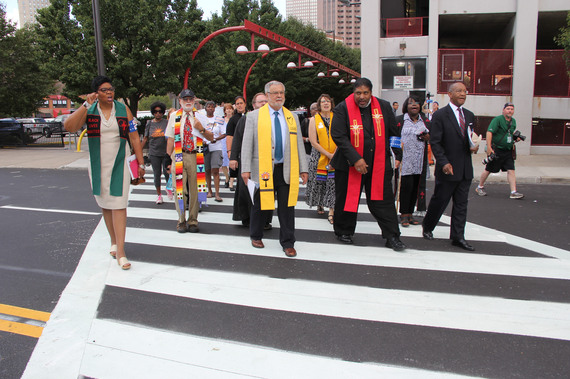 (From left: Rev. Traci Blackmon, Rev. Peter Morales, Rev. Dr. William J. Barber II, and Rev. Dr. James A. Forbes, Jr. On July 11, they marched to the RNC to deliver the Higher Ground Moral Declaration. Photo credit: Dea Brayden)
After a violent and painful week for our nation that included the killings of Alton Sterling in Louisiana and Philando Castile in Minnesota by police and the murder of five police officers in Dallas during a peaceful protest, many people are wondering: Where do we go from here? How do we begin to heal a nation seemingly so deeply divided? And how do we begin to do this during the remaining months of a divisive election season?
I was thinking about this earlier this week in Cleveland, Ohio, as I marched with the Rev. Dr. William J. Barber II, architect of the historic Moral Monday Movement in North Carolina; the Rev. Dr. James A. Forbes, Jr., senior minister emeritus of the Riverside Church in New York City and president of the Healing of the Nations Foundation; and the Rev. Traci Blackmon, acting executive minister of the United Church of Christ's Justice and Witness Ministries, among others. We marched along that city's streets to the headquarters of the Republican National Convention to deliver the Higher Ground Moral Declaration to officials. This document has been signed by over 1,200 clergy and reads in part:

"Together, we lift up and defend the most sacred moral principles of our faith and constitutional values, which are: the economic liberation of all people; ensuring every child receives access to quality education; healthcare access for all; criminal justice reform; and ensuring historically marginalized communities have equal protection under the law...We claim a higher ground in partisan debate by returning public discourse to our deepest moral and constitutional values."
(The Higher Ground Moral Declaration will also be delivered to Democratic National Committee officials prior to their convention.)
Our recent political discourse has been focused on personalities and not on the issues affecting the daily lives of people. This must change. As Republicans and Democrats gather in Cleveland and Philadelphia later this month, we must demand that political leaders and candidates at all levels of our government bridge the partisan divide and offer real solutions rooted in compassion and respect to help relieve the suffering of our people.
Hateful rhetoric by those who aspire to lead is contributing to the divisions in our country. Hate breeds violence, and violence creates more pain and more suffering. At some point, we have to say enough. We have to come together to show a better way.
Rev. Barber is leading a multifaith call for a revival to redefine morality in American politics and to redirect the narrative away from hate towards the values of love and justice. I participated in the revival that was held at the Unitarian Universalist Society of Cleveland where I heard testimonies from people who have been hurt by regressive policies--policies that disproportionately impact the most vulnerable in our society. I encourage all people of faith and conscience to learn more about the "The Revival: Time for a Moral Revolution of Values," and attend one if the tour is coming to a city near you.
In June, at the 2016 Unitarian Universalist Association's General Assembly in Columbus, OH, Rev. Barber called those gathered to come together and choose community, love, and nonviolence over the politics of hate. I share his words now with the hope that they resonate with all people fighting for a better country and world. And I call upon all of you to reject the politics of hate and to join us in this revolution of moral values.
Popular in the Community