Ed Note: Ellen Kanner will be writing weekly posts with vegetarian recipes for HuffPost Green's new Meatless Monday
CBS News recently spotlighted Chandler, Arizona's Heart Attack Grill, home of the 8,000 calorie quadruple bypass burger. Their motto -- "a taste worth dying for." The Heart Attack is madly popular and the folks running it are just being cheeky, but think about their message -- they're saying to value one meal over your health and the health of the planet. Ain't no burger in the world worth that, ace.
A new National Cancer Institute study links daily meat consumption with heightened mortality risk. Eating meat shortens your life. It doesn't do much for the planet, either. Beef production destroys habitat and boils over with greenhouse gases (cow flatulence equals major methane production). Nobel economist Dr. Rajenda Pachauri, who chairs the United Nations Intergovernmental Panel on Climate Change, says to slow the affects of global warming, go meatless one day a week.
Pachauri's message isn't new. "Nothing will benefit human health and increase chances for survival of life on earth as much as the evolution to a vegetarian diet." So said Albert Einstein back in 1921.
Einstein was no dummy. And neither are you. You know our relationship with food goes beyond a single burger, no matter how big it is. Politics, the environment, your health, our whole future is sitting down at the table with us. That's a crushing lot to think about when all you want is dinner.
Happily, going meatless is one-stop shopping, multitasking at its very best. It's green, as in environmentally responsible and also as in vital and alive. It promotes positive global change, encourages you to eat locally and seasonally, reduces your pesky carbon footprint, saves you money, maybe even saves your life -- we're talking valuable stuff lasting far beyond a single meal.
So do you want to be the change you want to see in the world, or what? I could go all political and PETA on your ass, but bodaciousness beats brow-beating any day. Plant-based cuisine is luscious. Fresh produce entices naturally. A meatless life, or even a meatless Monday is not about deprivation. It is not about a taste worth dying for, it's about a taste worth living for, fresh, fabulous food full of life force.
Produce with the life (force) cooked out of it is not nice for you. Nor is it nice for the vegetable. Recipes like this one will redeem the experience of a vegetable done wrong. Bright with lemon and herbs, it features summer's fresh-from-the-farm stand produce (think cheap, think sustainable) and involves roasting, which brings out vegetables' inherent sweetness. Feel free to substitute anything gorgeous you see at the farmers market for the produce here -- yellow squash works instead of zucchini, throw in some green beans or grape tomatoes if the spirit moves you.
Kinda spicy, kinda sexy, very easy, very healthful and your plate will be a meat-free zone. You can take quadruple bypasses off the menu, rack up serious positive personal and global karma and who knows, you might start looking forward to Mondays.
Tunisian Roasted Vegetables
4 cloves garlic, minced
1 red pepper, cut into strips
3 carrots, sliced
1 zucchini, sliced
2 ribs celery, sliced
8 ounces mushrooms, quartered (or halved, if small)
1 large onion sliced
2 tablespoons olive oil
1 tablespoon harissa (Moroccan chili sauce) or chili sauce
2 tablespoons tomato paste
1 teaspoon ground cumin
1 tablespoon lemon juice
a pinch of sea salt
1 bunch cilantro, chopped fine
Slice and chop vegetables. Set aside.
In a large bowl, add olive oil, tomato paste, harissa, cumin and lemon juice. Stir together until it forms a thick, smooth sauce. Add vegetables and minced garlic and toss to coat.
Place vegetables on cookie sheet or shallow roasting pan and roast at 400 for 15 minutes. Give vegetables a stir. Roast for another 15 minutes or until vegetables are tender. Salt to taste and garnish with chopped cilantro. Kinda spicy, kinda festive, very easy, very healthy.
Serve over whole grain couscous, brown rice or quinoa (super-high protein and low in calories). Throw in a salad, some cheese, a loaf of crusty bread and you're good to go.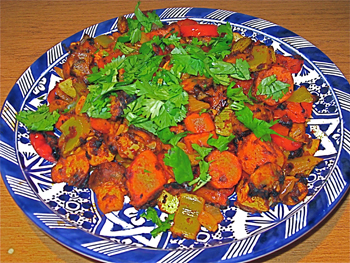 Popular in the Community