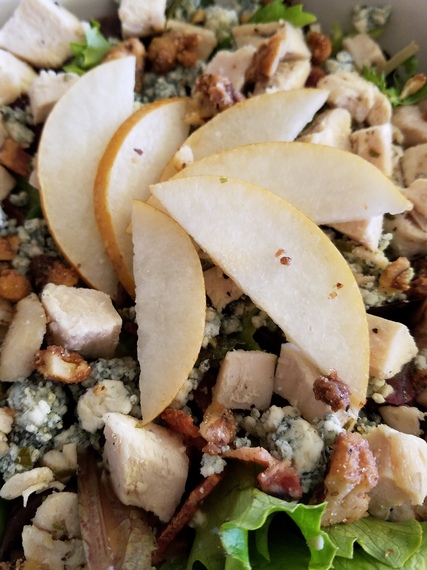 You know that feeling you get when you see someone and realize you've seen them before? Even known them, as much as you can know someone for a brief time in your life? Well, that happened to me a while back. And I ended up eating the most delicious salad that afternoon, in addition to realizing so many things about myself and the world I live in. But the salad, yeah, that was probably the thing I will remember most.
In order to fully understand this story, I have to take you back, almost ten years in the past to CBS Radford studios. Most people know the big CBS studios in Los Angeles. It's on Fairfax Avenue and Beverly Boulevard, the site where The Price is Right, The Carol Burnett Show, Real Time with Bill Maher and so many other historic television shows have lived. But just a few miles away, just over Laurel Canyon Boulevard is CBS Radford studios, a quaint studio lot, where cheery colored bungalows pepper serene, tree-lined streets.
These bungalows have been the homes where some of your favorite television families have lived. In the television business, buildings are often used to "establish" exterior shots, and the scenes that take place inside the houses are actually filmed on gigantic sound stages. At CBS Radford, the insides of the bungalows are used as offices for the various writers, directors and producers. So where you'd expect a bedroom to be, there'd be a writer. And just outside, in the family room, you'd see his assistant, sitting cheerfully behind a desk, ready for whoever came in.
And that's where I sat in this particular bungalow at this particular time in my life. Our Bungalow, Bungalow 10, was famous because it had been recently used in the film The TV Set. The film served as a jaded criticism of the television business, where a middle-aged writer who was struggling to pay the bills was forced to switch around his pilot by a studio executive. Not only did the writer have to abandon his original choice of a star, he had to change the entire story. It was a little too much of a "downer" for the studio. In the end, he made all of the changes and surrendered his creative vision, all to keep things moving. His wife was pregnant, you see. And writers have to find a way to keep writing.
Back to the desk outside the bedroom. I was working for a very successful comedy writer at the time. I know what you're thinking. A comedy writer sitting in an office that was used as an office in a movie that was about a comedy writer in the television business. Crazy. Anyway, my boss had worked on shows like Better off Ted and Malcolm in the Middle and had a writing deal to develop new shows for CBS. My job was to answer phones, keep the kitchen stocked and to maintain harmony with the other people who worked in the bungalow. And on the side, I would ask to read my boss's work and offer critiques and ideas. My job was highly coveted in this business. And I was no stranger to how things worked.
There is a term we use in Hollywood for someone who is new to things - green. And I was far from it. I had worked for years as a production assistant, getting coffee, picking up lunch and delivering packages. I had assisted a prominent film producer. I had read scripts for a development and production company, writing coverage - essentially book reports on what I'd read. But working for writers was another world. You were right there, in the middle of everything. So this, this job was something I'd wanted for a very long time. And I was making the most of it.
The bungalows we worked in had multiple bedrooms, which means we had many neighbors. And because the bungalows were actual "houses," we spent a lot of time bonding with those neighbors. During the time we spent at this particular studio, all kinds of people shuffled through those offices. We had a producer from The Apprentice. We had Jay Mohr and his production company. We had the creator of The King of Queens. And we had a couple of casting directors.
The casting directors were the most memorable. Hollywood casting has this stigma - that casting directors sleep with the actresses who come in to audition. And although that stigma is completely inaccurate, it does not mean there shouldn't be a stigma for casting directors. You see, wherever there is a casting director, there are actors. And actors who are about to audition are some of the most high-strung, insecure people on the face of the earth. These actors would come up to my desk, take my magazines off and start to read them, not knowing my boss and I had nothing to do with the productions for which they were auditioning. I tried, numerous times, to let them know this, but after a while, I had to make signs.
One of the casting directors who shared a space with us was a man we'll call Roger. Roger was very tall and very loud. And he was very fidgety and high strung. He was the type of guy who had a name you might forget, but if you saw him, you'd remember you knew him.
Shortly after I met Roger, the writers went on strike and as a result, the studio terminated my boss's deal and we were thrown off the lot. Anyone who works in town will tell you that things have never quite been the same since that strike. I remember being so torn at that time. I was a young hustling assistant, not yet in the Writers Guild and not receiving any of their benefits. And although I was upset with the studios for not negotiating with the writers for the Internet residuals they would need in the future, I was also upset with the writers for going to war with them. After all, the ones who were hit the hardest during the strike were assistants like me, and the people who made up the television crews. We weren't paid very well to begin with, so a noticeable lapse in work had a detrimental impact on our bank accounts.
This was a very dark time for me and I quickly shifted my focus from comedy to finding any job I could. At this time I worked on a hit hour-long drama at Fox. I never intended to work in drama, or procedural drama for that matter. And it didn't help that there was absolutely no opportunity for advancement there. Sometimes, life throws you curveballs, I learned. And up until then, I had never seen a curveball quite like that, not to mention tried to hit one. But I did take the time there to build my network, go back to school at night and hone my writing craft. I'm not quite sure what the equivalent baseball metaphor is here, but I'm almost positive I didn't strike out. Grounded out? Pop fly? I guess you could say I was still in the game.
From there I was able to land a gig working for another very talented comedy writer who had a pilot at Warner Brothers. And let me be clear about something before we move forward. This was more than three years after I lost my job during the writers' strike. Often, when we talk about the past, we neglect to shine proper light on the amounts of time spent between jobs, with nothing. Obviously, they are less exciting to write about and therefore, to read about. They are, however, essential - in stories, in recountings and in life. They happen to all of us.
So there I was, working on this amazing pilot for Warner Brothers. It had everything - great jokes, an emotional hook and stars as far as the eye could see. My boss had been working in the business for years, most notably as one of the executive producers of Cheers. With Kelsey Grammar directing and Michael Chiklis, Elizabeth Perkins, Paul Dooley and Georgia Engel acting, I finally felt like I had found my Graceland. You can probably guess what happened next. We shot the pilot, it went through the ringer and in the end, it was not picked up. The dream was over.
Again. The dream was all over again. And although this particular setback was probably much larger in scale than the others that had preceded it, each one was getting a little easier to bear. Maybe these were the so-called dues I heard I had to pay.
Shortly after the pilot died, I received a call from a producer I had met with months before. During all of my various jobs, I have met and am meeting with all kinds of people who work in the business. Always take a meeting, someone once told me. You never know. Great advice. During my meeting with this producer, he told me that the jobs he was looking to fill were for people who wanted to read scripts, not write them. "I could read scripts," I told him. "I've read hundreds." But he was not buying it. There were probably a hundred qualified people lobbying for that job, people who wanted to read scripts for the rest of their lives. That wasn't the job for me. But he did say that he would keep me in mind for any writing related jobs that came across his desk, and that's what prompted this particular phone call on that day.
He said he knew I probably hadn't done the job he was hiring for in a very long time. He was looking for a Writers' PA, someone who did the grunt work for the writers' office. Yes, that's the one who buys the coffee. Yes, that's the one who makes the coffee. And in the afternoons, that's the one who picks up the coffee. At this point in my career, I had worked in the business for around eight years. And during that time, I had seen a kind of progression - a hierarchy of assistant-related jobs that ascended magically in my mind. But at this very moment, I realized all of that was a fantasy.
I didn't have a job. And here was someone calling, offering me one. It didn't matter that what the work was - it was work. And I took it.
So here I was, 30 years old and going back to making coffee and taking lunch orders. It was all very humbling. But I thought very hard about the job and I decided that my employers deserved my full attention and effort, and that if I was going to take it, I was going to do it one hundred percent. The coffee would be hot. The snacks in the writers' room would be plentiful. The lunch orders would be correct and on time. And on the days the writers wanted to try some new dining options, I would find the best.
And one morning, when they did just that, I emailed a friend over at another show. "We are getting sick of the same old lunch places," I said. Could he recommend some new restaurants? He had some great ideas. I looked for one that had a variety of salad and sandwich options. After all, if you've never taken an office lunch order before, the more sandwiches and salads you have, the better. This is a numbers game, and the more writers excited about your restaurant choice there were, the better day you'd have.
From there, things went off without a hitch. I paired the menu with the order sheet and passed it around the office. "This looks interesting," said one writer. "Switching things up?" asked another. "You sure this place looks good?" I was pretty sure. I was kind of sure. I was hoping I was sure.
I faxed the order over and got in my car to go pick up the food. And as I walked into the restaurant, I noticed Roger instantly. As I said before, you may not have remembered this guy's name, but you'd always remember his demeanor, his voice and his face. "What's the order name?" he asked. I told him as I paid our bill, hesitantly. I did not remember exactly where I knew Roger from, but I did know him at some point in my life. As I was signing my credit card receipt, I finally asked. "Don't I know you from somewhere?" And that's when it happened.
The look that came across Roger's face was tough to watch. It showed an extremely high level of discomfort. I had a hard time not feeling it myself. This was the kind of face that said, "You know my secret." We started playing the "How Do I Know You" game. Where do I live? Where am I from? And then, I think because he made the connection, he asked, "Do you work in the business?"
It was at that moment I realized how I knew Roger. I remembered our Bungalow at CBS Radford. I remembered his casting office. I remembered all of the beautiful people who stumbled into his door hoping for his approval and his endorsement for roles - the people who had taken my magazines off my desk without asking. In a world of limited dreams, this was a guy who handed them out like ice cream cones to children on a hot summer day. To them, he was the Lord of all Creation.
And on this particular day in July, he was behind the register putting together my take-out order.
There were probably four or five other shows with large orders at the restaurant that day. So I found a little table off to the side and waited for our bags to be ready. As the orders came out, I checked them off, one by one on my order checklist. The worst thing you can do as a Writers' PA is to come back without someone's lunch order. Then they have to sit in the room and watch everyone else scarf down their turkey cranberry sandwiches. And you don't want to be the guy who created that situation. Trust me on this one.
So as I waited and checked things off, Roger tried to make our situation a little less awkward. "I couldn't get another pilot after the strike," he said. "Things haven't been the same in this town since." I had this feeling in the pit of my stomach like someone had set off a firecracker inside. "I do very well here. I'm the manager," he added. "Went back to school to learn how to write those medical codes for the insurance companies. But I couldn't get a job because I didn't have any experience." I nodded, trying to help in cheering up the mood. "It's like that for everyone," I added. "I'm back to getting lunches." "What do you do on the show?" he asked. "Writers' PA," I said. "Oh, well at least you're a Writers' PA." Another crackle went off in my gut.
The last few bags came out and I checked them off. We were all set. The guy who brought out the rest of the food asked if there was anything else. "Do you have some forks and napkins?" I asked. Roger, hearing me from over at the register, blurted out "they're already in the bags. I put them in there before you got here." I watched him sift through them, looking for the utensils. "Find them. Please, find them," I said to myself. And he did. And I breathed a sigh of relief.
I got up and carried my bags out of the store. "See you soon," I said, wondering if I'd ever be able to return to this restaurant for lunch again.
And then, as I was halfway out the door, I heard it. It was the final, gut-wrenching moment I had worried about ever since I walked into that particular restaurant on that particular afternoon. "Good luck with the show. Don't think any less of me," he said.
I got into my car and hurried back to the office. I had hungry writers waiting for lunch.
And when I returned, as I passed out everyone's order, I thought of Roger. I thought of my time out here, chasing a dream. Being so close. And being so far, all at the same time.
I unwrapped my salad and started to eat. Mixed greens, candied walnuts, Gorgonzola cheese and Asian pears. Each bite, each taste reminded me how fortunate I was to be employed, to be alive and to have food on my plate.
That was the most delicious salad I've ever had.
Popular in the Community