Article by Ernan Roman
Featured on CMO.com
Every consumer is on a journey when they interact with your brand. And each of their journeys are likely to be quite different.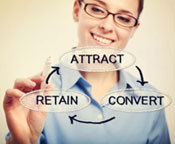 Recent findings from Voice of Customer (VoC) research conducted by our firm for Fortune brands indicates that customers feel that brands are missing significant opportunities to earn the sale and then build engagement and loyalty.
While there are many stages in the customer journey, following are three critical opportunities that emerged from our research.
1. Prepurchase: Clear And Credible Omnichannel Information
At this stage, buyers want you to help them make a smart purchase decision. Clear, credible, and easily accessible information is required by the empowered prospect who is doing a major amount of research before ever contacting your company. And because shoppers are multichannel and multidevice, your high value information must be accessed and delivered omnichannel.
UnitedHealthcare launched an online informational series, Becoming Dr. You, which offers tools and resources to accommodate a variety of learning preferences: guides, booklets, and brochures in print format, blogs, quizzes, and videos. It's the latest example of the company's longstanding commitment to educating and empowering prospects and customers.
2. Post-Purchase: Immediate Onboarding
Your customer-friendly and engaging onboarding process should begin immediately after purchase. Per VoC findings, the customer decision-making process regarding likelihood to repurchase begins immediately upon the initial purchase.
Another factor at this early stage that drives likelihood to repurchase is how thoughtfully and responsively the company handles problems.
After a purchase, customers want ways to incorporate the product into their lives. Perhaps no one does this better than Apple, which develops problem-solving tools, such as the ApplePay "pay by your phone" app. According to Apple CEO Tim Cook, "... in just three months after launch, ApplePay [now] makes up two out of three dollars spent on purchases using contactless payments across the three major U.S. card networks."
Apple's approach must be working because recently, and for the first time, Apple platform sales outperformed Android due to the strength of products with consumers. In a Xerox survey that measured brand magnetism, 76% of iPhone owners said they were sticking with Apple.
3. Building Loyalty: Show Your Appreciation
Research findings indicate that customers often feel taken for granted. They want to feel as though they are valued and appreciated for spending money with your company. They now expect to be more than a number and generic message.
According to Hanover Research, customer loyalty programs "enhance the overall value proposition of the product or service ... to motivate buyers to make the next purchase." Additionally, according to a study by Technology Advice, 80 percent [of consumers are] more likely to shop at stores that offered a compelling loyalty program.
Customer Journey Takeaways
At the prepurchase stage, prospects expect companies to provide information to make a knowledgeable purchase decision. If your information is not helpful or easy to understand, you're likely to be eliminated at that early point.
At the post-purchase stage, new customers want help in learning ways to incorporate the new product and brand into their lives.
At the loyalty stage, customers want appreciation and ways to be rewarded for their continued brand support.
Understanding every stage of the customer journey is essential for the highest levels of initial conversion, repeat purchase, and retention. The mind-set of customers is different at each stage. Respect where they are in their journey with your brand. Do not attempt to use "one size fits all" generic messaging for customers in different stages of the journey.
Ernan Roman
President, Ernan Roman Direct Marketing Corp., (ERDM)
Inducted into the DMA Marketing Hall of Fame based on results companies achieve with three Customer Experience methodologies he created: Voice of Customer Relationship Research, Integrated Direct Marketing and Opt-in Marketing.
ERDM specializes in conducting Voice of Customer research to identify Customer Experience strategies that generate significant increases in response and revenue for clients including IBM, MassMutual, QVC, NBC, Microsoft and Norton AntiVirus.
Calling all HuffPost superfans!
Sign up for membership to become a founding member and help shape HuffPost's next chapter