"Don't It Make My Brown Eyes Blue"—its vocals a first take by singer Crystal Gayle—celebrates its 40th anniversary on June 24. Although she previously had big country hits, "Don't It Make My Brown Eyes Blue" turned the corner for the artist, establishing her beyond country in pop and easy listening. Her crossover smash earned her a Grammy® Award for Best Female Country Vocal Performance and also made her album We Must Believe In Magic the first by a female country artist to go platinum. She was awarded CMA's Female Vocalist of the Year in 1977 and 1978, and the Academy of Country Music honored her with the same award in 1976, 1977 and 1979.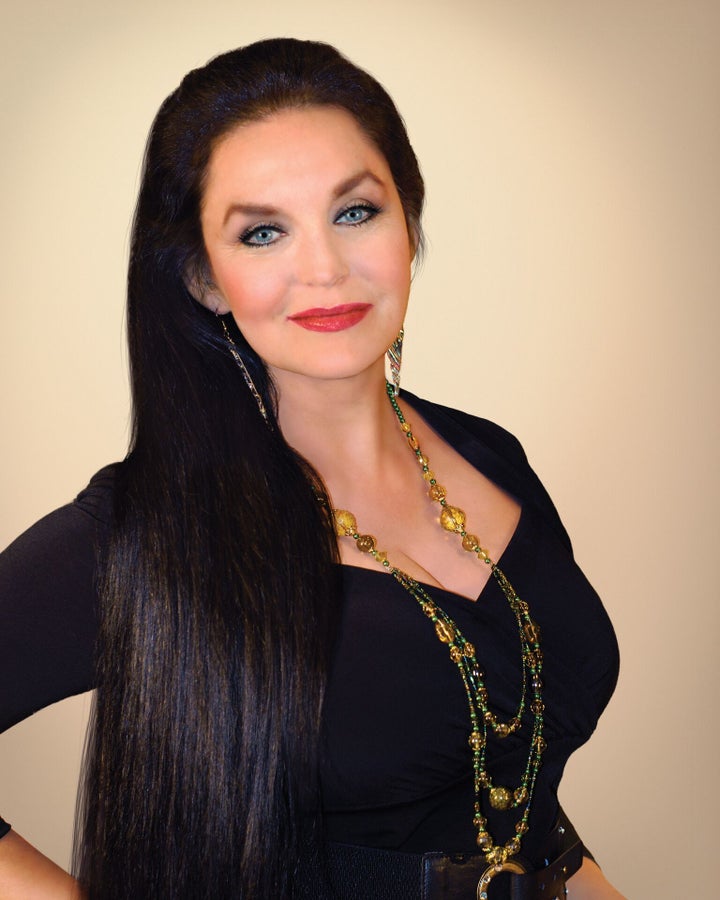 A Conversation with Crystal Gayle
MR: Crystal, you're celebrating the 40th anniversary of "Don't It Make My Brown Eyes Blue." Forty years. Wow.
CG: It's really hard to believe. It's a very special song that doesn't come around very often and I'm so glad I got that song.
MR: That's considered your "breakthrough" song. Can you remember what it was like having that particular #1 at the time and do you remember your reaction to being told it was a huge hit?
CG: Well, my first No. 1 was "I'll Get Over You," which was written by Richard Lee, who also wrote, "Don't It Make My Brown Eyes Blue." When we released "Brown Eyes," I was out on the road and I was doing my set, and when I got to that song, it was like "Wow, what is going on?" [note: a reference to audience reaction] I had no idea it was getting so much play and everything that was going on with it. It was just incredible.
MR: Do you remember during your studio experience recording that song, thinking it was very special?
CG: When I heard the song, I knew it was very special and I knew I wanted to record it. It was actually the very first take in the studio. It was a live performance that went on the radio. I did not re-sing it. We added a few strings and that was it. For everyone in the studio, it was magical.
MR: "Don't It Make My Brown Eyes Blue" also was a huge pop record and your big breakthrough as far as that genre.
CG: Yes, it was a #1 in Cashbox, and I think #2 in Billboard at that time. It was a breakthrough record. Like I said earlier, those songs do not come around often, and it was just meant to be. Richard Lee wrote the song. Allen Reynolds, one of the best producers ever, produced it. He went to hear some of Richard's new songs because we were recording. Richard played a few songs and then Allen asked if he had anything else. Richard said, "We have one song we're sending to California for a couple of people to hear." As soon as Allen heard it, he said, "You're not sending that record anywhere." [laughs] So we almost lost it, but it was meant to be.
MR: So then you become an established pop star in addition to being a country star. How did this change the way people treated you and how did your life change after that point?
CG: [laughs] Oh, it was crazy! I had to turn down so many things because I couldn't do everything. I did a lot of television. I was on Bob Hope, Dean Martin, you name it. The writing shows were special back then. There is so much going on T.V. now that it's not quite the same. Everybody was coming at me in so many ways. I got so many songs with "eyes" in them to record. [laughs] It was one of those breakthrough records just that went everywhere. It was worldwide.
MR: Did you get a call from a certain Loretta Lynn?
CG: Loretta Lynn, yeah. [laughs] She was happy. She was excited for me.
MR: Did she ask if you had any more of those hit songs to spare?
CG: [laughs] Oh, she had a lot of her own but she was just really excited about it. Here we are, sisters, and she gave me the best advice when I first started out. She said not to sing any of her songs and do not record anything that would sound like her. I know that I would not have had the same success if I had gone the way that followed in my sister's footsteps. But she said, "You do middle of the road." She knew what was best for me.
MR: There was that point when you became such a huge cultural icon and there was another turning point in your career with the hit "Half The Way."
CG: "Half The Way" is also a great song. Nashville still has so many wonderful songwriters. A lot of the people that are recording today and out on the radio don't really listen and they want to do their own songs. I think they miss the incredible songs that way. They might have a good song but it's not "...Brown Eyes." [laughs]
MR: Your catalog also includes songs like "Wrong Road Again" and "Ready For The Times To Get Better" that were pretty emotional singles. What were you looking for as an artist when you were choosing material?
CG: For me, I had to have a melody grab me. Then when the melody grabbed me, I would listen really closely to the words and make sure it was something I wanted to say and put across. "Wrong Road Again," "Ready For The Times To Get Better," they were written by Allen Reynolds, who was my producer. I was very, very lucky to have a great producer who was also a great songwriter.
MR: And you also were included as vocalist on Eddie Rabbit's "You and I," another huge single for you.
CG: Eddie Rabbitt called me and he asked if I could do some harmony on one of his songs, so I asked him to send it to me. After I listened to it, I called him back and I said, "You know, Eddie, I think I can do a little more than harmony." [laughs] We went in the studio and I just love that song.
MR: Does "Don't It Make My Brown Eyes Blue" mean something a little different to you in 2017?
CG: "Don't It Make My Brown Eyes Blue" was just written so well, that I've never gotten tired of singing it. Also, if I'd had all of the heartaches that I've sung about over the years, I'd be in pretty bad shape. [laughs] It took on a meaning that this was just a special, special song and knew it when I recorded it. There've been several special songs that didn't become hits that were special to me, but "Don't It Make My Brown Eyes Blue" just opened so many doors. I first met Richard Lee, the writer of that song, when we were both working a little telethon in Bristol, Tennessee, and who knew that he would write my first number one and then my million-selling single.
MR: What does it feel like to be an artist in 2017 and have contributed to the country music story and history of that period?
CG: Well, I look back on that particular time and it was a great time in Nashville. The music business was run by actual producers, by people who love music, not just business people. I think that's a big difference. Nashville is growing so much now. It was incredible to be a part of that time. I see things change and I don't want them to change too much, but everything does change. I have a success that crossed over. I got so many letters from people that told me that I brought them into country music, that they never listened to it before my music. That always made me feel good.
MR: It seemed like in the early '80s, there was a break from what country music was naturally evolving into. It was like a forced retro return. Big hats came back in a big way. In your opinion, is there something that happens cyclically in country music that differs from every other field?
CG: I see country music now as the country music of the '70s. There was a gap in today's pop music and I think country music filled it. I see that what's played on the radio is the music that will cross over and appeal to more people. I don't know that country will ever exactly go back to its major roots.
MR: Nashville has always been associated with great songwriters. What are your thoughts about the integrity and demands on songwriting over the years?
CG: I saw something on YouTube recently they put together all of these major pop songs and they all sounded like the same song. It's funny. [laughs] With Allen Reynold, he had all of these songwriters coming in all the time. These were incredible times. They loved what they were doing. They weren't in it for money. These songs were from the heart. They loved what they were doing. I've heard songwriters today that say, "We're writing because we want to have a hit, but we sure wish we could write the way we used to." You go where you can pay your bills, I guess.
MR: Coming back to "Don't It Make My Brown Eyes Blue," I'm surprised it hasn't been licensed out more.
CG: I think years ago, they did use it for a contact lens commercial. I was with United Artist Records and that was my first contract so I didn't have any say in it. I probably didn't get paid much either! [laughs]
MR: Did you find that people were walking up to you and checking to see if you truly did have brown eyes?
CG: Yes! People do ask and since my eyes are blue, I would have to say, "They made my brown eyes blue, see?" [laughs]
MR: Crystal, what advice do you have for new artists?
CG: Get out and perform wherever you can. Write even if you can't. Just try to write. Be out there and be ready to go if a label hits. There are stars made on YouTube these days, just be ready to run with it.
MR: Did you do that in your career?
CG: No. [laughs] I was very shy as a kid and when I first started singing, I would stand behind that microphone stand and if it could've been bigger, I would've loved it. Then I had a few songs and then I had a guitar player and then I could have a bass player. Soon people were sitting down at my concerts when I'd play the clubs and that actually scared me. But hey, they were playing my songs. It took a little a bit. In the first radio interview I did with Ralph Emery, I was shaking my head when he'd ask me a question. He said, "You have to talk, this is radio."
MR: [laughs] By the time you accepted your Grammy for "Best Female Country Performance," you kind of had gotten over your shyness a little, no?
CG: Oh, yes. But still, when you're shy, you're shy. I look back and many of my acceptance speeches were "Thank you," and off I'd go. [laughs] I would say a couple more words now.
MR: Did you say a little more when you received your Cliffie Stone Pioneer Award at the 2016 Academy of Country Music show?
CG: I did say a few words. It wasn't long a drawn out because you look back and so many people help you in your career. The only one I mentioned besides my family was Allen Reynolds because he really took me and molded me and helped me come out of that shell of being shy.
MR: Tell me about receiving that Cliffie Stone Pioneer Award. It must have been a sweet thing for you.
CG: It was very special. It's always an honor that your peers, people that you have worked with and artists today, care for you as an artist and for your music. I've never looked at how many albums I had out, how many number ones I've had. It's more other people saying you've done this, this, and this.
MR: You also were the first female country artist to go platinum. That made you feel good?
CG: That made me feel real good. Being out on the road and getting to do what I loved to do, I wasn't thinking what will make me the first this, this, this. I just loved to go out and sing and meet my fans.
MR: You were voted one of the "Fifty Most Beautiful Women in the World," according to People. What was your reaction when you found out?
CG: I'm the kind to look in the mirror and say ,"Oh, no!" I think I took it with a grain of salt. [laughs]
MR: How did you get around with such beautiful, endless, long hair?
CG: The longest I ever let it go was three or four inches on the ground, and that's because I was wearing high heels. It got to a point where I was really stepping on it so I started keeping it around three inches off the ground. Of course, I've cut it shorter now, but a lot of abuse has gone into this hair. It's something that's been hard for me to cut in more ways than one. My children, when they were young, they said, "You won't be Crystal Gayle if you cut your hair." And my mother always wanted me to have long hair. But there had to be a cutting point here for peace of mind.
MR: [laughs] Thank God you had 20 number one country hits or you wouldn't be able to afford all those hair products!
CG: I will say, with my career, I've turned down a lot of money by not doing advertisements with hair products I wouldn't use myself. I knew people and children looked up to me. Why put something out there you don't really believe in?
MR: You must have been approached by everyone in that industry.
CG: There've been a few. I always thought maybe I should do my own, maybe write a hair book. [laughs]
MR: You were inducted into the Grand Ole Opry this past January.
CG: Yes, it was just very exciting. My sister has been an Opry member for over 50 years. I've always felt a part of the Opry family, even though I knew I wasn't. In my career, we were the flashy country, the "Nashvegas," and we loved doing the Opry. It was just such a special honor to be asked to join the family. As I say, I have the papers now.
MR: What has changed as far as your instruments and music in your live act over the years?
CG: Oh, anything and everything. I've performed with an orchestra, which I love. We've done acoustic areas and a little bit more uptempo, the ballads. One of my favorite songs is "Rocky Top." I grew up with that song. I love it.  
MR: So, do you think this music thing is gonna stick?
CG: [Laughs] Maybe, might just stick.
MR: What's the future? What creative projects are coming?
CG: I've been working with my son Chris on some classic country. We've been working on it about three years, going back and forth on things, just having a great time. He grew up listening to the more modern things so it's been great to have him see the difference and see that everything in a song doesn't have to be perfect. In radio today, everything sounds so perfect and I think they've lost the heart. Maybe an instrument might be a little out of tune. You don't have to tune everything. It has to have a soul. It's just part of the feel of music.
MR:  Where's the novel, where's the biography?
CG: I keep saying I'm going to do one. Maybe I will. [laughs] I need to find the right person to write with, I guess.
MR: Is the music speaking to you at the moment?
CG: The music definitely speaks to me. I find myself humming, singing all the time, everywhere. It's a part of my soul and a part of my family.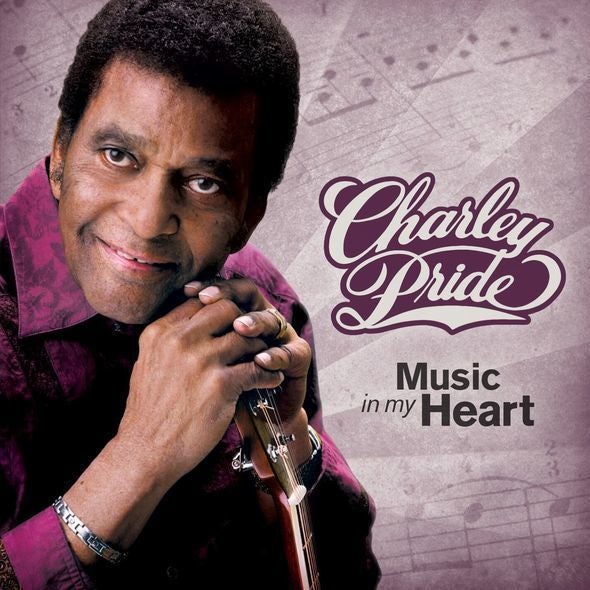 This year, Charley Pride celebrates his 50th Anniversary in country music by releasing the Billy Yates-produced album Music In My Heart on July 7. He also will be honored with a Grammy Lifetime Achievement Award July 11 in NYC. FYI though Charley was the first African-American to break into Country Music, he still faced certain obstacles such as his label releasing his LPs without his photo on the cover so people would buy his music for the music and not be prejudiced because of his race. His concert posters suffered the same approach. Fifty years later, beyond releasing Music In My Heart, he is part owner of the Texas Rangers baseball team, a member of the Country Music Hall of Fame, a Grand Ole Opry member, and a country legend.
A Conversation with Charley Pride
MR: Charley, your new album Music in My Heart is your first since album since 2011. What have you been up to?
CP: Well, I've just been doing my live shows and different TV shows, tours in Canada and overseas in England, Scotland and Ireland. That kind of thing, just regular things, I've been doing the last 40-50 years.
MR: During that time were you collecting songs to record? Learning new songs, even writing some for the new project?
CP: Well, yeah. The last three albums, I did myself. My wife and I were talking and she said, "Well, baby, find a producer that you'd like to work with and see how that comes out." And I am glad I did, because I had heard of Billy Yates. Not only is he a fine writer but an entertainer too. So, it worked out really wonderful. We just clicked really good together.
CP: I've been trying to get my movie off the ground. It was supposed to be done in 2008. Terrance Howard was going to play me. They had the producers and directors. Everybody was in place and they had that writers' strike out there in California, and everything just fell out apart.
MR: What was it like recording this project with Billy Yates?
CP: Well, it just took me back when I used to do it. Jack Clement was my major producer of most of my material of my career. He picked most of my stuff for a long time. But, he always gave me a chance to say what I like and didn't like. You know, that sort of thing. The best example I can give is when I came to Nashville, I was recommended to go there by friends of mine. I got there and they gave me seven songs and both people who were instrumental in my career were Jack Johnson and Jack Clement. So Johnson and I met him through Clement. They gave me these seven songs to work up and to send back and I didn't work them up and send them back, I took them back. I went up in his office, meeting Clement, and showed what I had done. He said, "Sing something." So I did some of the songs and the seven songs. I used to remember all of them. Clement said to Johnson, "I think he's ready to go in the studio." He asked, "Can you cut a couple of songs in three hours?" I said, "I can do it in one hour." I had only been in the studio about once in my life. That's the way it came out.
So Clement gave "The Snakes Crawl at Night" to Chet Atkins who took it to Monterey, California, and played it for all the Big Wigs out there, you know, for RCA. I think he took a picture of me with him. They said, "He's colored" and he asked, "How do you like the music?" When he said that, they all looked at one another, unanimously they said, "We're gonna record him anyway, were gonna release it, and they're not going to say nothing about no color or nothing." So, that's the way they did it.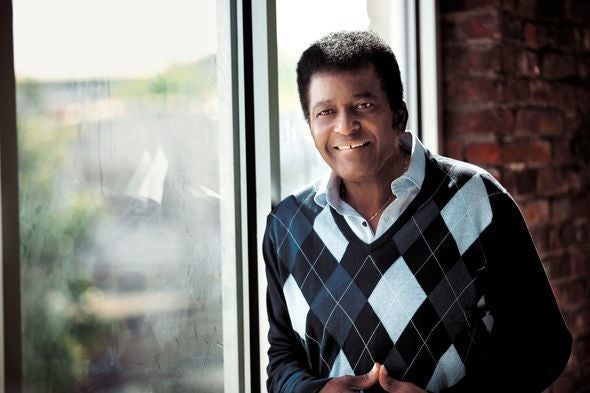 MR: That signing and your releases were trailblazing. Did you allow yourself to acknowledge the doors you opened culturally?
CP: Well, I've got two great-grandkids and they're probably going to be trailblazing too. I try my best to narrow it down to a point, but we don't have to go into a whole soliloquy on what happened back when with Jackie Robinson and Brad Douglas and all that stuff. Of course, it's still there. My career was smack dab in the middle of the Civil Rights movement. Let's say I'd be talking to people like I'm talking to you. They say, "Man, you must have really had it hard." "No," I said, "I have not one iota hoot calls from any of the audiences." People would give me that "I can't believe it, you've got to be lying" look. Let me cut it down a little bit. First of all, I start naming my accomplishments. I've got three Grammys, a star on the Hollywood Walk of Fame, and the Grand Ole Opry induction. I'm in the Country Music Hall of Fame. The first thing all the reporters would ask was, "Charley, how does it feel to be the Jackie Robinson of country music?" "Charley, how does it feel to be the first colored county singer?" "Charley, how does it feel to be the first Negro country singer." "Charley, how does it feel to be the first black country singer?" "Charley, how does it feel to be the first African-American country singer?" I say, "I feel the same way when I was 'colored,' I don't feel no different."
MR: Charley, your getting the Lifetime Achievement Award from the Grammys. That's an important acknowledgement by an industry and your peers. That must feel really good.
CP: Yeah, they ask, "Did you ever think you would have…?" No, I'd be lying. I used to walk to school. Four miles to school. Four miles back. When I first started singing, I said "Well, that's pretty good. This album I have now, do I like this song, do I like it better than that song?" So you break it down and break it down. I'm glad that I was with Billy Yates and we came up with this thing. That's what I'm still trying to do. Just steadily move forward and hope...well, I hope it won't be the last time because of the Lifetime Achievement award. You know, I just keep trying to do the best I can, like I have been all this time.
MR: What changed over the years with the material you record, how you record, all that?
CP: Nothing! My voice...? People think I'm singing better now than I ever did. I'm still a traditionalist. I listen to this album and I listen to a whole bunch of my other albums. I like this one better than a whole bunch of the others.
MR: Charley, you've been doing this 50 years. What has changed about Charley Pride? What's changed about you, if not your music?
CP: I just got older, just older that's all. Still singing.
MR: Well, you've got more wisdom, more experience, right?
CP: That's part of it. I believe so. I'm still learning. I'm still learning how to sing. I say that to people, they say, "You got to be kidding!" But you never stop learning.
MR: How does receiving awards and career acknowledgements affect you these days?
CP: I'm going to keep doing the best that I can. The traditionalist, the songs I've been doing... I'm going to keep doing them and the only difference is that I am older.
MR: Everybody must ask you what your favorite song from your catalog is. Is there something you recorded that, through all that years, stayed with you in a special way? Maybe not necessarily a hit but something you've sung over the years that just stays with you because it's so special?
CP: I'm going to tell you the truth. They ask, "Well, what song you like to sing the most?" The song I like to sing the most is the one I'm singing in the moment. That covers the whole spectrum. Now, I've got different ones I like a little bit more than the other ones, a little bit more than that one. But at that moment, the one I grab is the one I'm singing.
MR: Well, how immersed in a song do you get when performing or recording it? Do you lose yourself in a song sometimes?
CP: No, other than I want to sell it. If I sell all these songs—name any one you want—I want to do it even better than I ever did it before. That's my ultimate goal, to try to make it sound better than I ever did before.
MR: So, do you feel that when you perform live, you're remaking a song even though you had a hit record with it?
CP: Yes. With some of the phrasing, yes. I've gone back and listened to some of my live recordings. In fact, when I started doing these interviews, they played "Kiss An Angel Good Morning," which was not the original. But I like some of the phrasing I was doing on it. I didn't particularly care as much for the music behind or around the phrasing because it's hard to beat a song that crossed over.
MR: Is there anything you did on this album that you feel surpassed anything you did in the past?
CP: Well, it's a traditional album. I always feel like I could go back and do that line just a little bit better or I'd like to phrase that word a little bit better. I've done that my whole career. I've done it with Clement and I did it with Yates and I'll do it again with whomever else. I'm a perfectionist. I'm the worst critic of myself than anybody can be. I know I can always do it better.
MR: That also probably makes you the best teacher.
CP: Well, that's just the way I am.
MR: Charley, what advice do you have for new artists?
CP: To just do the best they can. Sing the best they can and pray that they get the right song and that things fall in place for them.
MR: What was the best advice you ever got?
CP: Just to be yourself and do the best you can.
MR: What kinds of projects do you want to get to in the future?
CP: I would love to have a variety show like Dean Martin. First, I'd like to have that. Then I would like to get my movie done. I told the people I'm working with that I don't want to be laying down, like my buddy Johnny Cash, trying to look up through the grass.