As long as female-fronted rock bands continue to flourish in the age of misogynist rap and hip-hop, the thriving progenitors should credit powerful women like Blondie's Debbie Harry and Garbage's Shirley Manson for making it all possible.
Both arrived on the scene at different times. Harry and her new wave of testosterone-pumped rockers exploded during the "Me Decade," when disco and New York's Studio 54 reached their height and burned out just as quickly. Garbage gathered in the naughty '90s, an era when the creative mesh of sounds and pop culture accepted a young, daring Scottish woman performing with three older gents based in America's Heartland.
So it makes perfect sense for these forces of nature to unite for the Rage and Rapture Tour at major performance venues across the United States this summer, including July 16 at Fiddler's Green Amphitheatre in Englewood, Colorado, an I-25 drive south of downtown Denver.
While perhaps fighting an uphill battle against age and disinterest, both alternative bands performed admirably despite the disappointing Fiddler's turnout. Those in attendance, though, seemed like rabid fans who sang along to the hits and ignored any missteps along the way.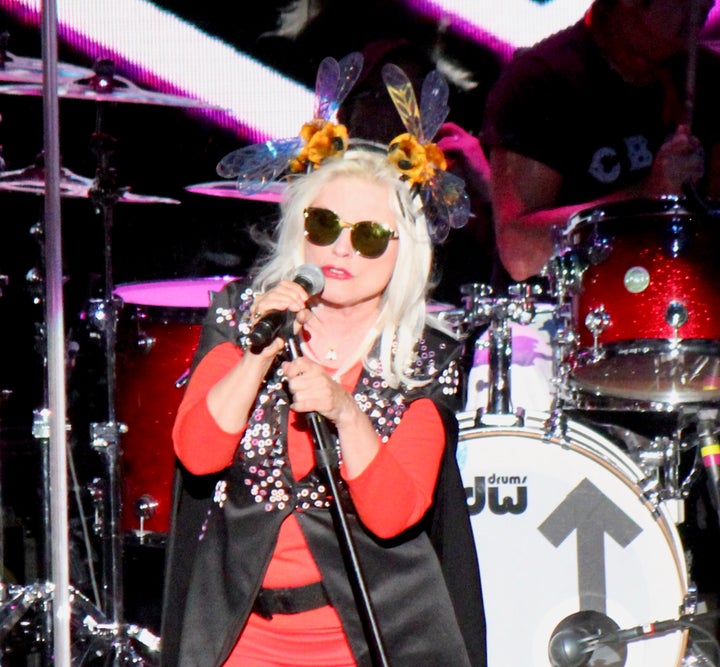 "Is tonight Sunday?" Harry (above) asked the crowd while getting her bearings after the first two numbers. "On your knees," she commanded, perhaps referencing a line from an episode of The Walking Dead this season (or else Netflix's The Crown).
As relevant as ever, even without recognizing that the Season 7 premiere of Game of Thrones was on that night, Harry showed a sprightly spark as Blondie took a trip on the wayback machine to perform many of their signature hits such as "Heart of Glass" (featuring edgy guitars and a high-energy extended finish), "Rapture" and, saving the best for last, "Dreaming," which just might be the finest pop-rock song recorded by any band after the Beatles.
This was Old School of Rock done right. Of course, having been around in the '70s/'80s to appreciate punk-era Blondie and X (whose pioneering couple, John Doe and Exene Cervenka, opened with a refreshingly sweet but way too short 20-minute acoustic set), then seeing each of them onstage during their fourth performing decade was an invigorating experience that had nothing to do with nostalgia.
Sure, I was among the many supporters who were there to hear Blondie start with two killer tracks off 1978's Parallel Lines. "One Way or Another" probably has found new life and a younger audience while in repeat mode on Swiffer television commercials. Then there was "Hanging on the Telephone," the Nerves cover with an opening line ("I'm in the phone booth, it's the one across the hall") that Harry knows is so outdated, she preceded it by remarking, "I feel so ridiculous saying this … "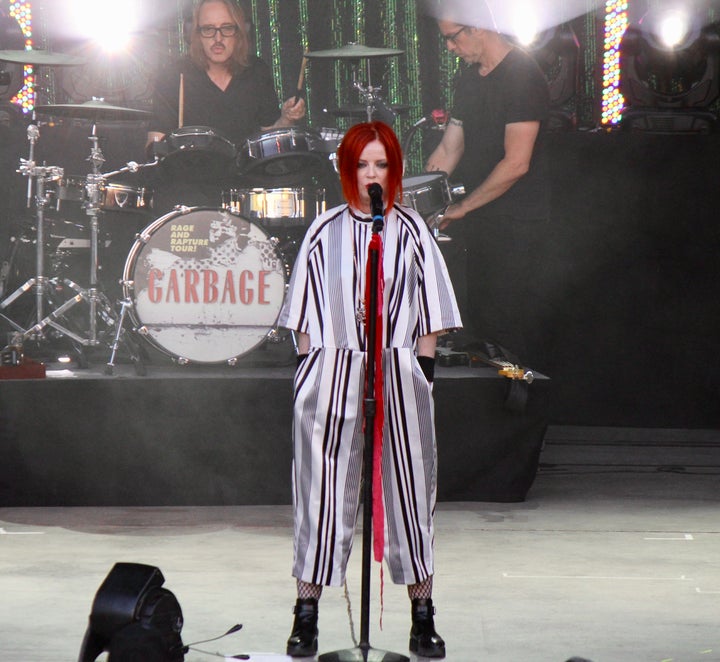 While I also cherish Garbage's Manson (there's no better mood swing song than "Only Happens When It Rains"), Harry is still the coolest, hippest chick in the room (or the amphitheatre), even at the age of 72. She still commands the stage in front of her five bandmates: Blondie co-founder and Harry's onetime paramour and longtime right-hand man Chris Stein (guitar); other original member Clem Burke (drums, wearing a CBGB T-shirt); and, more recently, Leigh Foxx (bass), Tommy Kessler (guitar) and Matt Katz-Bohen (keyboards).
Wearing her personal bee's bonnet and cool shades (along with a cape with "STOP FUCKING THE PLANET" inscribed on the back) during the first few numbers served as a buzzworthy reminder to everyone that "we're getting involved with helping or encouraging the bees to stick around."
While "dealing with nature," Harry and Blondie are also promoting their May 5 release Pollinator, the 11th studio album of their chaotic career. With a red-hot dress and white pumps, the smart and photogenic sex symbol with a passion for fashion was witty, charming and had fun teasing the crowd.
"I guess, after all, we are all pollinators or potential pollinators," she said with a twinkle in her eye, connecting with someone in the first row. … "I'll see you later."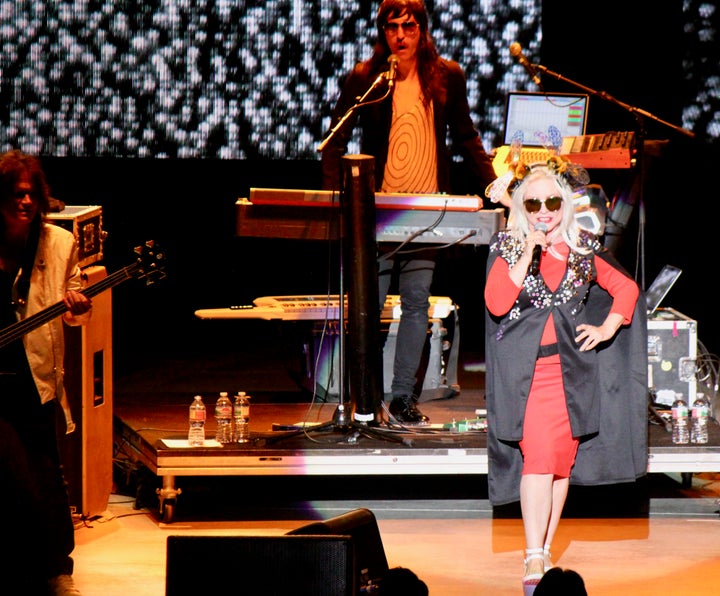 With that, Blondie, inducted into the Rock and Roll Hall of Fame in 2006, performed "Fun," the first of five Pollinator songs and one that brought back the disco vibe. Though the album features collaborations with several of today's trend setters including Sia, Charli XCX and the Strokes' Nick Valensi, some of Sunday's selections weren't precious gems.
Johnny Marr's "My Monster" crashed with a heavy thud but "Fragments," an Unkindness cover written by Adam Johnston, and the thunderous "Long Time," which Harry wrote with Blood Orange frontman Dev Hynes, had either surprising tempo changes or catchy hooks that kept many in the crowd on their feet, even if a few decided to take a bathroom break at the wrong time.
Harry struggled with the high notes at the outset of "Rapture" but rebounded during her fast rap and was aided by the screaming guitars of Klein and Kessler, the Rock of Ages fixture. A Blondie member since 2010, Kessler's lightning-fast licks on "Atomic" (from Eat to the Beat, my favorite Blondie album) packed an explosive punch that was missing on the recorded version.
Though Bob Dylan's "Rainy Day Women #12 & 35" is a mainstay on Blondie's current tour, the unforgettable four words "Everybody must get stoned" took on a particularly robust significance in Colorado, a state now recognized for its recreational pot use almost as much as its Fourteeners and Denver's 5,280-feet elevation.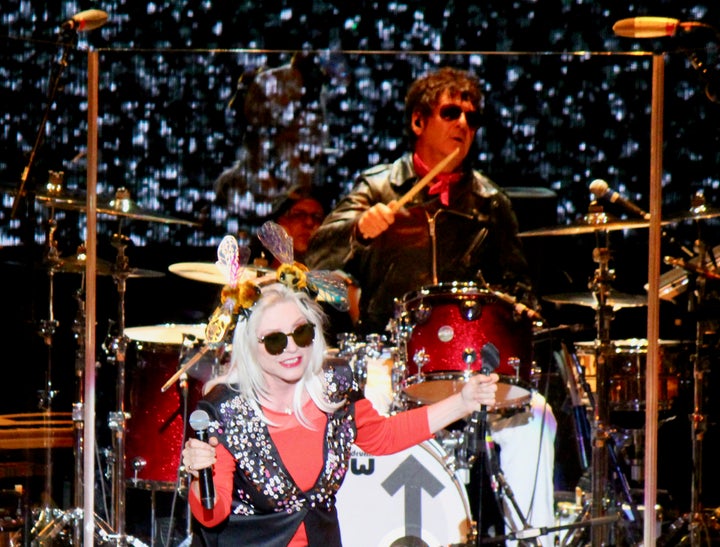 "We have some altitude here, right?" Harry asked rhetorically after the Dylan cover, recalling the Divide Music Festival, which Blondie played at 9,000-feet Winter Park in 2016. "It was pretty extraordinary. But you are the Mile High people."
And Harry is rock royalty, showing her strength while reigning over the new wave/dance music scene during the decades that gave the rock-pop world Chrissie Hynde and the Pretenders, Joan Jett and the Blackhearts, Maria McKee and Lone Justice, Brenda Carlisle and the Go-Go's and Heart's Wilson sisters.
This was the third time I've seen Harry at Fiddler's, first as a solo act on a bill with the Ramones and Tom Tom Club in 1990, then in 2006, when it was called Coors Ampitheatre, as Blondie co-headlined the Road Rage Tour with the New Cars led by Todd Rundgren. Again, Blondie's bombshell saved her best for last.
Witness Harry and the band on tour now before the reported death of rock 'n' roll becomes greatly exaggerated.
There was mass hysteria when news broke this week that the genre had finally been dethroned by a hardier challenger. Nielsen announced in its midyear report that for the first time in the research company's music history, R&B and hip-hop got the largest share when combining album and track sales with audio and video streams.
So be it. No matter who's running the show, though, does anyone really believe rock 'n' roll will ever die? Even in a realm where women were (and still are) ignored, the force is with them now.
As long as artists such as Garbage's Manson, the Pretty Reckless' Taylor Momsen, Alabama Shakes' Brittany Howard, Sleigh Bells' Alexi Krauss and many others carry Harry's flaming torch, the heat will be palpable.
Thanks to Harry, still as sweet as Tupelo honey, let's just say, "Hail to the Queen Bee."
Michael Bialas is a journalist and photographer who enjoys writing about entertainment and sports for a number of online publications, including HuffPost. Follow him on Twitter: @mjbialas
Concert photos by Michael Bialas. See more from all three acts at Fiddler's Green on July 16, 2017.
Popular in the Community