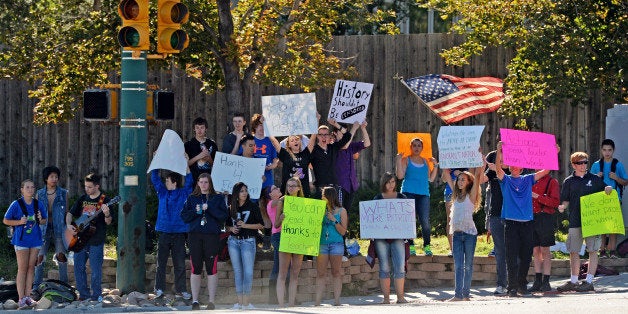 A walkout by students in Denver on Tuesday is just the latest in a series of peaceful student-led protests across the nation aimed at challenging the corrosive effects of corporate education reform. Reportedly, proposed changes to the history curriculum sparked the action. That plan requires teachers to restructure the curriculum to emphasize chapters in American History portraying the nation only in the most positive light. To do so, an oversight committee will examine texts and lesson plans to certify that they "promote citizenship, patriotism, essentials, and benefits of the free-market system, respect for authority, and respect for individual rights" and not "encourage or condone civil disorder, social strike or disregard of the law."
In response to criticism, Denver School Board member Julie Williams, author of the proposal explained: "There are things we may not be proud of as Americans, but we shouldn't be encouraging our kids to think that America is a bad place."
There is a certain irony to Williams's words. Much of what corporate education reformers attempt to force on communities, in terms of budget cuts, the assault on teacher tenure, and the adoption of questionable instructional models, undermines the very essence of American democracy. Such measures compromise free speech, due process and now the First Amendment right to take action-demanding redress. A teacher protest last Friday, over issues of compensation and evaluation methods, in which close to half of Jefferson County's high school teachers called in sick or took personal days and forced the cancellation of classes preceded the student actions. From the perspective of many in the community the protests, though disruptive, finally demonstrated the seriousness of the issues and secured the school board's attention.
The proposal and Williams's response come at a time when students nationwide are demonstrating just how well they have absorbed those civics and history lessons -- subject areas, which receive far less instructional time because they are not always tested. Not surprisingly, for instance, the Denver proposal began with Advanced Placement United States History, because in many districts AP courses constitute the only sustained foray into U.S. History for students. In many communities, history and social studies have become almost an afterthought to math and science. Yet, in what may be the most important test, students are making the connection between what is happening in their schools and their role in what is still a participatory democracy.
The phenomenon is not new but is becoming more widespread. In Providence, Rhode Island, for instance, the Providence Student Union led the charge against corporate education reform with a mission statement declaring their intent to "build the collective power of students" and "ensure youth have a real say in the decisions affecting their education." In Newark, New Jersey, the Newark Student Union helped to organize last week's demonstrations against One Newark, a controversial top-down restructuring plan pushed by Superintendent Cami Anderson to expand the number of private charter schools, close some public schools, and displace large numbers of students, fracturing communities. In Philadelphia and Chicago, students have also been significant voices in the chorus of protests over policies and practices that seem less about helping students reach new horizons and more about mandating conformity.
In all of these communities, the rallying cry of students, parents and teachers is essentially the same. Policy makers and school district leaders are not hearing or addressing their concerns, leaving boycotts, walkouts and demonstrations as the last resort to publicize the plight of those affected.
In his classic study, The Outline of History, H.G. Wells notably observed, "Human history becomes more and more a race between education and catastrophe."
Yet in light of the catastrophic impact serious budget cuts are having on American education, so-called reformers remain tone deaf, focused more on whitewashing American history than in preserving democratic practices and critical public institutions.
On one point, Julie Williams and I agree. This is certainly not a proud moment in our history. Of course, if this was a history lesson, Williams and her colleagues might require students to skip this chapter. However, they cannot wipe away the present reality of parents, students and teachers united in the streets and voting with their feet for a restoration of basic democratic practice.
The protest to preserve the history curriculum is important for another reason. It reinforces the truth that standardized tests and sanitized history can never produce the type of critical thinkers necessary to avert the next great catastrophe. In fact, if the so-called education reformers are not careful, they may bring on that catastrophe by toppling the only remaining institution dedicated to reinforcing civic values -- public education.
Interviewed about the walkout, sophomore Ava Koppschlager succinctly summarized the issue. "They want to take away our curriculum in U.S. history," she explained, "We deserve to know everything that went on." These wise words indeed apply well beyond the public schools in Jefferson County.
REAL LIFE. REAL NEWS. REAL VOICES.
Help us tell more of the stories that matter from voices that too often remain unheard.