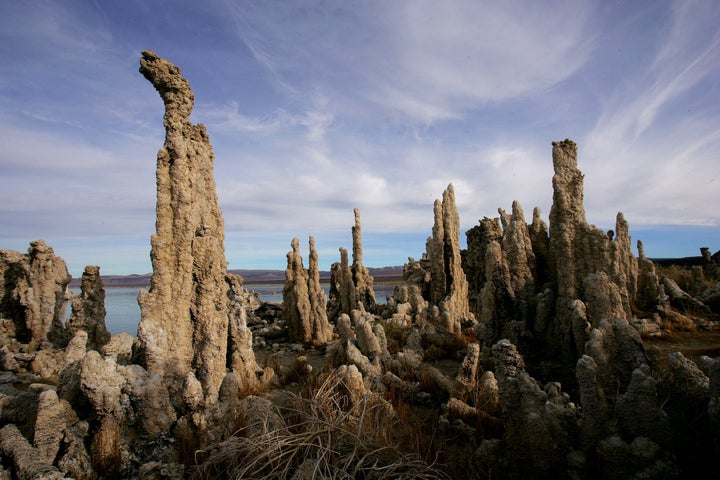 I don't tend to go around quoting glam metal power ballads, but Cinderella's 1988 hit single had it right -- you often don't know what you got till it's gone. The video for the song was filmed at Mono Lake, where it so happens that Mono Lake Tufa State Reserve, which protects this majestic million year old lake, will close next summer due to budget cuts. It's just one of 70 parks, 25% of the state parks system to close next year as a result of the new state budget.
President Clinton may have declared in 1996 that "the era of big government is over," but today we can now see that the era of critical government is teetering, and vital civic services are being slashed -- examples include capping California's poorest people to seven doctor visits a year to possibly shortening the California school year to save money. It sometimes seems that the clamor for cuts to "all of the above" is inevitably leading to greater cuts than anyone really wants or thinks is wise, but we might just need to go there to remind ourselves what's worth making the choice to keep. I fear that's where we are with our park system.
Compared to sacrificing kids' educations or poor people not getting health care, it's easy to look at parks and find an easy mark. I've been asked many times what it really means anyway to close a park. Do you turn off the spigot that fills the lake and tell the animals they need to inhabit another forest? "Come on, no big deal, just close the gates and nature will be fine while we sort out our finances." I wish it were that simple... or smart.
But first a reminder about what this parks system is. Since the establishment of Big Basin Redwoods State Park in Santa Cruz County in 1902, our state set a clear priority to conserve and protect land that is uniquely Californian. Over the next 109 years California established 277 additional state parks, encompassing 1.4 million acres, with more than 280 miles of coastline, 625 miles of lake and river frontage, nearly 15,000 campsites, and more than 3,000 miles of hiking, biking, and equestrian trails.
If you include our vast national parks and other federal and county recreation areas, California has one of the most expansive, diverse, and incredible parks system in the world. It's why many people came to live here in the first place and it's a staggeringly important part of our economy.
With times tough, our parks are the best "stay-cation" option for many families choosing a more local economical option for summer holidays. But our parks are also a global draw, attracting tourists from every corner of the world to experience what makes California so spectacular. That's a lot of fun being had, and it's also a lot of economic activity being generated, especially in parts of the state that might not ordinarily see it. This year California is proposing to spend nearly $767 million on our state parks, which is a good investment seeing that a study released by CSU Sacramento found that state parks inject an estimated $6.9 billion into the California economy -- nearly a 900% return on our investment.
OK, so if that doesn't convince you that mothballing the parks is bad economic policy, let's go back to why it's also not a great net cost saver. Sure, nature will by and large be fine if we shut the gates. There are exceptions though, and they tend to be expensive. Making the parks safe and pleasant for our enjoyment includes keeping up trails, fixing landslides, dealing with fire risk, keeping out marijuana growers and meth labs, and managing invasive introduced plants and animals that can degrade the habitat and the scenery. So, believe it or not, nature needs tending to keep it healthy and the way we want it. But set aside nature and let's talk infrastructure. From outhouses, roads, and campsites to historic buildings and interpretive centers, managing parks involves a lot of basic upkeep. All of these resources are the sort of stuff we might be able to scrimp on in the short term -- which we already do -- but we're going to regret it in the long term when deferred maintenance leads to tear-downs, major rehab, and replacement as the only options.
Budgets are about choices, and we've made some big ones recently in California. It's been said that future generations will judge us not by what we've built, but by what we have chosen not to destroy. We've made the choice not to destroy places, our parks, which are the envy of the world. Will we come around and choose to keep them open and well maintained? I hope so.

Related
Popular in the Community