November is National Family Caregivers Month, and it's also Military Family Appreciation Month. There is some important overlap between the two, as we shall soon see. Focused on honoring our veterans on Veterans Day, earlier this month, we may not even have noticed the unsung heroes and heroines standing directly behind so many of them, just out of view -- the caregiver partners of the severely injured. Many are women, some are men and some are even veterans themselves. And of course many are parents.
The Rand Corporation estimates that between 275,000 and one million men and women have served as caregivers for "wounded, ill or injured service members" from Iraq and Afghanistan alone and suggest that the actual number may be much higher. When you add in veterans from other wars, such as Vietnam, those numbers climb some more.
Caregivers "perform a wide variety of roles and functions in support of their wounded warriors -- assisting with the normal activities of daily life, serving as mental health counselors, advocating for new and better treatment, even serving as the family's legal and financial representative," says Rand. "Taken together, these responsibilities can amount to more than a full-time job. And yet, military caregivers may also be parenting young children and providing an income for their family."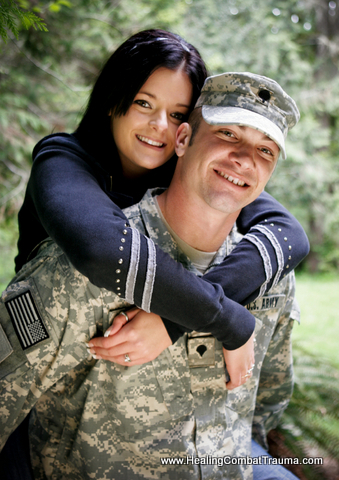 Many veteran families know this struggle well. Ivonne's husband, Anthony, has been "100 percent disabled, 100 percent dependent for his activities of daily living" ever since the day in 2007 when he suffered a severe traumatic brain injury and spinal cord injury as a Navy corpsman in Iraq.
Renee is married to a former Marine who was severely injured in Iraq. She's also the mother to three young children, including one with special needs. "It's a life-changing process," she says, "and one that is frustrating and lonely." "It's hard for many (caregivers) to do anything else with their lives," she says, adding, "We are talking about men and women who are 18 to 40 years old, on average."
Is there any way to prepare for life after injury? "Oh, gosh no," Renee responds. "I never in a million years thought my husband would come home wounded. I thought he might be killed, but never wounded."
Pam, another Marine spouse, describes the severe, disabling injury of a spouse as being the moment "our worst personal fears come to reality." Of the ongoing battle, she says, "It's a lot to be everything to everyone," she says. Like other caregiver spouses, she's also the parent of young children, and until her recent graduation, a full-time college student.
She praises the Department of Veterans Affairs' Caregiver Support Program which "does teach you the medical side to being a caregiver," but there are other aspects to understand as well.
She calls her biggest dilemma the "lack of support from family and friends." "The family can be in denial, or simply uneducated about the extent of his injuries." "I often feel I have to justify my title of 'caregiver,'" she says, "and explain the 'bad' side" to her husband's injuries in order to be understood.
Patience Mason, a Vietnam-era Army spouse and author of Recovering from the War, says she "personalized and misunderstood" her husband's post-traumatic stress initially. "There was very little support for the spouse," she recalls, and "compassion fatigue" continues to be a risk for caregiver spouses over time.
Caregivers "need to be reminded that they still matter, that they still exist," says Christie, one longtime veteran wife who advocates on behalf of wounded veterans nationally. This November, let's broaden our appreciation -- past the veterans themselves, to those who've also borne the battle, here at home.
Calling all HuffPost superfans!
Sign up for membership to become a founding member and help shape HuffPost's next chapter