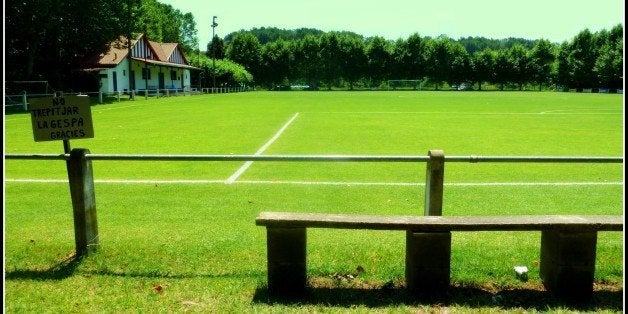 Last weekend marked my first Mother's Day, and I must admit I can't believe I'm now included in the maternal fold. Maybe because my 7-month-old son isn't able to say the m-word yet, or maybe because I still can't believe this adorable human being is real and part of my family. But a group of women who get lost on this day are mothers like Heather Rebeor, whose journey through her son's terminal illness makes her more deserving of this holiday than anything I've done for my son thus far.
Heather lives in my hometown of Columbia, Tennessee. Her son, Dylan, was part of my alma mater's football team that won the 2010 Tennessee high school state championship. But Dylan wasn't able to hoist the trophy. That's because hours before the Columbia Central Lions left that winter field victorious, Dylan passed away.
The first sign that something was wrong came that Spring, when the sophomore began working through what he thought was an athletic back sprain. One weekend, Dylan and his buddies had plans to spend the night at a friend's house, but he chose to stay home instead. Early the next morning, Dylan began to vomit.
"Mother's Intuition kicked in," Heather told me, "and I said we're going to the children's hospital and won't leave without answers. Something's going on."
After the initial diagnosis of appendicitis didn't improve Dylan's symptoms, the final answer came from Dr. Stephen Morrow. e walked into Dylan's room at Vanderbilt Hospital after reviewing further test results. Heather saw the look on his face when he sat across from Dylan, and knew it was bad.
"Out with it," she prompted him.
"It changes your life in the second it takes to say that word," she told me.
Dylan had the most aggressive type of colon cancer known at the time, called a signet ring cell tumor. Heather set it in layman's terms:
"It is basically like slime, just encasing the entire abdomen. It cocooned all the organs in his abdomen. It was like everything was frozen in there, turned to stone almost."
She added how horrible it was.
Heather says when Dr. Morrow gave his diagnosis she looked over at Dylan, who said, "Mom, it's OK." Stoic words from a 15-year-old.
Doctors weren't sure if he would ever leave the hospital, but he surpassed those expectations. Over the course of those final months, Dylan underwent several surgeries, chemo and lost his ability to eat. Despite all that, when Dylan was able to return home, he stood on the sidelines Friday nights to support his brothers on the football field.
On the morning of the championship game, five minutes before he died, Dylan asked Heather if they had won the title.
"Yes," she told him. "Yes, you did."
The answer had two sides. On one hand, Heather knew he wanted the Lions to win that final game, but her answer also meant Dylan beat cancer and won that battle too.
There should be a special gift created for mothers like Heather, whose ability to welcome a child into the world only to have to tell them goodbye takes a strength many don't want to think about. But those women have inspired me, as a new mom, to stop my busy world and enjoy every moment with my son. Regardless of how many, or few, of those moments I get.
To learn more about the Fight Like Dylan Award, click here.