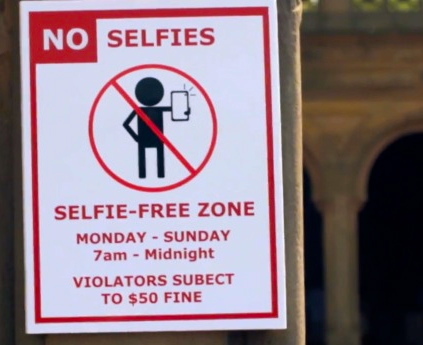 A few weeks ago, I traveled with a good friend on a short hike to one of the many picturesque waterfalls on Oahu, Waimea Falls. The hike began with a scenic walk through Waimea Valley, a beautiful 1,800 acre sanctuary for rare birds, fish and more than 5,000 species of tropical and subtropical plants, including those native to Hawaii. In addition, close to 80 reconstructed archaeological sites depict the life of early Hawaiians along the path, including shelters, eating quarters, gathering spaces, fishing areas and religious sites.
Given all of the natural beauty and historical features surrounding us, I have to admit that the most memorable souvenir I walked away with was actually one I could have done without. One might hope to leave Waimea Valley with a better understanding of the natural history and cultures of early Hawaii, yet my view was repeatedly clouded by various snapshots of the current cultural generation, the selfies.
I use the term "snapshots" both literally and figuratively. You see, I couldn't help but notice how many tourists were missing the moment as they clicked away on their cameras and hand held devices for selfie shots. A photo accompanied every single step along the path. Young children eager to explore down by the Kamananui Stream were obviously frustrated as Mr. and Mrs. Photo forced them to turn around, pose alongside them, and smile for the picture that would soon become a feature of this year's family holiday card. While all of this was taking place, one child spotted the endemic 'o'opu freshwater fish swimming by. The Photo family never saw it, one of many missed opportunities that day.
While I have certainly grown accustomed to making photographic memories with my family, and have admittedly taken a few selfies, I am always mindful of a need for balance. Obviously, if I spend the entire time chasing pictures, I will miss many gifts along the way: delicious scents, skin tingling sensations, melodic sounds, and captivating views. Brain research indicates that positive experiences such as these can be beneficial to our long-term well-being. These real memories trigger the release of dopamine, a neurotransmitter associated with feelings of pleasure, which can positively affect our mental health and augment long-term memories. With that knowledge in mind, I recognize how I might limit my chances of strengthening positive memories whenever I focus on other objectives, such as the perfect photo. In turn, I enhance that same opportunity when I focus on those experiences as I authentically engage with them.
There were many youth hiking in Waimea Valley and swimming at the falls that day, however I noticed a new twist to the camera craze that was quite alarming. People were walking up the trail with selfie sticks held high above them, capturing the smiles on their own faces as they trekked up the path. They were looking only at their cameras, while others walked with them, around them, and occasionally, into them. When we reached the waterfall, I observed one teenager with a selfie stick in his mouth, climbing into the water. He began to swim slowly out to the rocks, holding the stick out of the water, capturing his every stroke towards the waterfall. When he reached the falls, the selfie stick once again moved to his mouth as he used his hands and feet to climb over to the cascading water. Once he was satisfied with his ideal location under the waterfall, he pulled the selfie stick out again, positioned it perfectly above his body, and executed a beautiful 180 spin into the water below, the camera never losing sight of his daredevil move. As he proudly swam back to shore, he reviewed the video on his camera, only bumping into a few people as he waded through the water.
I wondered whether his video was going to post on Facebook or Instagram later that afternoon, or whether he'd ever view it again. Would it be shared with family members or friends? I also imagined what he would remember most from his visit to this beautiful landmark. The native birds and their unique birdcalls were definitely top on my list. My friend will never forget the striking colors and massive heights of many of the tropical plants and trees she walked by. What would this young boy remember?
One of my favorite authors, Richard Louv, would probably admit this isn't quite what he was thinking about when he suggested that children need more physical contact with the natural world. An author and journalist, Louv is best known for his books, Last Child in the Woods: Saving our Children from Nature-Deficit Disorder, The Nature Principle: Human Restoration and the End of Nature-Deficit Disorder. He cites research-based evidence that points to negative consequences of a nature-deficient childhood, such as depression, obesity, attention disorders, and depressed creativity. His solution is simple: unplug children from their computers and televisions and reconnect them with nature by sending them outdoors. I don't think Louv ever imagined a selfie stick was going to trump fallen branches to build with, boulders to climb on, or waterfalls to jump from.
And so, as our families continue to enjoy the summer months, please keep creating those authentic memories, and work hard to push them into that long-term storage cabinet, filled with the scent of plumeria, roaring sounds of the ocean, or the resonating clucks of the`Alae`ula bird. Ask your children to put down their hand held games, gadgets, and yes, selfie sticks. Let's make Richard Louv proud of our parenting efforts. After all, our children will have a challenging time remembering things if they don't bother paying attention to them the first place!