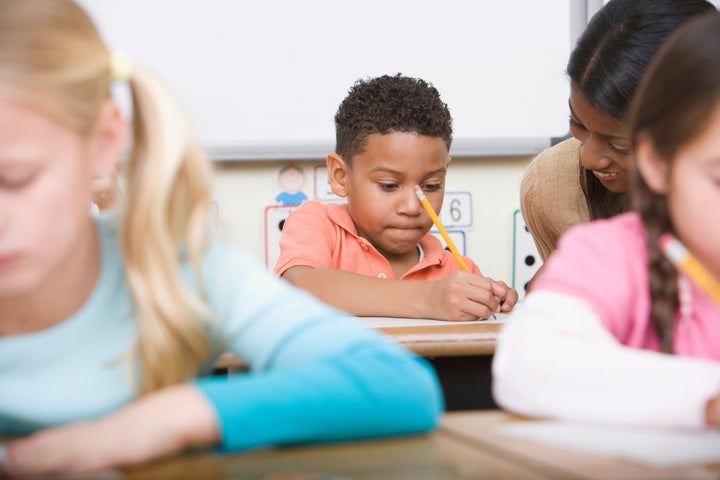 Congress is debating this week whether to turn back the clock on advances for our most vulnerable students that were part of the legacy of No Child Left Behind. At stake as part of the debate is whether our legislators believe teachers should be required to complete a minimum level of training and demonstrate competence before they enter the classroom -- and especially whether poor and minority students, English language learners, and students with disabilities deserve equal access to such well-qualified teachers.
To provide some history, for years advocates and reformers have been pointing to the large achievement gap between black and Latino students and their white and more affluent peers, which has stayed stubbornly large since the Reagan reforms wiped out the educational investments and anti-poverty programs that had caused it to shrink significantly in the 1970s. In addition to the effects of growing childhood poverty and lack of health care, this gap has been exacerbated by a system that spends less on the schools that serve poor children and that frequently offers them the least qualified teachers and principals. Beginning in the late 1980s, as dwindling and unequal salaries caused growing teacher shortages in poor districts, states were encouraged to lower standards for entering teaching in these communities rather than increasing salaries or improving working conditions. In California, nearly 50% of the state's new teachers entered without training, virtually all of them assigned to teach in high-need schools. By the 1990s, it became common in some states for segregated schools serving high-need students in urban and rural areas to be staffed by a revolving door of inexperienced and untrained teachers.
This is one of the problems that NCLB tried to solve when it called for highly qualified teachers in all schools. States and districts were required to put in place recruitment and retention plans to ensure that schools could be staffed by teachers who knew their subject matter and how to teach it. Many states proved that they could greatly reduce teacher attrition and the need for emergency hires by equalizing salaries between rich and poor districts, offering scholarships to attract candidates to high-need fields and locations, and improving mentoring for beginners. For example, North Carolina's Teaching Fellows program paid for the preparation of hundreds of talented candidates who pledged to teach for 4 years in the state's schools, bringing long-term talent into the education system to teach math, science, and other critical subjects. Other successful examples include the teacher residency model and 'grow your own' programs, where teachers are fully trained and prepared with the tools they need to be effective in the classroom and provided the support they need to stay.
But the Bush administration responded to recalcitrance from some by watering down the law to allow teachers who had just begun training in alternate routes to be called "highly qualified" even though they had minimal to no training and had met no standards of teaching competence. This encouraged the ongoing concentration of untrained novices in schools serving the neediest students, without public accountability or any requirements to solve the underlying problem. In California, for example, more than 2/3 of interns teach in highly segregated schools that serve more than 75% minority students, and more than 50% seek special education credentials.
When low-income and minority parents and students sued the federal government to challenge this administrative interpretation and won, their victory was short-lived. Within a few weeks and with no public notice or debate, Congress last year enacted an amendment -- its sole amendment to NCLB in the ten-year history of the law -- to write the unlawful Bush-era regulation into statute. In so doing, Congress labeled teachers-in-training in alternative route programs as "highly qualified," condoned their disproportionate concentration in low-income, high-minority schools, and permitted states and districts to hide these facts from parents and the public.
The Harkin/Enzi bill builds this troubling amendment into the fabric of the Elementary and Secondary Education Act reauthorization bill. While the bill maintains NCLB's "highly qualified teacher" terminology, its definition of the term to include teachers-in-training sets a standard so low as to make the phrase virtually meaningless and its protections for at-risk students nearly nonexistent. Even more troubling, the bill's "highly qualified teacher" standard applies only to teachers in their first year or so, after which the bill abandons teacher qualifications to focus on teacher evaluation results in states that have implemented evaluation systems.
Some would say that the new provisions for evaluation systems make any attention to teachers' initial qualifications unnecessary. But this "effectiveness only" approach ignores the reality that states' evaluation systems won't be up and running for at least a few years, and, once implemented, will require a few years of classroom data from which to determine an individual teacher's effectiveness. (We put aside, for the moment, whether the teacher evaluation standards set forth in the bill will result in valid and reliable measures of teacher effectiveness and incentivize quality teaching.)
The Harkin/Enzi proposal will allow untrained teachers to teach for years before their effectiveness is ever measured. We think that's unacceptable. Students deserve teachers who are both fully-trained to teach on their first day in the classroom and, if they stay, who prove themselves effective at educating children. In the words of Candice Johnson, a student in South-Central Los Angeles who experienced first hand the effects of this misguided federal policy and visited Congress last spring to demand it be changed: "Why is it OK for students like me to be taught by teachers-in-training? If intern teachers are good enough for me, why aren't they good enough for the students down the road in Beverly Hills?"
Congress cannot pretend that it really cares about closing the achievement gap or providing equal opportunities to learn if it refuses to address the most fundamental right -- the basis on which all high-achieving countries have built their successful systems: the right of every child to have a fully-prepared and qualified teacher who knows how to teach their subject matter effectively, and is expected to do so.
Fortunately, there's still time for Congress to do the right thing. When the ESEA is marked up in committee this Wednesday, Senator Bernie Sanders (I-VT) will offer amendments to strengthen the definition of highly qualified teacher and end the practice of congregating the least prepared teachers in the highest need schools. The Sanders amendments will also require that, where untrained teachers are hired to fill shortages, they be adequately supervised and that parents be notified when their child is being taught by such a teacher. The amendment has the support of a coalition of 82 organizations -- including ours.
Let's hope Congress corrects the mistake it made last year and finally fulfills the promise to provide all students -- and especially poor and minority students, English language learners, and students with disabilities -- with qualified and effective teachers. Our future depends on it.
Deborah A. Ziegler, Associate Executive Director, Council for Exceptional Children
Susan Henderson, Executive Director, Disability Rights Education and Defense Fund
Barbara Arnwine, Executive Director, Lawyers' Committee for Civil Rights Under Law
Brent Wilkes, National Executive Director, League of United Latin American Citizens
Claude Mayberry, President, National Council on Educating Black Children
Wendy D. Puriefoy, President and CEO, Public Education Network
John Affeldt, Managing Attorney, Public Advocates Inc.
Robert Mahaffey, Director of Communications, Rural School and Community Trust

Popular in the Community