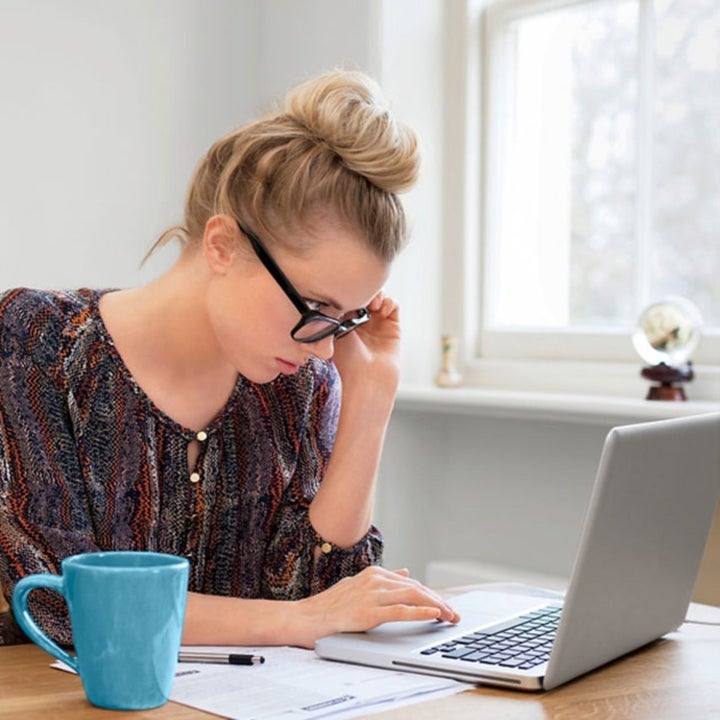 Cybercrime is probably the last thing on your mind, with all of the to-do lists, emotions, and drama that can surround a wedding. But did you know that engaged couples are often targeted by online criminals? Think about it: You're spending large sums of money, punching your credit-card information into unfamiliar websites, and documenting it all in real time on social media. Sorry, brides, but you're a prime target! The good news is, computer-security company McAfee and wedding pro Amber Harrison have teamed up to make sure you're well-informed and well-protected, so you know how to keep your identity, your money, and your guests safe from cybercrime as your big day approaches.
Say "I Don't" to Public Wi-Fi Sure, it's a great way to save your data plan, but skip the public Wi-Fi if you're sharing any personal information or sensitive data. "That means shopping, banking, creating new accounts or passwords, et cetera," says Harrison. "Public Wi-Fi is an easy target for hackers and thieves! If you know you'll be doing a lot of these activities on the go, invest in a personal hot spot or use a virtual private network (VPN) so you can cross things off your to-do list while keeping your info safe and sound."
When All Else Fails, Use Data We apologize in advance for your cell-phone bill, but you'll thank us when you haven't had your bank accounts drained. "According to McAfee, mobile traffic on cell networks is still targeted much less than desktop traffic," Harrison explains. "So if you really need to send your credit-card number on the go, skip public Wi-Fi in favor of cellular data, which will be much more secure in a pinch."
Be Smart About New Accounts There are so many websites, apps, and online retailers that will make planning your wedding easier, but all those sites also mean you'll have more new usernames and passwords than you will wedding guests! And while using the same credentials for multiple accounts sounds like the easiest way to remember things — think again. "A recent McAfee survey revealed that women aged 18 to 24 were the biggest culprits of poor password habits, with 57 percent admitting they reuse passwords across multiple accounts," Harrison reveals. Yikes! That means if a hacker has your email and figures out one password, he'll be able to access a whole bunch of your information across multiple websites. "Instead, use a password manager to create strong and unique passwords for each site. You'll feel confident that your accounts are secure, without having to memorize dozens of combinations of letters and numbers," says Harrison.
Keep Your Guests Safe Wedding websites, apps, and online registries are convenient, but they can also be risky for you and for your guests. "Protect everyone's information by making sure your wedding website is password protected and choosing providers that display a trustmark. This is a badge displayed on the site that tells you the business you are working with is taking appropriate security precautions," Harrison says.
Travel Wisely Whether it's you or your guests, the way you travel can also impact your online security. "You may be tempted to post a selfie or check in at the airport while you're waiting for your flight, but that allows criminals to more accurately monitor your whereabouts — meaning they can take advantage of you when you have the weakest protection," Harrison says. Instead, try to disconnect. "Use travel time as a chance to enjoy your company, explore your new surroundings, and take a break from the glowing screen. A recent survey from McAfee revealed that nearly half (45 percent) of respondents reported getting into an argument with a friend, significant other, or family member over being on a device while together. Who wants that on their wedding weekend?" Not only will unplugging be good for your sanity and your relationship, it's much harder to be targeted when you're not using risky behavior.
"The best way to make sure your information is safe is to stay aware"
Stay Aware The best way to make sure your information is safe is to stay aware. Monitor your financials, checking bank statements for any transactions you don't recognize. See if your financial institution offers fraud alert and customized options so you can make sure you're notified if something fishy is going on. "If you're aware of your account activity, you're taking the first step to preventing credit-card fraud and identity theft," says Harrison. Be aware when you're conducting transactions too. If you're paying online, make sure you haven't been directed to a false website. Paying in person? When you're at the register, check any dubious card readers for skimming devices.