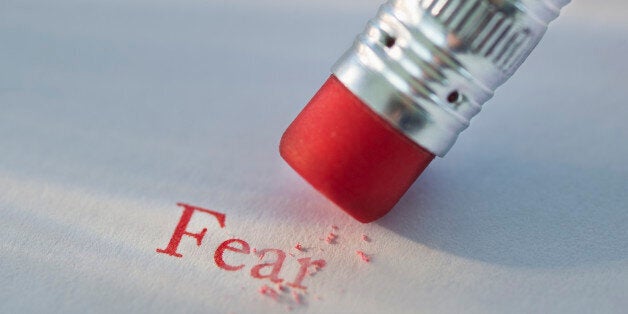 To be a successful small business owner, you'd better get familiar with the "f" word.
I'm talking about fear. You may not be in the business of psychology, but when you've put your blood, sweat, tears and bank account into your business, it's important to delve into your own psyche as a leader. If you don't take a hard look at how fear impacts your decisions, it may just end up becoming your CEO.
It Starts with a Passion (and Cleaning Toilets)
I started my business after years of working in every conceivable role in a field I loved, then deciding I wanted to do things differently. I discovered my passion for yoga almost 20 years ago, taking as many classes as I could and "paying" for them by cleaning my favorite yoga studio's floors, mats and toilets. In exchange I got free classes and an inside view of how the place worked. Two years later, I took my first training to become a yoga teacher, and over the course of the next 8 years I completed a second training, taught weekly classes, worked as a yoga studio administrator, and learned everything I could about the world I loved.
I opened my own yoga studio in 2004 and over the first year I worked 80 hours a week and greeted each of our clients by name. It was both exhilarating and exhausting and though I knew I couldn't sustain that pace forever -- I was fueled by startup energy and the desire to master every aspect of my business.
When it came time to hire our first employees, I was ready but nervous. Over the next 5 years my husband and I welcomed our two children into the world and I necessarily pulled away from the daily operations of the business. I knew it was essential for me to step back, both personally and professionally, but still I felt fear creeping in, growing bigger and stronger every day.
What would my business become if I didn't have a personal connection to my clients? The community we had created was one of the most wonderful things about the business, and I worried that if I wasn't always there to maintain that culture, I'd risk losing that spark of specialness.
The Two Sides of Small Business Fear
Fear manifests in one of two ways for most small business owners:
1. Fear paralyzes you and impedes growth. If you're too afraid to mess with your original formula and can't imagine handing over the reins to employees, your growth potential is limited. Here's where the "small" part of small business becomes a challenge -- how do you grow without losing the personal touch that distinguishes you from your bigger competitors?
2. Fear clouds your vision. While some people believe all growth is good growth, it's essential to get clarity on your motivations so the plan aligns with your mission and vision.If your growth plan is solely motivated by a worry that "serious" small businesses must go the national chain route to be successful, your plan is likely to fail because it's out of alignment with your values and reasons for starting your business in the first place.
Finding the Right Reasons to Grow
Throughout my experience in the 10,000 Small Businesses program, growth was the big buzz word. And while by this time I had embraced the idea that I could train my employees to help me maintain the culture I had created, I was resistant to the idea of bigger being better. I didn't start my business to build an impersonal chain of yoga studios that took over the world with a cookie-cutter approach. I was afraid that "growth" was just code for "selling out," and I loved my work and my clients too much to go there.
By stepping away from daily operations to consider the big picture, I was able to realize that profit is not the sole motivating factor for me as a business owner. Of course I want to be well-compensated for my work to account for the lost sleep from late-night work sessions and 3 am trips to the studio on a rainy night because that pesky leak might be acting up again and I don't want it to damage our gorgeous bamboo floors. But I'm as concerned about maintaining our culture of friendliness, professionalism and accessibility as I am about making more money.
Each business owner's approach to growth must be determined by their goals, temperament, life stage, etc. Because I prioritize picking my two young children up from school every day, a growth plan that involved me jet-setting all over the country would not align with my personal values.
If I hadn't made time to work "on" my business rather than "in" my business, fear would have become my CEO. Instead, having recently celebrated our 10 anniversary as an independently-owned small business, I'm pursuing growth opportunities that are not only driven by the bottom line but also grounded in a passion for maintaining the all-important community we were founded upon. Like a shark, a small business must continually move forward to thrive, but it's important to make sure you're swimming in the right direction.
Fear has the potential to either paralyze you or push you to pursue growth for its own sake. But if you can seize the opportunity to step out of daily operations on a regular basis, you'll rediscover the passion that brought you into the business in the first place. Only then can you make informed decisions about how and when to grow, and be the fearless small business owner you've dreamed of becoming.
This blogger graduated from Goldman Sachs' 10,000 Small Businesses program. Goldman Sachs is a partner of the What Is Working: Small Businesses section.
Related