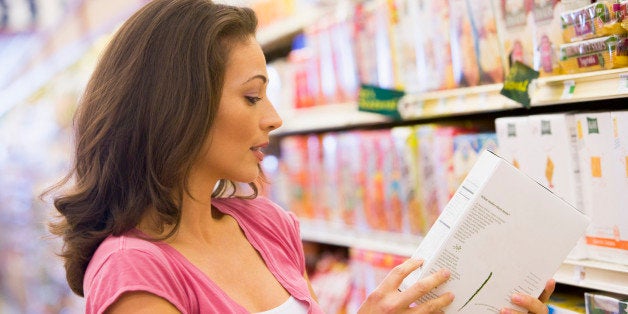 If we want food policies and programs that have our citizen's health, welfare, and safety at heart, we have to keep food industry from stirring up the pot. We live in an advanced capitalistic society. By law, food industry, particular the large multi-national companies making highly processed food products have a singular focus: increase shareholder profits. More often than not, what increases profits is not what supports health.
That is why I, along with many other Registered Dietitian Nutritionists (RDNs) across the country, gasped at the announcement that the Academy of Nutrition and Dietetics Foundation (ANDF) was going to put the Kids Eat Right logo on Kraft Singles. If you followed vast media coverage over the past few weeks -- from the New York Times to the Daily Show -- you know that this logo is not meant to be an endorsement or seal of approval. What it is meant to do is to acknowledge Kraft's financial contribution to the Kids Eat Right program, which is a public education project of ANDF to address health concerns of our children.
However, let's face it, when you get in bed with someone, or in this case put your name on their product, you're linked. Families will undoubtedly think the ANDF is recommending eating highly processed, highly packaged products that have their seal and will get the wrong message about what to eat. This is not the first time that the Academy's food industry sponsorships have gotten them into trouble. Perhaps it could be the last. I believe that this incident has been a huge wake-up call: perceptions do matter. Many RDNs don't want their profession tied to the industry that makes the foods we want people to eat less of. The good news is that the Academy has put word out to their members that they want to hear the views of RDNs. Whether or not you are an RDS, if you disagree with the Academy's seal being on Kraft Single and other highly processed foods, and want to bring integrity back to the nutrition profession, sign the "Repeal the Seal" petition.
While we are at it, there are two other food policies currently being decided. Let's keep food industry from stirring these pots as well.
The first is reauthorization of the Child Nutrition Act, which congress is scheduled to debate later this year. Our current child nutrition policy, the 2010 Healthy Hunger-Free Kids Act, created stricter nutrition standards for school meals. Research studies by Harvard and University of Connecticut's Rudd Center have shown that these healthier school meals are being accepted and getting student to eat more fruits and vegetables. But food industry wants the standards rolled back and are busy working with legislators to shape this policy to meet their needs. If you want to help children have access to more healthy, local food, want children to have high-quality nutrition education, and want the government to support schools to build -- or rebuild -- kitchens where they can make more scratch-cooked meals and rely less on pre-prepared foods, get involved in advocating for stronger nutrition policy. Some places to learn more are NYC4CNR and Food Research and Action Center.
Finally, the Dietary Guidelines Advisory Committee Report came out in February, and, based on careful review of scientific evidence, this report made the recommendation for "diets high in vegetables, fruits, whole grains, low- or non-fat dairy, seafood, legumes, and nuts; moderate in alcohol (among adults); lower in red and processed meats; and low in sugar-sweetened foods and drinks and refined grains." For the first time, the report recommended expanding the Dietary Guidelines to include sustainability -- an idea that should be championed. Yet, food industry is already working to try to make sure that the bold messages of this report get diluted when they are translated into the official 2015 Dietary Guidelines for Americans scheduled to come out later this year. Food industry wants to remove any messages that imply eating less of their products. Remember, industry's bottom line is shareholder profits. We need strong and clear Dietary Guidelines. They are the foundation for our nutrition education messages and guide our food programs. Learn more about the report and if you have opinions about the Dietary Guidelines, submit comments before the deadline, May 8, 2015 11:59 p.m. E.D.T.
We can help all of our citizens have a healthier and more productive future when we let science and public health, and not food industry, cook up our food policy.
Calling all HuffPost superfans!
Sign up for membership to become a founding member and help shape HuffPost's next chapter