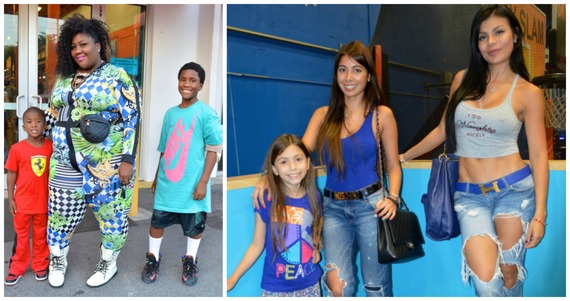 In high-school, my friend's mother would pull up in a shiny Porsche convertible. Her seemingly effortless exit from the car brought teenage boys and me to a halt. Dressed in curve-hugging Dolce & Gabbana, this mother was, by anyone's standard, a total knockout. She was sexy, stylish and didn't look "mom-like." But growing up in Miami, led me to believe this was "normal" until, my Miami rose-colored glasses were unfogged by two incidents -- one west in San Francisco and one east in Boston -- where it hit me that Miami moms don't wear mom jeans!

The first day I dropped my kids off at their new school in the San Francisco area, I didn't think much about my attire. I threw on my hot pink yoga shorts, a sports bra, jean jacket and my newly purchased grey Minnetonka moccasins. Yes, I am the founder of Hautedropoff.com documenting parent style at school drop-off, but that morning I was focused on getting these kids out of my hair. Don't roll your eyes, I was anxious to attempt California yoga, find a writing spot that blasted folk music and had baristas with man buns who inserted "right on" in all conversations. But as I walked to the kids' classrooms, I suddenly felt the heavy and silent stares. I was in a sea of flowing, long dresses paired with flat, knee-high boots -- I suddenly panicked that I might have mistakenly driven my kids to the Amish School.
Now on to Boston: It was only until I stood on the sidelines of my cousin's Massachusetts soccer game in a sea of parents styled in mom jeans, sneakers and college sweatshirts, when I began to realize maybe Miami was different from most American cities. Even the dads, as horrifying as that vision can be, were also wearing high-waisted mom jeans. Granted, this was the end of the 1990s with shows like Friends, and stores like The Gap pushing their "mom-jean" fashion agendas. Somehow Jennifer Aniston made them work, but these parents didn't pull them off quite the same.
As I watched Saturday Night Live's "Mom-Jean" skit on their 40th anniversary show, it reminded me of my observations of mom style that brisk morning in the suburbs of Boston. The overall sentiment of the skit is "Don't let mom jeans happen to you!" In my curiousness, that morning, I leaned into my Uncle Richard, and asked innocently, "Why are all these moms dressed alike? What's with the college sweatshirts, bad-fitting jeans and sneakers?" My uncle looked at me, and said in an obvious tone, "Mara, this is Massachusetts, not Miami." That's when it clicked, being raised in Miami gave me such a different perspective of motherhood -- a sexier one.
As a teenager, when I would hang out at my friend's house with the glamorous mom, it was a fun exercise in playing dress-up. I tried on every stiletto heel and paired it with every tight dress in this mom's closet. I would then parade in front of the huge full-length mirror, knowing that this was a costume I would never adorn. Because, even then, I knew short, tight dresses can only be worn with funky shoes or ankle boots and a cool jacket, to avoid being a recipient of... ahem... mistaken identity.
My friends (her sons) seemed comfortable having such an overtly attractive mom. And now, years later, I realize why. In Miami, this really wasn't unusual. Rarely did you see a mom in sweats or yoga pants. Unless there was an emergency, or the offender in question was a transplant from another city, a Miami mom would never appear publicly disheveled or inappropriately casual. Moms (including my own) were, and continue to be, glamorous, stylish and admired. So my idea of "mom-style" was influenced by the city in which I was raised. It never occurred to me that motherhood was too often associated with being frumpy.
One of the reasons I started my website was to chronicle the looks of stylish moms, from head-to-toe designer to urban sexy and everything in between. Miamians are influenced by a mixture of so many languages, cultures and traditions. In Miami, only one unwritten rule exists in fashion: to make an effort. And with the tremendous effort these parents make, even at the crack of dawn, someone had to document their hard work.
For so long, Miami style has been misunderstood and unfairly labeled -- probably because Miami women unabashedly revel in their love of sexy style, which doesn't simply end by the presence of offspring. Miami women are unapologetically confident and completely comfortable displaying feminism and sex appeal, even at school drop-off.
If you don't believe me, just take a stroll through the parking lot or carpool line of any Miami school. At 7:30 am, the place is filled with six-inch stilettos or wedges, artfully applied make-up and eyelash extensions. Curvaceous and fit bodies are draped in curve-hugging, colorful fabrics. And cleavage not only makes its debut during early morning hours, but remains a fashion accessory throughout the day, and well into the evening. Even the athletic crowd adds style to what is usually a bland mix: colorful leggings, crop-tops, tiny yoga shorts, large hoop earrings and bangles. Whether or not you like the style, there is no doubt that Miami moms make quite an impression, and I sure do miss the fashion stimulation.
Although this may seem vain and trivial, I'm pretty happy that I grew up thinking mothers were multi-faceted, colorful, and incredibly glamorous and that "mom jeans" meant hip, sexy and worn with a 6-inch heel.