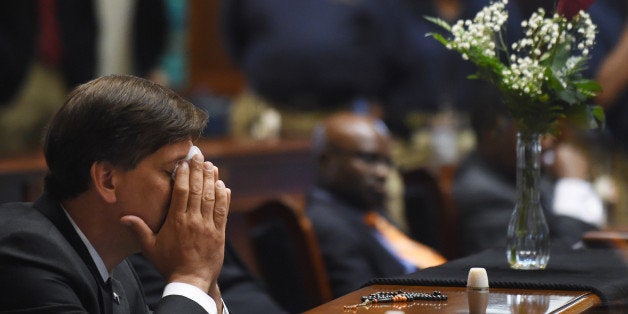 As soon as I heard about the mass killing of nine worshipers at Charleston's Emanuel African Methodist Episcopal Church, my heart broke -- again. Yet another gunman, yet another place that should be safe from violence, even more families shattered.
A 5-year old girl was in the church at the time of the shooting and she "played dead" in order to survive.
Let me say that again: A child was forced to "play dead" in order to survive.
What does this say about the future we are building for our children? That you might need to pretend to die in order to stay alive?
Moms refuse to let that be the future for our children.
In this country, where 88 Americans are shot and killed every day, including eight children or teens, and countless more injured, the terrifying reality is that far too many people go to school, the movies or church and never return.
Since I started Moms Demand Action, now a part of Everytown for Gun Safety, nearly three years ago, I've met far too many families and read far too many stories about those whose lives have been shattered by gun violence. With Father's Day just around the corner, I cannot help but think about those families who are missing their dads or those dads who are missing their children.
Tragically, one of those families is now that of South Carolina State Senator Clementa Pinckney -- a known family man who was referred to by fellow colleague Sen. Hugh Leatherman as a "leader in the Senate of South Carolina, a strong advocate for his constituents, a great pastor and community leader, but most importantly, a cherished and loved husband, father and son."
He was also a gun sense lawmaker in a state where it isn't always easy to be one. Sen. Pinckney voted in favor of the recently passed life-saving domestic violence legislation in South Carolina that keeps guns out of the hands of domestic abusers and he has spoken out publicly against gun violence in the past.
In honor of Sen. Pickney, and as we head into a weekend that is usually meant for celebrating with the dads in our lives, I urge everyone: Don't let the Charleston shooting be lost in the 24-hour news cycle. America is better than that.
I cannot help but think of the words and the passion of my close friend, Richard Martinez. Richard should be playing basketball with his son Christopher today as they had so often in the past, but Christopher was shot and killed at a deli in Isla Vista last year. This Father's Day, Richard will strap on armbands given to him by other gun violence survivors, including one that says "Not One More," a passionate cry he made after Christopher's death, which inspired so many to take action.
So for Charleston, for our fathers, for our children, it's time to stand up and fight to end our country's gun violence crisis. Let's make Richard's words and mothers' fervent wishes and prayers real.
No more Charlestons. No more Newtowns, Auroras or Isla Vistas. Not one more.
Calling all HuffPost superfans!
Sign up for membership to become a founding member and help shape HuffPost's next chapter