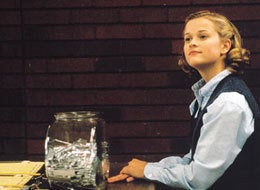 I'm working on my Happiness Project, and you could have one, too! Everyone's project will look different, but it's the rare person who can't benefit. Join in -- no need to catch up, just jump in right now. Each Friday's post will help you think about your own happiness project.
I was inspired by an observation by Voltaire to make my resolution, "Don't let the perfect be the enemy of the good." In other words, instead of pushing yourself to an impossible "perfect," and therefore getting nowhere, accept "good." Many things worth doing are worth doing badly.
I have a friend who never exercises unless she's training for a marathon; as a consequence, she almost never exercises. I never push myself when I exercise, and although I suspect she scoffs at my wimpy work-outs, I've managed to get myself to exercise several times a week for years. If I'd tried to have a more ambitious work-out, I'm sure I wouldn't have exercised at all.
Along the same lines, I told a friend that one of my happiness-project resolutions was to "Remember birthdays," and so I was sending out happy-birthday emails. He said, "Oh, you shouldn't email! You should call or write a hand-written note, that's much nicer." True - but I won't. And it's better to get something done imperfectly than to do nothing perfectly.
The perfect can also become the enemy of the good in the quest for perfect information. There are two ways to approach decision-making: as a satisficer (yes, that is a word) or as a maximizer.
Satisficers are those who make a decision or take action once their criteria are met. That doesn't mean they'll settle for mediocrity; their criteria can be very high, but as soon as they find the pasta sauce or the business card that has the qualities they want, they're satisfied. Maximizers want to make the optimal decision. Even if they see a bicycle or a backpack that meets their requirements, they can't make a decision until after they've examined every option, to make the best possible choice. Studies suggest that satisficers tend to be happier than maximizers; maximizers spend a lot more time and energy to reach a decision, and they're often anxious about whether they did, in fact, make the best choice. (For a fascinating discussion, read Barry Schwartz's The Paradox of Choice.)
In almost every category, I'm a satisficer, and in fact, I often felt guilty about not doing more research before making decisions. But it's one of my Secrets of Adulthood: Most decisions don't require extensive research. In picking a girls' summer camp, a friend got information from twenty-five camps and visited five in person. We got information from five camps and picked the one that a friend's daughter loved. I used to think that my lack of diligence was a sign of laziness, and my resolution "Don't let the perfect be the enemy of the good" has made me feel a lot better.
In some situations, the happier course is to know when good enough is good enough, and not to worry about perfection or making the perfect choice.
***
Gretchen Rubin sends out short monthly newsletters that highlight the best of the previous month's posts. If you'd like to sign up, click here. Or just email her at grubin, then the "at" sign, then gretchenrubin dot com. No need to write anything more than "newsletter" in the subject line.

Related