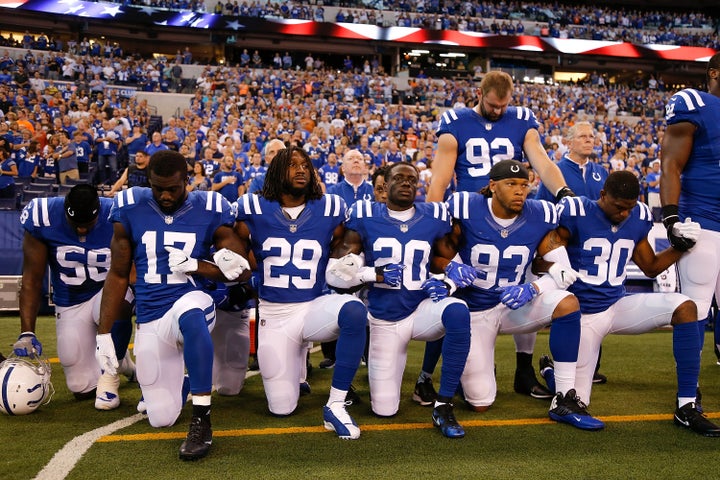 Today, I stand by athletes, the NFL, the NBA and others for taking a knee, just as I stood by those who wore hoodies after Trayvon Martin was killed, those who had on "I Can't Breathe" shirts after Eric Garner was killed, and everyone who chanted "hands up, don't shoot" after Michael Brown was killed. Taking a knee is a continuation of the movement against racial inequality and police misconduct that too often gets ignored. The president, with his antics and hyperbole, has now made the issue about somehow dissing the American flag, when in fact these athletes are enhancing what it's supposed to stand for: free speech and the right to protest. They are the real patriots.
During the Democratic National Convention last year, former New York City Mayor Michael Bloomberg referred to Donald Trump as a "con man." Each and every one of us should keep this in mind and be cognizant of the fact that Trump is yet again diverting our attention away from the real issues at hand. People like Colin Kaepernick took a knee to raise awareness about police brutality and misconduct and racial inequality. These challenges have not gone away, and instead of addressing them, the Trump Administration has indicated that it will in fact reverse course on some of the progress made in tackling these problems – progress that required much sacrifice and dedication by so many in order to achieve.
This Department of Justice, with Attorney General Sessions at the helm, has made it crystal clear they will stop police reform and even stop consent decrees that were reached with various police departments around the country. The DOJ has withdrawn from a Texas case on voting rights, and thus far some of the dangerous and divisive rhetoric we've heard from Trump and his administration has been matched by dangerous actions like these. Trump is changing the purpose of these athletes' protests into something completely different. Don't let him ignore Garner and other open cases, or the fact that people of color are still being killed by police and stopped, searched, arrested and jailed in disproportionate numbers.
By having us argue about just honoring the flag rather than dealing with the issue of criminal justice reform and inequality, Trump has pivoted once again from some of the disastrous policies of his administration that reinforce the status quo instead of pushing for change. This is not about the flag or even the national anthem. It's about the fact that in 2017 we still live in a country that does not treat all of its citizens equally and fairly both under the law and in all facets of society. These athletes should be commended for taking a stand and speaking out rather than being vilified and bullied from the person who sits in the Oval Office.
Let us also remember that this is a man who has never said one strong word against Putin but so easily called mothers of NFL players "bi*#@es." Some of these mothers struggled greatly in underserved communities, and some were single mothers who did everything to ensure their sons succeeded in life. Even those mothers in middle class communities still had to deal with racism and racial disparity in various forms but overcame the challenges for their children. To be called "bi*#@es" by the president of the United States is the epitome of an insult. Trump's statements are not only crass and beneath the position that he holds, but they are also rooted in misogyny.
The athletes are gaining support from people from all across this country and from all walks of life. Trump will likely double, triple and quadruple down on his stance. It is important that we not allow him to flip the script on us. This was never about a flag. The script has always been about police reform and combating racial inequality. That work has yet to be fulfilled, and none of us can rest until we achieve those goals because they are for the betterment of our entire nation. These athletes are representing the best of who we are and what we exemplify.
During the great civil rights struggle of the 1960s, people would often say: keep your eyes on the prize. It's not just right to take a knee – the prize is what we take a knee for.
Popular in the Community