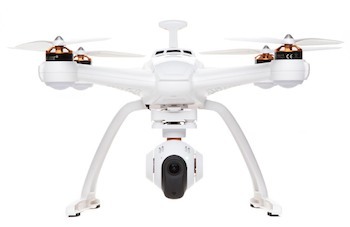 If you are not a fan of drones, it is a bad time to be alive. Drones, quadcopters and various remote controlled flying contraptions are everywhere. On the consumer market drones used to be fun toys that required some pretty advanced piloting skills to keep them from flying into a tree...or your head!
With Follow Me Mode, Drones Now Fly Themselves
In the last year, technology normally reserved for high-end professional drones has started to make its way onto consumer level drones. Things like rock steady 4K video, GPS and the ability for the drone to follow you around and even automatically return to home are all available for under $700 now.
To test out the newest features we took the Chroma 4K Camera drone for a test flight. The exact model we tested was the Chroma Camera Drone With 4K CG03 with ST-10+ Controller BLH8675.
Please watch our video reviews to see this amazing drone follow us around -
To show off the 4K Footage, here is unedited 4K video shot with the Chroma 4K Drone -
Yes, That Is My Drone Following Me Around
As the video shows, while the Follow Me mode is not perfect, it is very impressive. How long before everyone has a drone following them around, recording everything they do, in rock steady 4K video? At $700, this drone is still out of the price range of the casual consumer but we are already seeing these high end features make their way onto lower cost drones.
You Want Tech Specs? We Got'em
Here are the key specs and features on the Chroma Camera Drone With 4K CG03 with ST-10+ Controller BLH8675 ($699) -
Flight-Ready Chroma Drone with Stabilized CGO3 4K Camera
ST-10+ Controller with Touch-Screen Display
Beautiful 4K Video Resolution, Image Stabilized Camera
16 Megapixel Still Shots
Large, 5 ½ inch touch-screen display with intuitive Android interface
Displays live video and real-time telemetry info like speed, altitude and battery voltage
Super-simple flight and camera controls
Slider switch for adjusting camera tilt
Slider switch for adjusting drone speed (max speed currently 17 MPH)
SAFE Plus Technology Makes Flying Easy For Beginners
Follow-Me and Tracking Mode - Advanced Auto-Pilot Modes
Return To Home Feature If You Lose Control
2,000 Foot Video Streaming Range
Dimensions: 2.8 pounds, 9.5 inches height
Control Link: 2.4 GHz, Video Link: 5.8 GHz
Satellite System: GPS, GLONASS
Includes Long-Lasting 6300mAh LiPo Flight Battery (30 minutes of fly time)
Learn More About The Chroma 4K Camera Drone
REAL LIFE. REAL NEWS. REAL VOICES.
Help us tell more of the stories that matter from voices that too often remain unheard.