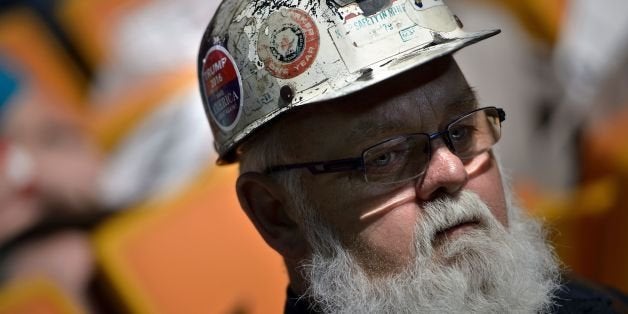 West Virginia Sen. Joe Manchin, a Democrat, and his colleague Sherrod Brown, D-Ohio are on a mission to stop business as usual in Washington, D.C. and shine a light on the shoddy way Congress has treated miners. I wonder: Is the health care of retired mineworkers on the radar of climate change activists? What about Democratic party strategists?
There is a golden opportunity now and in the future if progressives can wake up and rally. Despite the fact that over 10,000 miners are less than a month away from losing their health benefits, with thousands more to follow, there has been radio silence on Twitter from Donald Trump who ran as a champion of coal miners. Why is he not standing up to establishment Republicans who refuse to take a vote on a bill that would extend miner benefits?
Donald Trump's meeting with Sen. Manchin, who he is considering to head the Department of Energy, has been rescheduled to a later date as Sen. Manchin and some colleagues attempt to delay the passage of a continuing resolution to fund the government in an attempt to gain leverage and force Republicans eager to head home for the holidays to simply extend the health care benefits for the 16,000 or so miners total who may be left in the cold without health care for another year.
Blog posts and tweets from the right indicate an eagerness to forget the sacrifices of miners and Donald Trump's promise to them this last election cycle. The Daily Signal article headline on the Senate continuing resolution fight reads, "Senators Vow to 'Use Any Means Necessary' to Ensure Taxpayer Bailout of Private Union Pension Plan," and goes on to call this effort by Sen. Manchin and Sen. Brown, "Pandora's Box."
The only Pandora's Box that may be opened is if environmentalists and Democratic strategists don't seize and continue to seek out opportunities like this that demonstrate what "stronger together" looks like.
The left should be hyper aware of the consequences of not recognizing the very real needs of rural and blue-collar constituents who have felt forgotten too long. The fact is 13 of the 25 Senate Democrats up for re-election in the next cycle are from states that Trump won. From a strictly horserace perspective it's clear that rural voters matter but they should also matter to Democrats because it is unethical and wrong to cast rural Americans aside as relics from an old time. It was not that long ago that we relied heavily on the work of miners and other blue collar workers.
In fact, even the most fervent of environmentalists has undoubtedly benefited on numerous occasions from power that can be traced back to a cold and dangerous mine somewhere in the foothills of Appalachia. It is not right to sit back and let the miners that risked their lives to help light our highways and power up our computers suffer from black lung without help.
If climate change advocacy groups and Democrats continue to stand with these miners, challenge Trump and raise the issue of miners' health care and future job prospect needs to their supporters they will send a clear and important signal: Miners are not the enemy. This signal could prove to be a strategic one if Trump does end up tapping Sen. Manchin to lead the Department of Energy.
In the end, no matter what happens with the continuing resolution fight it is important for Americans of all elks and constituencies ask themselves: How can we allow corrupt CEOs to get golden parachutes and energy company after company to write off their debts but not keep coal companies promise to miners of lifelong health benefits when these workers risked their lives to get the coal that helped power American prosperity for years? The answers that Donald Trump, climate change activists and Democratic leaders come up with will say a lot about American greatness, or its lack thereof, in the months and years ahead.
REAL LIFE. REAL NEWS. REAL VOICES.
Help us tell more of the stories that matter from voices that too often remain unheard.